Joseki > Step-by-step: 3-4 point ‐ Lesson 09 ‐ Joseki A
March 7, 2014 by Guo Juan 5p

Why the White "crying move" is not good, and other important things in this joseki.
If you can help us with translations, we need your help.
Contact us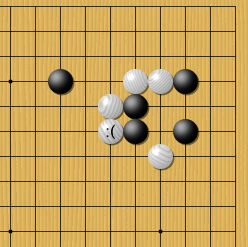 2017-11-29


00:53

waynec
Is there a lecture missing before this one, or perhaps out of sequence somewhere else? This lecture starts out talking about a joseki variation to the 3-4 pincer joseki which the previous two lectures and problem sets (about that 3-4 pincer) have not discussed. Yet the lecture seemed to assume that we have seen it and learned it already.
2018-02-15


06:58

Shibumi
Plz, what is the lecture talking about b's answer : bumping with a nobi into w stone at move 4 ?
You must be logged in to post a comment. If you don't have an account, you can register
.
This lecture costs 1€ for a month of viewing.
You must be logged in to watch it.