Other > Lunch Special ‐ Lesson 11B
August 16, 2012 by Guo Juan 5p
Isn't Black A a bad move? We will continue to study the development of this "nasty" move.
If you can help us with translations, we need your help.
Contact us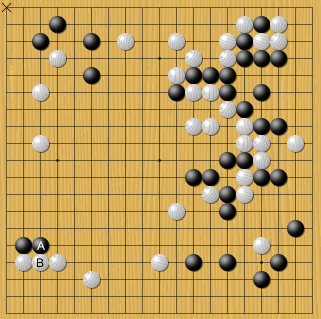 2012-08-20


13:04

Ice
Good idea, i like the shorter lectures more than the longer ones. And the A- and B-part lectures are also a good idea to make a long lecture into 2 shorter ones.
2012-08-21


22:22

elementc
A good idea if you like paying more money. I don't mind right now since I have a subscription but once it runs out?
2012-08-24


09:49

julien.payrat
Short lectures are a very good idea !! but the price is the same as long lectures. It seems not fairplay :)
Continue! your internet go school is awesome!!
2013-10-03


17:56

Rodval
LECTURES MUST BE SHORT AND VERY CONCENTRATED TO DO THE MOST GOOD. ANYONE REALLY INTERESTED IN LEARNING A SUBJECT MUST TAKE THE LONG ROAD. BUY A YEAR'S SUBSCRIPTION AND GET YOUR MONEY'S WORTH. I HAVE COVERED OVER 200 LECTURES AT LEAST ONCE. THIS IS LIKE GOING TO A REAL GO SCHOOL. THE LECTURERS ARE THE BEST IN THE WORLD. THE TOPICS ARE SPOT ON. I FEEL BLESSED TO HAVE THIS SCHOOL ACCESS RIGHT IN MY LIVING ROOM. THANK YOU GJ.
You must be logged in to post a comment. If you don't have an account, you can register
.
This lecture costs 1€ for a month of viewing.
You must be logged in to watch it.