Middle game > 08 - Value of stones ‐ Lesson 1
July 7, 2012 by Jennie ShenJing 2p

- Determining of the value of stones

Do the marked White cutting stones have high value?
If you can help us with translations, we need your help.
Contact us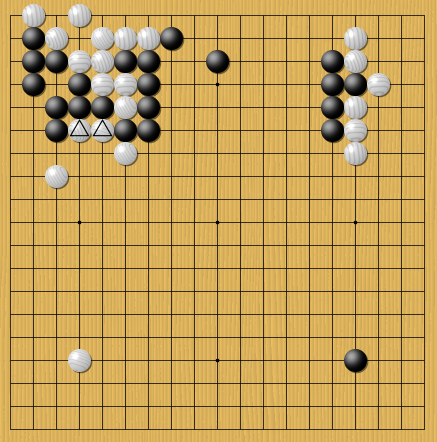 2012-07-07


22:42

Buri
Great lecture. Interesting you put the start point at 10k. I am only 17k , sort of hovering between bad and getting better, but games at this level often seem to degenerate into pointless dog fights because of this issue. So I felt it was very useful even to a decent 16k player. The examples are -very- easy to understand.
Many thanks,
Buri
2013-08-12


17:56

Rodval
THIS SERIES TIES IN TO THE LECTURE SERIES "ALL ABOUT ATTACKING", "SACRIFICING STONES", AND "IMPORTANT STONES". I AGREE WITH BURI THAT THESE ALL HELP EVERYONE IN THE KYU CLASSES: SINGLE DIGIT AND DOUBLE DIGIT. I AGREE THAT THEY ARE EASY TO GRASP AND LOADED WITH INFORMATION. THESE LECTURE SERIES ARE MY FAVORITE IN THE GO SCHOOL AND MAKE IT WORTH 99 EURO FOR A YEAR'S SUBSCRIPTION.
2016-05-10


22:07

afterbreak
this lesson is very easy to understand, right now I am browsing for stuff that are basic, and I think this one series seems best to go on. Even on my lvl 4k egf
You must be logged in to post a comment. If you don't have an account, you can register
.
This lecture costs 1€ for a month of viewing.
You must be logged in to watch it.