Opening > Direction and trick moves ‐ Lesson 01
May 10, 2012 by Dai JunFu 8d
Includes an interesting direction discussion plus two trick moves.
If you can help us with translations, we need your help.
Contact us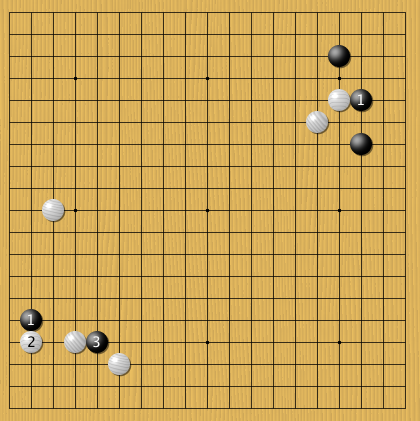 2012-05-11


02:59

NannyOgg
Cool lecture! I like this format and I learned interesting tidbits which surely will help me in my game. I sure have fallen for that second hamete, I did not know the correct solution till watching this lecture!

Thank you!

NannyOgg
2012-05-11


11:19

darek
Excellent lecture, I really liked that it is divided into two parts, first part is a direction of play in fuseki and the second part is two different hamete moves. This division makes the lecture very light, and the lecturer keeps up a good pace with lots of practical egazmples. If only the audio could have been better

darek
2012-05-12


17:56

ger
I agree with darek, hopefully the audio will be better for next lessons...
2012-05-13


04:04

Darrell Malick
Good lecture. I had to look up hamete. Sensei's says "... a trap in joseki, typically a tricky but incorrect play that requires skill to refute." Yep! Good stuff! I hate losing to a trick play!
2016-11-07


16:51

DiogoBarbosa
Thank you for the lecture.
You must be logged in to post a comment. If you don't have an account, you can register
.
This lecture costs 1€ for a month of viewing.
You must be logged in to watch it.