Other > Lunch Special ‐ Lesson 06B
March 5, 2012 by Guo Juan 5p
More about Black move 2.
If you can help us with translations, we need your help.
Contact us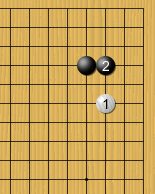 2013-09-21


18:42

Rodval
LECTURES 6A AND 6B ARE PERFECT NEW TOOLS FOR MY TOOLBOX OF GO IDEAS. I CAN PULL OUT ONE MORE TOOL FROM MY KIT WHEN I NEED IT. THE IDEA IS SIMPLE. THE LECTURES COVER THE IDEA THOROUGHLY. THESE LUNCH LECTURES ARE TURNING OUT TO BE THE BEST IN THE SCHOOL.
You must be logged in to post a comment. If you don't have an account, you can register
.
This lecture costs 1€ for a month of viewing.
You must be logged in to watch it.