Important shapes > Basic shapes ‐ Lesson 6
December 16, 2009 by Jennie ShenJing 2p

How to respond to Black's pincer move 1? A, B or C?
If you can help us with translations, we need your help.
Contact us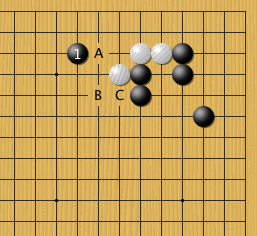 2016-04-11


18:28

DiogoBarbosa
Thank you for the lecture.
I watched three times this lesson to understand all concepts and variations.
2020-08-03


16:14

PJTraill
I find this lecture pretty hard work for me as 8 kyu, but I think that learning these shapes is still very useful even if one does not understand everything.
You must be logged in to post a comment. If you don't have an account, you can register
.
This lecture costs 1€ for a month of viewing.
You must be logged in to watch it.