Joseki > Avalanche ‐ Large avalanche ‐ Lesson 11
March 12, 2009 by Jennie ShenJing 2p
Material by Wang JianKun 7p and Jennie Shen 2p.
This is a lesson for stronger players.

Black to play next. Move A leads to peace, move B leads to fight.
If you can help us with translations, we need your help.
Contact us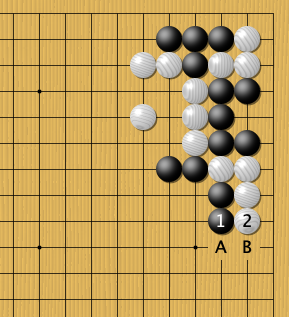 You must be logged in to post a comment. If you don't have an account, you can register
.
This lecture costs 1€ for a month of viewing.
You must be logged in to watch it.