Important shapes > Basic shapes ‐ Lesson 1
March 30, 2008 by Jennie ShenJing 2p

- Stones next to each other: walk ahead
- Broken shape

>>Note: This lecture behaves oddly in Safari browser for some reason. Recommend you watch this one in some other browser.<<
If you can help us with translations, we need your help.
Contact us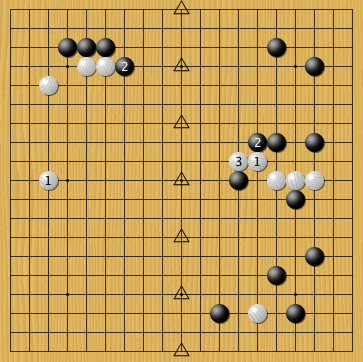 User Comments
2012-04-03


06:56

Clovermite
This lecture introduces "Hane at the head of two," "Nobi ahead," the "broken shape," and briefly mentions the "tiger's mouth" and "empty triangle." I found this lecture really useful. Afterwards, I watched a replay of an old shusaku game (shuaku vs shuho 1854-10-22) and was able to predict several moves based solely on what I learned from this lecture (in one case, I predicted 6 moves in a row).
2013-04-27


18:30

Rodval
THIS SERIES IS VERY GOOD! I HAD TO WATCH THE LECTURES TWICE TO IMBED THEM IN MY VERY INEXPERIENCED GO BRAIN. THE TIME PROVED TO BE WELL SPENT WHEN I PLAYED REAL GAMES.
2016-03-31


18:54

DiogoBarbosa
Thank you for the lecture!!!!
2017-01-11


09:17

Yogurt
It helps me alot! Thank you.
You must be logged in to post a comment. If you don't have an account, you can register
.
This lecture costs 1€ for a month of viewing.
You must be logged in to watch it.