End game > Big endgame moves ‐ Lesson 1
January 17, 2008 by Guo Juan 5p
To know how big the moves like Black A and B are is very important. And if we learn some of them and recognize them in our games, we will certainly win more games.

Material: Zhao YuHong 7p, Guo Juan 5p.
Lesson: Guo Juan.
If you can help us with translations, we need your help.
Contact us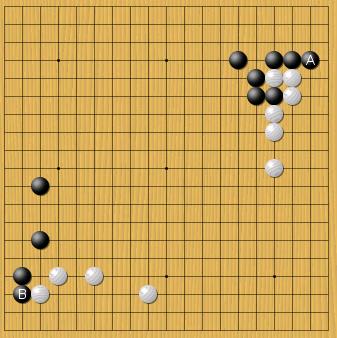 2012-05-13


14:33

jotun
Great lecture! I am a European 3d and learned much from every example. Very important to just memorize big those big endgame-moves. Especially, if you are always in byo-yomi, when yose begins, like I am...
2012-08-26


07:59

Buri
greetings,
I loved this lecture. I don`t like the books that use calculation for endgame for my level. it just does not work. Beginners like me need to turn 18 0 degrees to stop playing yose in the fuseki and scrambling around with dame moves after the middle game. This is actually a quite radical lecture that players should see much earlier IE from 16 kyuu onwards.
Thanks again,
Buri
2016-03-24


20:27

Eureka
Helpfull indeed!! I hate losing out of 3_5 point just because I don't see the potential at the endgame. Thank you!
2017-12-07


22:04

todatom
Excellent problem set. Will be great to have problem sets for the other 4 lectures in this series.
You must be logged in to post a comment. If you don't have an account, you can register
.
This lecture costs 1€ for a month of viewing.
You must be logged in to watch it.