Opening > Common opening ‐ Lesson 01
October 28, 2006 by Guo Juan 5p
From simple ideas to high level variations, we will step-by-step learn this common opening.

Material: Duan Rong 7p, Guo Juan 5p.
Lesson: Guo Juan.

If you can help us with translations, we need your help.
Contact us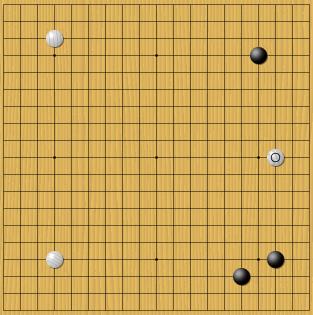 This lesson desn't have a problem set yet.
2012-07-25


07:25

Buri
Greetings,
another fantastic lecture. At first it covered the absolute beginner point about corners vs. side vs. center. This is such a beginners point I was not confident the lecture would be much use to me. But it is good to see such things again, especiially if one is going to teach in the future, so I hung in there. I was also worried that because I studied the `opening training` series so hard it would be too familiar. But, although there is overlap, this lecture is basically about the character of corner enclosures and how we attack and defend them. In other words it is very heavily loaded towards joseki. This time around Guo sifu numbers them all and it is absolutely wonderful. ((There is a numbering error at 27.59)
This is not a course to be hurried. Some of the joseki are -very- advanced but everything here is worth careful and diligent study.
Go for it.
Cheers,
Buri
2013-07-19


18:02

Rodval
I THINK BURI SUMMED THIS SERIES UP PERFECTLY. I THOUGHT THE FIRST LECTURE WAS A LITTLE PEDANTIC BUT BY THE TIME I FINISHED LECTURE 3 I HAD TO RETURN TO LECTURE 2 AND REPEAT. LECTURE 3 GOES INTO MANY VARIATIONS THAT I CAN'T SAY I REMEMBER BUT THE LITTLE I DO REMEMBER IS WELL WORTH THE TIME. I WILL CONTINUE OBSERVING AND REPEATING THESE LECTURES BECAUSE OPENING JOSEKI'S ARE MY PRESENT WEAKNESS. ANOTHER GOOD SERIES GUO JUAN. THANK YOU.
2013-07-27


18:31

Rodval
I HAVE TO REVISE SOME REMARKS. THE FIRST 3 LECTURES OF THIS SERIES IS AS ABOVE STATED. HOWEVER, THE 4TH LECTURE REQUIRES STUDYING THE 3 MINI CHINESE LECTURES FIRST BECAUSE IT AND THE NEXT 2 LECTURES ARE CONTINUATIONS OF THE MINI CHINESE. THESE LECTURES ARE AT LEAST 5 DAN LEVEL AND JUST VARIATION AFTER VARIATION. THESE VARIATIONS ARE QUITE LONG AND IMPOSSIBLE FOR A KYU TO MEMORIZE. I OUTLINED ALL OF THE 3 MINI CHINESE LECTURES AND THE 4TH LECTURE IN THIS SERIES AND I AM AFRAID IT WAS A WASTE OF MY TIME. SORRY GUO JUAN. NOT YOUR USUAL BASICS WELL PRESENTED.
2013-12-02


03:29

Guo Juan
Hello Rodval, Thanks for your comments. I am sorry the early lectures were too long with too much information. It is indeed hard to study and remember all these variations. But now we have a good news for students! You can export the sgf file during the lectures. The best way in this case I think is move to the end of the lecture, and export the sgf file with all the variations, and then watch the lecture with the sgf file beside. This will make it much easier.
2016-11-17


04:39

DiogoBarbosa
Thank you for the lecture, very useful fundamentals.
You must be logged in to post a comment. If you don't have an account, you can register
.
This lecture costs 1€ for a month of viewing.
You must be logged in to watch it.