Al Go > AI 3.3 invasion ‐ Lesson 4
April 27, 2019 by YoungSun Yoon 8p
If you can help us with translations, we need your help.
Contact us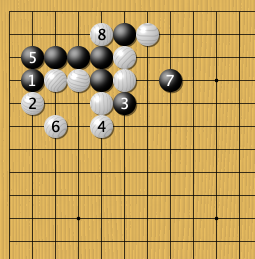 2020-05-23


16:45

GintsEngelen
These lectures have been very useful!

Are there any plans of making more variations for this joseki? As white, I sometimes come across opponents who don't play black 1 in the picture, but directly cut at 3, or cut on the other side instead.

In general, I'd love to see more 3-3 invasion josekis, since it has become such a common move nowadays.
2020-05-27


12:09

Guo Juan
Hello GintsEngelen,
Sure, when we see new moves we will add more lessons. It would be even better if you see something which are not covered in our existing lessons, would you please send me an email with sgf file? Thank you.
You must be logged in to post a comment. If you don't have an account, you can register
.
This lecture costs 1€ for a month of viewing.
You must be logged in to watch it.