Basic course > Topics ‐ 02 - Defending corners ‐ Lesson 1
March 26, 2019 by Guo Juan 5p

- Corner defending moves

To defend this Black corner, which moves are good and which are not?
If you can help us with translations, we need your help.
Contact us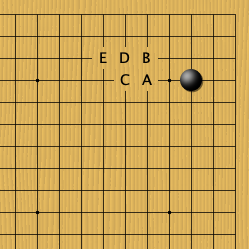 2020-06-29


12:38

PJTraill
Defending Corners 1 – Contents: Defending moves for specific corner stones (only local considerations)
- 00:35 4-4 — 04:50 3-4 — 08:07 4-5 — 08:50 3-5 — 09:48 3-3

2020-06-29


12:41

PJTraill
These three lectures on defending corners use ideas ("doors") explained more thoroughly in the course on approaching corners, so it may be better to start with them: https://internetgoschool.com/lesson.vhtml?ls_id=1616
You must be logged in to post a comment. If you don't have an account, you can register
.
This lecture costs 1€ for a month of viewing.
You must be logged in to watch it.