Al Go > AI 3.3 invasion ‐ Lesson 1
January 17, 2019 by YoungSun Yoon 8p

Black to play next. A and B, which move AlphaGo plays?
If you can help us with translations, we need your help.
Contact us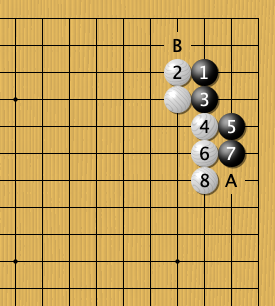 2019-10-29


12:30

AgingGuru
At 06:12 in the lecture, what is Black's response if white simply plays F3 to fill in the ko? That leaves a lot of aji for white to use later.
2020-05-27


12:04

Guo Juan
Hello AginGuru, Black takes sente again. Black can decide to take the outside or the live in the corner later. White is kind of slow that way.
You must be logged in to post a comment. If you don't have an account, you can register
.
This lecture costs 1€ for a month of viewing.
You must be logged in to watch it.