Basic course > Life & Death - first steps ‐ Eye 2nd step ‐ Lesson 02
November 7, 2018 by Guo Juan 5p

Is this Black group alive or dead?
If you can help us with translations, we need your help.
Contact us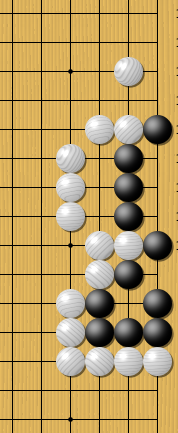 2018-12-05


16:43

Terri Schurter
I was so happy to see this new lesson today. I am really enjoying this new series of lessons, and hope to see more like it soon. Thank you for making these concepts easy to understand.
2018-12-05


17:37

PATB
Thank you for the beginner lessons that even I can understand. Much appreciated.
2018-12-05


20:23

Guo Juan
I am glad you like these basic lessons, thank you very much. I certainly will continue.
You must be logged in to post a comment. If you don't have an account, you can register
.
This lecture costs 1€ for a month of viewing.
You must be logged in to watch it.