Basic course > Handicap ‐ White with 9 stones
August 25, 2018 by Guo Juan 5p

White to play next. A or B?
If you can help us with translations, we need your help.
Contact us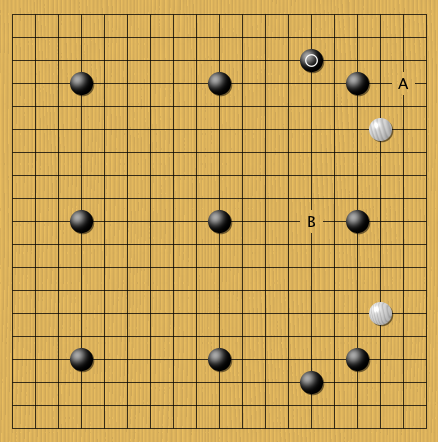 2018-12-24


10:13

merlyn.albery
Main points:

* Put stones outside (in the center)
* Don't try to live because you won't have enough territory
* Don't play tricks. Play honest moves. Otherwise you will damage your playing style.

2018-12-24


10:14

merlyn.albery
Hey Guo Juan, I'd love to watch a lecture on White with 3 stones. :wave:
2019-03-29


17:11

Guo Juan
Hello merlyn.albery, I promise I will do it in April! Thank you very much for supporting me.
You must be logged in to post a comment. If you don't have an account, you can register
.
This lecture costs 1€ for a month of viewing.
You must be logged in to watch it.