Middle game > 04 - Direction of play ‐ Lesson 01 - Potential area
March 14, 2018 by Guo Juan 5p
Black to play next. Which moves are good and which are not?
If you can help us with translations, we need your help.
Contact us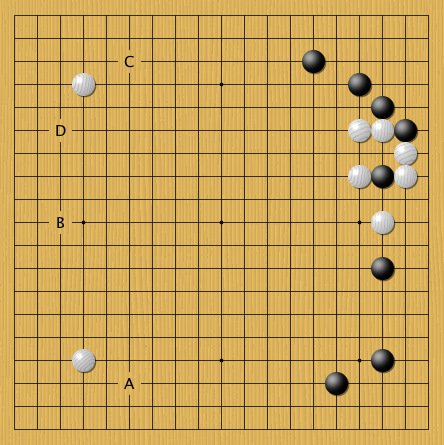 2018-04-07


13:02

zaccbruce
Fantastic, as always. Looking forward to further lectures in this series. Keep up the good work!
2018-04-10


09:16

gogormgo
Also looking forward to this series :)
2018-04-21


22:22

Darrell Malick
Direction - always so important!
2018-05-20


10:30

Lasher
What is the level for this lecture series? I'm 8-10k.
2018-05-21


00:32

Darrell Malick
Lasher: I think this lecture would be good at your level. Guo Juan makes a nice clear statement of principle and then you get some examples to try to see it in action.
You must be logged in to post a comment. If you don't have an account, you can register
.
This lecture costs 1€ for a month of viewing.
You must be logged in to watch it.