Other > Lunch Special ‐ Lesson 09
June 12, 2012 by Guo Juan 5p
Most of the time, Black move A is very wrong. Why?
If you can help us with translations, we need your help.
Contact us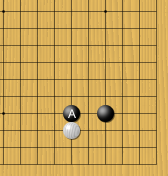 User Comments
2013-10-14


18:00

Rodval
I JUST WATCHED THIS LECTURE RECENTLY. THE NEXT GAME I PLAYED, MY OPPONENT MADE THE BIG "MISTAKE" AND I FORGOT HOW TO ANSWER. :) THEN YESTERDAY I SAW A GAME BETWEEN TWO 5 DANS AND ONE OF THEM MADE THE "BIG MISTAKE" AND THE OTHER DIDN'T ANSWER IT CORRECTLY. I FELT A LITTLE BETTER AFTER THAT. AT ANY RATE I KNOW HOW TO ANSWER NOW.
You must be logged in to post a comment. If you don't have an account, you can register
.
This lecture costs 1€ for a month of viewing.
You must be logged in to watch it.