Find Lectures
Search
Study Guide
Teachers
Date
Collection
Lecture Name
Problems
Level
Language
Free?
Author
2005-12-20
Professional games > 2005
7th Nongshim Cup ‐ Game 01

Black: Kang DongYoon, 3p (Korea) White: Hane Naoki, 9p (Japan) Event: 7th Nongshim Cup (three countries super match) Sponsor: Korea,Nongshim noodles Round: 1, game 1 Komi: 6.5 Date: 2005-10-11 Place: Beijin, China Result: W+R

0
from 30k to 8d
English
no
Wang JianKun 7p
2005-12-20
Professional games > 2005
7th Nongshim Cup ‐ Game 02

Black: Wang Yao, 6p (China) White: Hane Naoki, 9p (Japan) Event: 7th Nongshim Cup (three countries super match) Sponsor: Korea,Nongshim noodles Round: 1, game 2 Komi: 6.5 Date: 2005-10-12 Place: Beijin, China Result: W+R

0
from 30k to 8d
English
no
Wang JianKun 7p
2005-12-20
Professional games > 2005
7th Nongshim Cup ‐ Game 03

Black: Yoo JaeHyung, 7p (Korea) White: Hane Naoki, 9p (Japan) Event: 7th Nongshim Cup (three countries super match) Sponsor: Korea,Nongshim noodles Round: 1, game 3 Komi: 6.5 Date: 2005-10-13 Place: Beijin, China Result: B+R

0
from 30k to 8d
English
no
Wang JianKun 7p
2005-12-20
Professional games > 2005
7th Nongshim Cup ‐ Game 04

Black: Liu Xing, 7p (China) White: Yoo JaeHyung, 7p (Korea) Event: 7th Nongshim Cup (three countries super match) Sponsor: Korea,Nongshim noodles Round: 1, game 4 Komi: 6.5 Date: 2005-10-14 Place: Beijin, China Result: B+R

0
from 30k to 8d
English
no
Wang JianKun 7p
2005-12-22
Professional games > 2006
10th Samsung cup ‐ Semi-finals 1

Black: Lee ChangHao 9p (Korea) White: Hu YaoYu 8p (China) Event: 10th Samsung Cup, Semi finals game 3 komi: 6.5 Date: 2005-12-16 Place: Korea Result: B+R

0
from 30k to 8d
English
no
Wang JianKun 7p
2005-12-25
Middle game > How to win a won game
Lesson 1

Even when we are leading by 30 points, sometimes we still lose the game. Why? You will find the answer in this course. We will help you win more games! Material: Yan An 7p, Guo Juan 5p. Lesson: Guo Juan. Example games are in the 15k-10k level.

0
from 15k to 5d
English
no
Yan An 7p
2005-12-27
Professional games > 2006
10th Samsung cup ‐ Semi-finals 2

Black: Choi CheolHan 9p (Korea) White: Luo XiHe 9p (China) Event: 10th Samsung Cup, Semi finals game 3 komi: 6.5 Date: 2005-12-16 Place: Korea Result: W+7,5 This was one of the most exciting game recently.

0
from 30k to 8d
English
no
Wang JianKun 7p
2005-12-28
Professional games > 2005
7th Nongshim Cup ‐ Game 09

Black: Jo HanSeung 8p (Japan) White: Xie He 6p (China) Event: 7th Nongshim Cup (three countries super match) Sponsor: Korea,Nongshim noodles Round: 2, game 9 Komi: 6.5 Date: 2005-11-27 Place: Korea Result: B+R

0
from 30k to 8d
English
no
Wang JianKun 7p
2005-12-30
Professional games > 2005
4th CheongKwanJang Cup ‐ Game 01

Black: Wang Xiang Yun, 1p (China) White: ShinKai Hiroko 5p (Japan) Event: 4th Cheongkwanjang Cup (female three countries super match ) Sponsor: Korea, Cheongkwanjang Round: 1, game 1 Komi: 6.5 Date: 2005-11-01 Place: Beijin, China Result: B+4,5

0
from 30k to 8d
English
no
Wang JianKun 7p
2006-01-02
Professional games > 2005
4th CheongKwanJang Cup ‐ Game 02

Black: Kim EunSun 2p (Korea) White: Wang Xiang Yun, 1p (China) Event: 4th Cheongkwanjang Cup (female three countries super match ) Sponsor: Korea, Cheongkwanjang Round: 1, game 2 Komi: 6.5 Date: 2005-11-02 Place: Beijin, China Result: w+2,5

0
from 30k to 8d
English
no
Wang JianKun 7p
2006-01-03
Professional games > 2005
4th CheongKwanJang Cup ‐ Game 03

Black: Wang Xiang Yun, 1p (China) White: Mannami Kana, 3p (Japan) Event: 4th Cheongkwanjang Cup (female three countries super match ) Sponsor: Korea, Cheongkwanjang Round: 1, game 3 Komi: 6.5 Date: 2005-11-03 Place: Beijin, China Result: B+3,5

0
from 30k to 8d
English
no
Wang JianKun 7p
2006-01-06
Middle game > How to win a won game
Lesson 2

Material: Yan An 7p, Guo Juan 5p. Lesson: Guo Juan. Example game is from 8k-10k level.

0
from 15k to 5d
English
no
Yan An 7p
2006-01-09
Professional games > 2005
4th CheongKwanJang Cup ‐ Game 04

Black: Lee Tahye 3p (Korea) White: Wang Xiang Yun, 1p (China) Event: 4th Cheongkwanjang Cup (female three countries super match ) Sponsor: Korea, Cheongkwanjang Round: 1, game 4 Komi: 6.5 Date: 2005-11-04 Place: Beijing, China Result: W+R

0
from 30k to 8d
English
no
Wang JianKun 7p
2006-01-11
Professional games > 2006
2nd China ChangQi Cup ‐ Finals 1

White: Zhou HeYang 9p Black: Kong Jie 7p Event: 2nd Chang Qi Cup (The biggest tournament in China at this moment). 3 final matches, game 1 Sponsor: ShangHai Ing's Wei Qi Education Foundation Ing's rule Komi: 8 Date: 2006-01-05 Place: China Result: W+R

0
from 30k to 8d
English
no
Wang JianKun 7p
2006-01-11
Professional games > 2006
2nd China ChangQi Cup ‐ Finals 2

White: Kong Jie 7p Black: Zhou HeYang 9p Event: 2nd Chang Qi Cup (The biggest tournament in China at this moment) 3 final matches, game 2 Sponsor: ShangHai Ing's Wei Qi Education Foundation Ing's rule Komi: 8 Date: 2006-01-07 Place: China Result: B+R

0
from 30k to 8d
English
no
Wang JianKun 7p
2006-01-13
Professional games > 2006
10th Samsung cup finals ‐ Game 1

Black: Luo XiHe 9p (China) White: Lee ChangHao 9p (Korea) Event: 10th Samsung Cup, finals game 1 komi: 6.5 Date: 2006-01-10 Place: Korea Result: B+R

0
from 30k to 8d
English
no
Wang JianKun 7p
2006-01-14
Professional games > 2006
10th Samsung cup finals ‐ Game 2

B: Lee ChangHo (李昌镐,Korea) 9p W: Luo XiHe (罗洗河, China) 9p Event: 10th Samsung Cup, finals game 2 komi: 6.5 Date: 2006-01-12 Place: Korea Result: B+3,5

0
from 30k to 8d
English
no
Wang JianKun 7p
2006-01-15
Professional games > 2006
10th Samsung cup finals ‐ Game 3

B: Luo XiHe 9p (罗洗河, China) W: Lee ChangHo 9p (李昌镐, Korea) Event: 10th Samsung Cup, finals game 3 komi: 6.5 Date: 2006-01-13 Place: Korea Result: B+5,5

0
from 30k to 8d
English
no
Wang JianKun 7p
2006-01-16
Professional games > 2006
11th China NEC Cup final

Black: Gu Li 7p (古力) White: Liu ShiZhen 6p (刘世振) Event:China 11th NEC Cup komi: 7.5 Date: 2006-01-14 Place: China, Guang Zhou Result: B+R

0
from 30k to 8d
English
no
Wang JianKun 7p
2006-01-19
Professional games > 2005
4th CheongKwanJang Cup ‐ Game 13

Black: Ye Gui 5p (China) White: Park Ji Eun 6p (Korea) Event: 4th Cheongkwanjang Cup (female three countries super match ) Sponsor: Korea, Cheongkwanjang Round: 3, game 3 (the last game) Komi: 6.5 Date: 2006-01-18 Place: Shang Hai, China Result: B+0,5

0
from 30k to 8d
English
no
Wang JianKun 7p
2006-01-22
Professional games > 2005
4th CheongKwanJang Cup ‐ Game 12

Black: Park Ji Eun 6p (朴志恩, Korea) White: Koyama Terumi 5p (小山荣美, Japan) Event: 4th Cheongkwanjang Cup (female three countries super match ) Sponsor: Korea, Cheongkwanjang Round: 3, game 2 (the 12th game) Komi: 6.5 Date: 2006-01-17 Place: Shang Hai, China Result: B+4,5

0
from 30k to 8d
English
no
Wang JianKun 7p
2006-01-23
Sponsored lectures > Spanish Go Association
2005-Spanish Go Championship finals

Black: Joan Pons 3d White: Ignacio Cernuda 3d Event: Spanish Go Championship finals 2005. Round: 5 Date: Jan. 2006 Result: W+R Place: Club Nam-Ban, Madrid. This lecture sponsored by the Spanish Go Association

0
from 30k to 5d
English
yes
Guo Juan 5p
2006-01-26
Professional games > 2005
4th CheongKwanJang Cup ‐ Game 11

Black: Park Ji Eun 6p (朴志恩, Korea) White: Rui NaiWei 9p (芮乃伟, China) Event: 4th Cheongkwanjang Cup (female three countries super match ) Sponsor: Korea, Cheongkwanjang Round: 3, game 1 (the 11th game) Komi: 6.5 Date: 2006-01-16 Place: Shang Hai, China Result: B+1,5

0
from 30k to 8d
English
no
Wang JianKun 7p
2006-01-27
Professional games > 2006
Korea 1st Sibdang Cup ‐ Final 1

Black: Park YoungHoon 9p (Korea) White: Lee ChangHo 9p (Korea) Event: Korea - 1st Sibdang Cup finals, game 1 Komi: 6.5 Place: Korea, Seoul Date: 2006-01-08 Result: W + 1,5

0
from 30k to 8d
English
no
Wang JianKun 7p
2006-01-29
Professional games > 2006
Korea 1st Sibdang Cup ‐ Final 2

Black: Lee ChangHo 9p (Korea) White: Park YoungHoon 9p (Korea) Event: Korea - 1st Sibdang Cup finals, game 2 Komi: 6.5 Place: Korea, Seoul Date: 2006-01-15 Result: W + R

0
from 30k to 8d
English
no
Wang JianKun 7p
2006-01-29
Professional games > 2006
Korea 1st Sibdang Cup ‐ Final 3

Black: Park YoungHoon 9p (Korea) White: Lee ChangHo 9p (Korea) Event: Korea - 1st Sibdang Cup finals, game 3 Komi: 6.5 Place: Korea, Seoul Date: 2006-01-22 Result: W + R

0
from 30k to 8d
English
no
Wang JianKun 7p
2006-01-30
Middle game > How to win a won game
Lesson 3

Material: Yan An 7p, Guo Juan 5p. Lesson: Guo Juan. Example game is from 8k-10k level.

0
from 15k to 5d
English
no
Yan An 7p
2006-01-30
Other > Wu ZhaoYi 9p's class
Lesson 1

In this lecture, you will see a nice way to play josekis. The example game is from students of a Chinese Go School. Translated by Guo Juan 5p.

0
from 30k to 5d
English
no
Wu ZhaoYi 9p
2006-02-01
Professional games > 2005
4th CheongKwanJang Cup ‐ Game 05

B: Osawa Narumi 3p (大泽奈留美, Japan) W: Wang XiangYun 1p (王祥云, China) Event: 4th Cheongkwanjang Cup (female three countries super match ) Sponsor: Korea, Cheongkwanjang Round: 2, game 1 (the 5th game) Komi: 6.5 Date: 2005-12-18 Place: Korea, Seoul Result: W + R

0
from 30k to 8d
English
no
Wang JianKun 7p
2006-02-03
Professional games > 2005
4th CheongKwanJang Cup ‐ Game 06

Black: Wang XiangYun 1p (王祥云, China) White: Lee MinJin 4p (이민진, Korea) Event: 4th Cheongkwanjang Cup (female three countries super match ) Sponsor: Korea, Cheongkwanjang Round: 2, game 2 (the 6th game) Komi: 6.5 Date: 2005-12-19 Place: Korea, Seoul Result: W + R

0
from 30k to 8d
English
no
Wang JianKun 7p
2006-02-04
Sponsored lectures > 2006 Dutch Go Championship finals sponsored by Guo Juan's Internet Go School
Dutch Go Championship finals 2006

Black: Frank Janssen 6d
White: Geert Groenen 6d

Event: Dutch Championship 2006
Round: 8
Komi: 6.5
Date: 2006-01-29
Place: Amstelveen (EGCC)
Result: B+R
Free lecture.

0
from 30k to 5d
English
yes
Guo Juan 5p
2006-02-06
Professional games > 2005
4th CheongKwanJang Cup ‐ Game 07

Black: Lee MinJin 4p (이민진, Korea) White: Chinen Kaori 4p (知念熏, Japan) Event: 4th Cheongkwanjang Cup (female three countries super match ) Sponsor: Korea, Cheongkwanjang Round: 2, game 3 (the 7th game) Komi: 6.5 Date: 2005-12-20 Place: Korea, Seoul Result: W + 0.5

0
from 30k to 8d
English
no
Wang JianKun 7p
2006-02-08
Professional games > 2005
4th CheongKwanJang Cup ‐ Game 08

Black: Chinen Kaori 4p (知念熏, Japan) White: Fan WeiJin 1p (范蔚菁, China) Event: 4th Cheongkwanjang Cup (female three countries super match ) Sponsor: Korea, Cheongkwanjang Round: 2, game 4 (the 8th game) Komi: 6.5 Date: 2005-12-21 Place: Korea, Seoul Result: B + R

0
from 30k to 8d
English
no
Wang JianKun 7p
2006-02-10
Professional games > 2005
4th CheongKwanJang Cup ‐ Game 09

Black: Lee YeongSin 4p (李英信, Korea) White: Chinen Kaori 4p (知念熏, Japan) Event: 4th Cheongkwanjang Cup (female three countries super match ) Sponsor: Korea, Cheongkwanjang Round: 2, game 5 (the 9th game) Komi: 6.5 Date: 2005-12-22 Place: Korea, Seoul Result: W + R

0
from 30k to 8d
English
no
Wang JianKun 7p
2006-02-12
Professional games > 2005
4th CheongKwanJang Cup ‐ Game 10

Black: Chinen Kaori 4p (Japan) White: Rui NaiWei 9p (芮乃伟, China) Event: 4th Cheongkwanjang Cup (female three countries super match ) Sponsor: Korea, Cheongkwanjang Round: 2, game 6 (the 10th game) Komi: 6.5 Date: 2005-12-23 Place: Korea, Seoul Result: W + R

0
from 30k to 8d
English
no
Wang JianKun 7p
2006-02-15
Joseki > All about the star point
Lesson 01Is the little corner safe? In this lecture, see how to handle it.
19
from 10k to 5d
English
no
Guo Juan 5p
2006-02-16
Joseki > All about the star point
Lesson 02A way to enlarge our framework or reduce our opponent's. Includes 4 example games.
15
from 30k to 5d
English
no
Guo Juan 5p
2006-02-18
Professional games > 2005
7th Nongshim Cup ‐ Game 05

Black: Liu Xing 7p (China) White: Mimura Tomoyasu 9p (Japan) Event: 7th Nongshim Cup (three countries super match) Sponsor: Korea,Nongshim noodles Stage 2 - Round 1 (the 5th game) Komi: 6.5 Date: 2005-11-23 Place: Korea Result: W+R

0
from 30k to 8d
English
no
Wang JianKun 7p
2006-02-19
Sponsored lectures > Free from Guo Juan
3rd Toyota & Denso European Go Oza - finalsBlack: Merlijn Kuin 5d (The Netherlands)
White: Alexander Dinerchtein 1p (Russia)

Event: 3rd Toyota & Denso European Go Oza - finals (group A)
Round: 3
Komi: 6.5
Date: 2006-02-12
Place: Amstelveen (EGCC)
Result: w+4,5

Duration: 45 min.

Free lecture
0
from 30k to 5d
English
yes
Guo Juan 5p
2006-02-21
Joseki > All about the star point
Lesson 03Want some nice points in the corner? Here's a nice tesuji to help you.
22
from 30k to 5d
English
no
Guo Juan 5p
2006-02-23
Professional games > 2005
7th Nongshim Cup ‐ Game 11

Black: Cho Han Sung 9p (Korea) White: Chang Hao 9p (China) Event: 7th Nongshim Cup (three countries super match) Sponsor: Korea,Nongshim noodles Round: 3, game 1 (the 11th game) Komi: 6.5 Date: 2006-02-21 Place: ShangHai, China Result: B + R

0
from 30k to 8d
English
no
Wang JianKun 7p
2006-02-24
Middle game > How to win a won game
Lesson 4

Material: Yan An 7p, Guo Juan 5p. Lesson: Guo Juan. The example games and exercises are from 8k-10 on the Chinese Go Server: Tom.

0
from 15k to 5d
English
no
Yan An 7p
2006-02-26
Professional games > 2005
7th Nongshim Cup ‐ Game 12

Black: Cho Han Sung 8p (Korea) White: Yoda Norimoto 9p (Japan) Event: 7th Nongshim Cup (three countries super match) Sponsor: Korea,Nongshim noodles Round: 3, game 2 (the 12th game) Komi: 6.5 Date: 2006-02-22 Place: ShangHai, China Result: W + R

0
from 30k to 8d
English
no
Wang JianKun 7p
2006-02-27
Basic course > Original step-by-step course
04

In this lesson, we will study:

A: Keep balance - 1
Do not envy your opponent's territory too much. When our territory is bigger, we should not invade too early.
B: 5 exercises
C: One basic shape
D: Joseki
E Life-death problems
F: Counting

Level: 30k - 1d

Duration: 49min.

0
from 30k to 1d
English
no
Guo Juan 5p
2006-02-28
Joseki > All about the star point
Lesson 04
22
from 30k to 5d
English
no
Guo Juan 5p
2006-03-01
Professional games > 2005
7th Nongshim Cup ‐ Game 13

Black: Kong Jie 7p (China) White: Yoda Norimoto 9p (Japan) Event: 7th Nongshim Cup (three countries super match) Sponsor: Korea,Nongshim noodles Round: 3, game 3 (the 13th game) Komi: 6.5 Date: 2006-02-23 Place: ShangHai, China Result: W + R

0
from 30k to 8d
English
no
Wang JianKun 7p
2006-03-03
Professional games > 2005
7th Nongshim Cup ‐ Game 14

Black: Yoda Norimoto 9p (Japan) White: Lee ChangHo 9p (Korea) Event: 7th Nongshim Cup (three countries super match) Sponsor: Korea,Nongshim noodles Round: 3, game 4 (the 14th game) Komi: 6.5 Date: 2006-02-24 Place: ShangHai, China Result: B + R

0
from 30k to 8d
English
no
Wang JianKun 7p
2006-03-05
Joseki > All about the star point
Lesson 05
0
from 30k to 5d
English
no
Guo Juan 5p
2006-03-06
Professional games > 2006
20th TianYuan Semifinals game 1

Black: Zhou RuiYang 3p (China) White: Chen YaoYe 5p (China) Event: China 20th TianYuan Semifinals Komi: 7,5 Date: 17-02-2006 Place: China, BeiJing Result: B+R

0
from 30k to 8d
English
no
Wang JianKun 7p
2006-03-09
Professional games > 2006
10th LG Cup finals ‐ Game 1

Black : Chen Yao Ye 5p (China) White : Gu Li 7p (China) Event: 10th LG CUP - finals - game 1 komi: 6.5 Date: 2006-03-06 Place: Korea Result: W+R

0
from 30k to 8d
English
no
Wang JianKun 7p
2006-03-11
Joseki > All about the star point
Lesson 06In this lecture we study one of the ways to handle an invasion.
0
from 10k to 5d
English
no
Guo Juan 5p
2006-03-12
Professional games > 2006
10th LG Cup finals ‐ Game 2

Black: Gu Li 7p (China) White : Chen Yao Ye 5p (China) Event: 10th LG CUP - finals - game 2 komi: 6.5 Date: 2006-03-08 Place: Korea Result: B+R

0
from 30k to 8d
English
no
Wang JianKun 7p
2006-03-14
Middle game > How to win a won game
Lesson 5

Material: Yan An 7p, Guo Juan 5p. Lesson: Guo Juan. The example games and exercises are from 5k-7k from the Chinese Go server: Tom.

0
from 15k to 5d
English
no
Yan An 7p
2006-03-18
Joseki > All about the star point
Lesson 07In this lecture we study a modern joseki.
0
from 30k to 5d
English
no
Guo Juan 5p
2006-03-16
Other > Wu ZhaoYi 9p's class
Lesson 2

Mr. Wu commented on one of his own games, against Yu Bin 9p. This game features many beautiful tesujis. Translated by Guo Juan 5p.

0
from 30k to 5d
English
no
Wu ZhaoYi 9p
2006-03-20
Basic course > Topics
Important stones ‐ Lesson 1 Why these three stones are important?
26
from 30k to 1k
English
no
Jennie ShenJing 2p
2006-03-21
Sponsored lectures > Free from Guo Juan
2005 Hungarian Go championship

Black: Csaba Mero 6d White: Pal Balogh 6d Event: Hungarian Go Championship, Round 2. Place: Budapest West hillside area Date: 2005.11.12 B + 5,5

0
from 30k to 5d
English
yes
Wang JianKun 7p
2006-03-25
Professional games > 2006
1st Kangwon Cup stage 2 ‐ Game 2

Black: An Cho Young 9p (Korea) White: Luo XiHe 9p (China) Event: 1st KANGWON CUP (Korea - China super match) Stage 2 – Game 2 Komi: 6.5 Date: 2006-03-20 Place: China, HangZhou Result: B+0.5

0
from 30k to 8d
English
no
Wang JianKun 7p
2006-03-26
Basic course > Original step-by-step course
05

Step by step course - Lesson 5

Teacher Guo Juan 5p

A: Keep balance - 2
When the time comes, we should invade. Do not wait too long.
B: 5 exercises
C: One basic shape
D: Josekis
E: Life-death problems
F: Counting

Level: 30k - 1d

Duration: 52min.



0
from 30k to 1d
English
no
Guo Juan 5p
2006-03-27
Joseki > All about the star point
Lesson 08Example games: * Cho SeonJin(b) - Cho Chikun(w), 2005-07-21, W+ * Lee SeDol(b) - Zhou HeYang(w), 2004-08-25, B+ * Tamemiya Masaki(b) - Kobayashi Koich(w), 1987-02-25, W+3.5 * Jiang Jujo(b) - Rui NaiWei(w), 2000-08-02, B+
0
from 30k to 5d
English
no
Guo Juan 5p
2006-03-28
Basic course > Topics
Important stones ‐ Lesson 2 Important vs unimportants stones.
19
from 30k to 1k
English
no
Jennie ShenJing 2p
2006-03-30
Sponsored lectures > Free from Guo Juan
2006 European Ing tournament

Black: Fan Hui 2p (China - France) White: Cristian Pop 6d (Romania) Evant: European Ing Memorial 2006 Round: 5 Date: 2006-03-19 Place: Sinaia, Romania komi: 8 Result: B + 1

0
from 30k to 5d
English
yes
Guo Juan 5p
2006-03-30
Professional games > 2006
1st Kangwon Cup stage 2 ‐ Game 3

Black: Chang Hao (China) White: An Cho Young 9p (Korea) Event: 1st KANGWON CUP (Korea - China super match) Stage 2 – Game 3 Komi: 6.5 Date: 2006-03-21 Place: China, HangZhou Result: B+R

0
from 30k to 8d
English
no
Wang JianKun 7p
2006-04-01
Joseki > All about the star point
Lesson 09
0
from 30k to 5d
English
no
Guo Juan 5p
2006-04-03
Professional games > 2006
1st Kangwon Cup stage 2 ‐ Game 5

Black: Chang Hao 9p (China) White: Cho Hun Hyun 9p (Korea) Event: 1st KANGWON CUP (Korea - China super match) Stage 2 – Game 5 Komi: 6.5 Date: 2006-03-23 Place: China, HangZhou Result: B+5,5

0
from 30k to 8d
English
no
Wang JianKun 7p
2006-04-04
Other > Wu ZhaoYi 9p's class
Lesson 3

There are two subjects this lecture: A, Do not give what our opponent wants. B, Deep reading is necessary. Translated by Guo Juan 5p.

0
from 10k to 5d
English
no
Wu ZhaoYi 9p
2006-04-06
Basic course > Original step-by-step course
06

Teacher: Guo Juan 5p

A: Taking initiative - Do not follow our opponent all the time.
B: Exercises
C: One basic shape
D: Josekis
E: Life-death problems
F: Counting

Level: 30k - 1d

Duration: 48min.

0
from 30k to 1d
English
no
Guo Juan 5p
2006-04-08
Professional games > 2006
44th Japan Judan ‐ Finals 3

Black: Yamashita Keigo 9p White: Cho Chikun 9p Event: Japan - 44th JUDAN – Finals - game 3 Date: April 5, 2006 Result: Black + 8,5

0
from 30k to 8d
English
no
Wang JianKun 7p
2006-04-09
Lessons in French > Fan Hui 2P
San-ren-sei ‐ Lesson 1

Le coup spécial dans le joseki classique. Si blanc joue des coups abusifs, comment le punir. Parties d'exemple : - Tianyuan, China : noir Nie Weiping 9P, blanc Zhou Heyang 7P, Komi 5.5 Date 1998-01-1 W + 1,5 - Internet Go Championship, Japan : noir Gu Li 7P, blanc Zhou Jun Xun 9P Komi 6.5 Date 2005-02-26 B + R

0
from 30k to 5d
French
no
Fan Hui 2p
2006-04-11
Lessons in French > Antoine Fenech
Step-by-step course ‐ Lesson 01

Professeur : Guo Juan 5p Version française : Antoine Fenech 5d C'est une leçon pour 25k - 30k. Dans cette première leçon nous vous expliquons quel est ce jeu et son but; des formes simples; des joseki simples; comment compter; Et comment résoudre des problèmes de vie et de mort. Même si vous êtes plus fort que 25k, nous pensons que ce n'est pas une mauvaise idée de suivre cette leçon car elle enseigne les idées et les formes de base et c'est bon pour tout le monde.

0
from 30k to 1d
French
no
Guo Juan 5p
2006-04-11
Joseki > All about the star point
Lesson 10
0
from 10k to 5d
English
no
Guo Juan 5p
2006-04-12
Basic course > Topics
Important stones ‐ Lesson 3More difficult to make the judgement now. There are 7 groups involved to the fight. White moved out with 1, what should Black choose, group B or D?
32
from 30k to 5d
English
no
Jennie ShenJing 2p
2006-04-17
Professional games > 2006
1st Kangwon Cup stage 2 ‐ Game 6

Black: Lee ChangHo 9p (Korea) White: Chang Hao 9p (China) Event: 1st KANGWON CUP (Korea - China super match) Stage 2 – Game 6 - the last game Komi: 6.5 Date: 2006-03-24 Place: China, HangZhou Result: W+3,5

0
from 30k to 8d
English
no
Wang JianKun 7p
2006-04-18
Joseki > All about the 3-4 point
Lesson 1In this lecture I show a modern opening with many variations.
0
from 30k to 5d
English
no
Guo Juan 5p
2006-04-21
Professional games > 2006
10th LG Cup finals ‐ Game 3

Black: Chen Yao Ye 5p (China) White : Gu Li 7p (China) Event: 10th LG CUP - finals - game 3 komi: 6.5 Date: 2006-04-17 Place: Korea Result: B+2,5

0
from 30k to 8d
English
no
Wang JianKun 7p
2006-04-22
Professional games > 2006
10th LG Cup finals ‐ Game 4

Black: Gu Li 7p (China) White : Chen Yao Ye 5p (China) Event: 10th LG CUP - finals - game 4 komi: 6.5 Date: 2006-04-19 Place: Korea Result: w+r

0
from 30k to 8d
English
no
Wang JianKun 7p
2005-12-20
Basic course > Original step-by-step course
01

In this lesson, we are going to learn:
A, What this game is about;
B, One basic shape;
C, Two basic josekis;
D, Solving life-death problems
E, Counting territory.
This is the first step, but even if you are stronger than 25k, we think it is still not a bad idea to take this lesson, because the basic ideas and shapes discussed in this course are good for every body to know.

Level: 30k - 1d

Duration: 37min.


0
from 30k to 1d
English
no
Guo Juan 5p
2006-04-24
Professional games > 2006
10th LG Cup finals ‐ Game 5

Black: Gu Li 7p (China) White : Chen Yao Ye 5p (China) Event: 10th LG CUP - finals - game 5 (the last game) komi: 6.5 Date: 2006-04-21 Place: Korea Result: B+R

0
from 30k to 8d
English
no
Wang JianKun 7p
2006-04-25
Middle game > All about attacking
Leaning attack ‐ Lesson 1
0
from 30k to 1d
English
no
Jennie ShenJing 2p
2006-04-25
Lessons in French > Fan Hui 2P
San-ren-sei ‐ Lesson 2

Parties d'exemple : - Mok Jinseok (b) - Takemiya Masaki (w), 2000-11-28 ,W+10.5 - Miyazawa Goro (b) - Kobayashi Satoru(w),1992-03-05, W+R

0
from 30k to 5d
French
no
Fan Hui 2p
2005-12-20
Basic course > Original step-by-step course
02

Step by step course

Lesson 2

Teacher: Guo Juan 5p

A, Where would be the best place to make territory;
B, One basic shape;
C, Two basic josekis;
D, Solving life-death problems
E, Counting territory.

Level: 30k - 1d

Duration: 39min.

0
from 30k to 1d
English
no
Guo Juan 5p
2006-04-28
Joseki > All about the 3-4 point
Lesson 2This looks very simple but it leads to many variations.
0
from 30k to 5d
English
no
Guo Juan 5p
2006-04-28
Lessons in French > Antoine Fenech
Step-by-step course ‐ Lesson 02

Professeur : Guo Juan 5p Version française : Antoine Fenech 5d A, Où jouer pour faire du territoire B, Une forme de base C, Deux joseki classiques D, Problèmes de vie et de mort E, Compter le territoire

0
from 30k to 5d
French
no
Antoine Fenech 5d
2006-04-29
Middle game > How to win a won game
Lesson 6

Material: Yan An 7p, Guo Juan 5p. Lesson: Guo Juan. The example game and exercises are from 3k-6k from the Chinese Go server: Tom.

0
from 15k to 5d
English
no
Yan An 7p
2006-01-18
Basic course > Original step-by-step course
03

Step by step course

Lesson 3

Teacher: Guo Juan 5p

A, Keep distance. If not necessary, we don't play too closely in the beginning of the game.
B, Exercises;
C, One basic shape;
D, Two basic josekis;
E, Solving life-death problems (liberties);
F, Counting territory.

Level: 30k - 1d

Duration: 45min.


0
from 30k to 1d
English
no
Guo Juan 5p
2006-05-01
Basic course > Original step-by-step course
07

Step by step course

Lesson 7

Teacher: Guo Juan 5p

A: Making base
B: One basic shape
C: Josekis
D: Life-death problems
E: Counting

Leve: 30k - 1d

Duration: 37min.


0
from 30k to 1d
English
no
Guo Juan 5p
2006-05-04
Professional games > 2006
5th Asia CSK Cup, Round 3 ‐ Game A

Black: Gu Li 9p (China) White: Lee SeDol 9p (korea) Event: Asia - 5th CSK CUP - round 3 Komi: 6.5 Date: 2006-05-03 Place: Japan Result: B+R

0
from 30k to 8d
English
no
Wang JianKun 7p
2006-05-05
Opening > Opening training
Lesson A1 20 opening examples with detailed commentary. And there are 71 problems for you to use the Spaced repetition training system. Material: Hu XiaoLing 2p, Guo Juan 5p. Lesson: Guo Juan.
71
from 30k to 1k
English
no
Guo Juan 5p
2006-05-06
Middle game > All about attacking
Leaning attack ‐ Lesson 2
0
from 20k to 3d
English
no
Jennie ShenJing 2p
2006-05-06
Lessons in French > Fan Hui 2P
San-ren-sei ‐ Lesson 3

Parties d'exemple : - Sakata Eio (B) -- Kato Masao (w) 1990-01-29, B+4.5 - Gu Li(B) -- Zhou Heyang(w) 2004-12-11, B+3.5

0
from 30k to 5d
French
no
Fan Hui 2p
2006-05-07
Sponsored lectures > Norwegian Go Association
2005 Norwegian championship

Black: Morten Ofstad, 4d White: PÃ¥l Sannes, 4d Event: Norwegian Championship 2005 Date: 22 october 2005 Result: W+ 8,5 Commentators: Wang Jian Kun 7p Guo Juan 5p This lecture sponsored by the Irish Go Association

0
from 30k to 5d
English
yes
Wang JianKun 7p
2006-05-07
Opening > Opening training
Lesson A2

20 opening exercises with detailed commentary. Material: Hu XiaoLing 2p, Guo Juan 5p. Lesson: Guo Juan.

51
from 30k to 1k
English
no
Guo Juan 5p
2006-05-09
Professional games > 2006
5th Asia CSK Cup, Round 3 ‐ Game B

Black: Kong Jie 7p (China) White: Ko Geun Tae 5p (Korea) Event: Asia - 5th CSK CUP - round 3 Komi: 6.5 Date: 2006-05-03 Place: Japan Result: B+R Material by Wang JianKun 7p and Guo Juan 5p Lesson by Guo Juan.

0
from 30k to 8d
English
no
Wang JianKun 7p
2006-05-26
Joseki > All about the star point
Lesson 11Example games: * Yoo Chang Hyuk(b) - Yoda Norimoto, 1996-11-04, B+5 * Lin ZhiHan(b) -Peng JingHua, 2000-06-19, w+ * Chin TongKyu(b) - Park ByungGyu, 2005-02-03, B+3.5
0
from 10k to 5d
English
no
Guo Juan 5p
2006-05-12
Joseki > All about the 3-4 point
Lesson 3We will study this very simple and popular joseki in depth.
0
from 30k to 5d
English
no
Guo Juan 5p
2006-05-13
Other > Wu ZhaoYi 9p's class
Lesson 4

Keeping balance and playing direction. Translated by Guo Juan 5p.

0
from 10k to 5d
English
no
Wu ZhaoYi 9p
2006-05-14
Opening > Opening training
Lesson A3

20 opening exercises with detailed commentary. Material: Hu XiaoLing 2p, Guo Juan 5p. Lesson: Guo Juan.

51
from 30k to 1k
English
no
Guo Juan 5p
2006-05-14
Opening > Opening training
Lesson A4

20 opening exercises with detailed commentary. Material: Hu XiaoLing 2p, Guo Juan 5p. Lesson: Guo Juan.

61
from 30k to 1k
English
no
Guo Juan 5p
2006-05-14
Lessons in French > Fan Hui 2P
San-ren-sei ‐ Lesson 4

Parties d'exemple : - Takemiya Masaki(b) - Kobayashi Koichi(w),1987-02-04,05, W+R - Kato Masao(b) - Kobayashi Koichi(w),1988-09-07,08, B+R

0
from 30k to 5d
French
no
Fan Hui 2p
2006-06-02
Joseki > All about the star point
Lesson 12Example games: * Song TaeKon (b) - So Yokoku, 2005-06-15, w+r * Nie WeiPing (b) - Yamashiro Hiroshi, 1995-03-20, b+r * Liu Xiaoguang (b) - Nie WeiPing, 1993-03-11, B +3.5
0
from 10k to 5d
English
no
Guo Juan 5p
2006-05-16
Professional games > 2006
5th Asia CSK Cup, Round 3 ‐ Game C

Black: Cho U 9p (Tai Bei) White: Takao Shinji 9p (Japen) Event: Asia - 5th CSK CUP - round 3 Komi: 6.5 Date: 2006-05-03 Place: Japan Result: B+R

0
from 30k to 8d
English
no
Wang JianKun 7p
2006-05-18
Middle game > All about attacking
Leaning attack ‐ Lesson 3
0
from 20k to 3d
English
no
Jennie ShenJing 2p
2006-05-18
Opening > Opening training
Lesson A5

20 opening exercises with detailed commentary. Material: Hu XiaoLing 2p, Guo Juan 5p. Lesson: Guo Juan.

54
from 30k to 1k
English
no
Guo Juan 5p
2006-05-18
Lessons in French > Antoine Fenech
Step-by-step course ‐ Lesson 03

Professeur : Guo Juan 5p Version française : Antoine Fenech 5d A: Gardez vos distances. Ne jouez pas trop près des pierres de l'adversaire si ce n'est pas nécessaire. B: Exercices C: Une forme de base D: Josekis E: Problèmes de vie et de mort F: Compter

0
from 30k to 5d
French
no
Antoine Fenech 5d
2006-05-20
Joseki > All about the 3-4 point
Lesson 4Again, a very simple and popular joseki gets deep study.
0
from 10k to 5d
English
no
Guo Juan 5p
2006-05-19
Opening > Opening training
Lesson B1

Level B: All problems are made from pro games. Material: Ding Bo 5p, Hu XiaoLing 2p, Guo Juan 5p. Lesson: Guo Juan.

51
from 10k to 30k
English
no
Guo Juan 5p
2006-05-30
Basic course > Original step-by-step course
08

In this lecture: - Cutting: we only cut the groups/stones that are not alive. - 5 exercises. - One basic shape. - Josekis. - Life and death problems. - Counting. - Pro game example: 10th Samsung Cup finals LuoXiHe 9P (China) - Lee Changhao 9P (Korea)

0
from 30k to 1d
English
no
Guo Juan 5p
2006-05-21
Opening > Opening training
Lesson B2

Level B: All problems are made from pro games. Material: Ding Bo 5p, Guo Juan 5p. Lesson: Guo Juan.

46
from 10k to 30k
English
no
Guo Juan 5p
2006-05-26
Opening > Opening training
Lesson B3

Level B: All problems are made from pro games. Material: Ding Bo 5p, Guo Juan 5p. Lesson: Guo Juan.

52
from 10k to 30k
English
no
Guo Juan 5p
2006-05-24
Professional games > 2006
44th Japan Judan ‐ Finals 4

Black: Cho Chikun 9p White: Yamashita Keigo 9p Event: Japan - 44th Judan – Finals - game 4 (the last game) Date: April 13, 2006 Result: Black + 2,5

0
from 30k to 8d
English
no
Wang JianKun 7p
2006-06-02
Opening > Opening training
Lesson B4

Material: Ding Bo 5p, Guo Juan 5p. Lesson: Guo Juan.

50
from 10k to 30k
English
no
Guo Juan 5p
2006-06-07
Middle game > All about attacking
Thickness attack ‐ Lesson 1
0
from 30k to 1k
English
no
Jennie ShenJing 2p
2006-06-10
Professional games > 2006
44th Japan Judan ‐ Finals 2

Black: Cho Chikun 9p White: Yamashita Keigo 9p Event: Japan - 44th Judan – Finals - game 2 Date: March 27, 2006 Result: B+R Commentators: Wang Jian Kun 7p Guo Juan 5p English speaking: Guo Juan 5p

0
from 30k to 8d
English
no
Wang JianKun 7p
2006-06-11
Opening > Opening training
Lesson B5

Material: Ding Bo 5p, Guo Juan 5p. Lesson: Guo Juan.

50
from 10k to 30k
English
no
Guo Juan 5p
2006-06-15
Professional games > 2006
11th LG cup, round 2 game 1

Black: Lee SeDol 9p (Korea) White: Xie He 6p (China) Event: 11th LG Cup Round: 2 Date: 2006-05-17 Place: Korea Result: w+r

0
from 30k to 8d
English
no
Wang JianKun 7p
2006-06-16
Opening > Opening training
Lesson C1

Material: Ding Bo 5p, Guo Juan 5p. Lesson: Guo Juan.

42
from 1k to 5d
English
no
Guo Juan 5p
2006-06-16
Lessons in French > Antoine Fenech
Step-by-step course ‐ Lesson 04

Professeur : Guo Juan 5p Version française : Antoine Fenech 5d A: Garder l'équilibre. Ne pas être jaloux du territoire de l'adversaire. Si notre territoire est assez grand, ne pas envahir le sien trop tôt. B: 5 exercices C: Une forme de base D: Joseki E : Problèmes de vie et de mort F: Compter

0
from 30k to 5d
French
no
Antoine Fenech 5d
2006-06-17
Other > Wu ZhaoYi 9p's class
Lesson 5

We should learn and play good shapes, but we should not be bookish. This means we should play the shapes which are functional. Content: Wu ZhaoYi 9p, Guo Juan 5p. Lesson: Guo Juan.

0
from 10k to 5d
English
no
Wu ZhaoYi 9p
2006-06-21
Professional games > 2006
61st Japan Honinbo ‐ Game 1

Black:Yamada Kimio 9p White:Takao Shinji 9p Event: Japan-61th Honinbo-Title match-game 1 Komi: 6,5 Date: 2006-05-08 Place: Japan Result: w+r

0
from 30k to 8d
English
no
Wang JianKun 7p
2006-06-22
Opening > Opening training
Lesson C2

Material: Ding Bo 5p, Guo Juan 5p. Lesson: Guo Juan.

50
from 1k to 5d
English
no
Guo Juan 5p
2006-06-24
Other > Typical mistakes by Guo Juan (older series)
5 kyu to 3 dan ‐ Lesson 1

**NOTE: There is a little break (at 18:10, about 1.5 minutes) in this lecture, because I was on a phone call and forgot to stop the recording. You can just wait for 1.5 minutes or move the bar on the upper right side, the lectures will just continue. Sorry :) **

36
from 5k to 3d
English
no
Guo Juan 5p
2006-06-27
Middle game > All about attacking
Leaning attack ‐ Lesson 4
0
from 1d to 3d
English
no
Jennie ShenJing 2p
2006-06-30
Professional games > 2006
61st Japan Honinbo ‐ Game 2

Black: Takao Shinji 9p - Honinbo White: Yamada Kimio 9p Event: Japan-61th Honinbo-Title match-game 2 Komi: 6,5 Date: 2006-05-29,30 Place: Japan Result: w+r

0
from 30k to 8d
English
no
Wang JianKun 7p
2006-07-02
Other > Typical mistakes by Guo Juan (older series)
10 kyu to 1 dan ‐ Lesson 1

There are 7 typical mistakes in this lecture.

21
from 10k to 1d
English
no
Guo Juan 5p
2006-07-05
Professional games > 2006
61st Japan Honinbo ‐ Game 3

Black:Yamada Kimio 9p White:Takao Shinji 9p Event: Japan-61th Honinbo-Title match-game 3 Komi: 6,5 Date: 2006-06-07,08 Place: Japan Result: w+r

0
from 30k to 8d
English
no
Wang JianKun 7p
2006-07-05
Lessons in French > Fan Hui 2P
San-ren-sei ‐ Lesson 5

Parties d'exemple : - Takemiya Masaki(B) -Yamashiro Hiroshi(W), 1990-02-19, B+8.5 - Takemiya Masaki(B) -Cho Hunhyun(W), 1990-03-22, B+3.5

0
from 30k to 5d
French
no
Fan Hui 2p
2006-07-07
Opening > Opening training
Lesson C3

Material: Ding Bo 5p, Guo Juan 5p. Lesson: Guo Juan.

57
from 1k to 5d
English
no
Guo Juan 5p
2006-07-08
Joseki > All about the 3-4 point
Lesson 5White approches in two corners. What is the difference between Black moves A and B?
0
from 10k to 5d
English
no
Guo Juan 5p
2006-07-11
Professional games > 2006
19th Fujitsu ‐ Final game

Black: Zhou HeYang 9p (China) White: Park Jung Sang 6p (Korea) Event: 19th Fujitsu Cup – Final game Date: July 3, 2006 Place: Japan Komi: 6,5 Result: w + r Commentator: Wang Jian Kun 7p English speaking: Guo Juan 5p

0
from 30k to 8d
English
no
Wang JianKun 7p
2006-07-13
Sponsored lectures > British Go Association
British championship - 2006 ‐ Game 1

Black: Matthew Macfadyen 6d (Champion) White: Bei Ge 5d (Challenger) Event: British Championship Title matches game 1 Date: 2006-07-08 Result: W + 3,5 Lesson sponsored by the British Go Association

0
from 30k to 5d
English
yes
Guo Juan 5p
2006-07-15
Basic course > Original step-by-step course
09

In this lecture: - Connecting stones: we only connect stones and groups that are not alive. And before we connect, ask: Are they important? Are they cutting stones? - 5 exercises in the lecture. - One basic shape. - Josekis. - Life and death problems (all about connecting stones and groups). - Counting.

0
from 30k to 1d
English
no
Guo Juan 5p
2006-07-18
Professional games > 2006
19th Fujitsu ‐ Semi-final 1

Black: Lee SeDol 9p (Korea) White: Zhou HeYang 9p (China) Event: 19th Fujitsu Cup – Semi Final Date: July 1, 2006 Place: Japan Komi: 6,5 Result: w + r Commentator: Wang Jian Kun 7p English speaking: Guo Juan 5p

0
from 30k to 8d
English
no
Wang JianKun 7p
2006-07-20
Opening > Opening training
Lesson C4

Material: Ding Bo 5p, Guo Juan 5p. Lesson: Guo Juan.

58
from 1k to 5d
English
no
Guo Juan 5p
2006-07-22
Middle game > All about attacking
Leaning attack ‐ Lesson 5
0
from 30k to 5d
English
no
Jennie ShenJing 2p
2006-07-25
Professional games > 2006
19th Fujitsu ‐ Semi-final 2

Black: Choi CheolHan 9p White: Park Jung Sang 6p Event: 19th Fujitsu Cup – Semi Finals Date: July 1, 2006 Place: Japan Komi: 6,5 Result: w + r

0
from 30k to 8d
English
no
Wang JianKun 7p
2006-07-27
Opening > New opening moves
Lesson 01AIn these first two lectures, you will see a very interesting new move (Black 8) in a Mini-Chinese opening. Material: Wang JianKun 7p, Guo Juan 5p. Lesson: Guo Juan.
0
from 30k to 8d
English
no
Guo Juan 5p
2006-07-29
Opening > New opening moves
Lesson 01B

In these first two lectures, you will see a very interesting new move (Black 8) in a Mini-Chinese opening. Material: Wang JianKun 7p, Guo Juan 5p. Lesson: Guo Juan. Example pro games: * Lee ChangHo 9p - Chang Hao 9p; 2006-03-24; w+3.5 * Chen YaoYe 5p - Gu Li 7p; 2006-04-03; w+r * Zhou JunXun 9p - Chang Hao 9p; 2006-04-10; w+r * Park Yuonghoon 9p - Gu Li 9p; 2006-05-15; w+r * Takao Shinji 9p - Zhou JunXun 9p; 2006-05-17; b+r * Lee ChangHo 9p - Lee SeDol 9p; 2006-06-03; w+4.5

0
from 30k to 5d
English
no
Wang JianKun 7p
2006-08-01
Professional games > 2006
61st Japan Honinbo ‐ Game 4

Black: Takao Shinji 9p White: Yamada Kimio 9p Event: Japan-61th Honinbo-Title match-game 4 Komi: 6,5 Date: 2006-06-12,13 Place: Japan Result: B+R Commentator: Wang Jian Kun 7p English speaking: Guo Juan 5p

0
from 30k to 8d
English
no
Wang JianKun 7p
2006-08-03
Opening > Opening training
Lesson C5

Material: Ding Bo 5p, Guo Juan 5p. Lesson: Guo Juan.

43
from 1k to 5d
English
no
Guo Juan 5p
2006-08-08
Professional games > 2006
61st Japan Honinbo ‐ Game 5

Black: Yamada Kimio 9p White: Takao Shinji 9p - Honinbo Event: Japan-61st Honinbo-Title match-game 5 Komi: 6,5 Date: 2006-06-26,27 Place: Japan Result: b+r Commentators: Wang Jian Kun 7p Guo Juan 5p English speaking: Guo Juan 5p

0
from 30k to 8d
English
no
Wang JianKun 7p
2006-08-05
Other > Typical mistakes by Guo Juan (older series)
20 kyu to 10 kyu ‐ Lesson 1

There are 5 common mistakes in this set.

0
from 20k to 10k
English
no
Guo Juan 5p
2006-08-10
Middle game > All about attacking
Thickness attack ‐ Lesson 2
0
from 20k to 1d
English
no
Jennie ShenJing 2p
2006-08-15
Professional games > 2006
61st Japan Honinbo ‐ Game 6

Black: Takao Shinji 9p - Honinbo White: Yamada Kimio 9p Event: Japan-61th Honinbo-Title match-game 6 Komi: 6,5 Date: 2006-07-12,13 Place: Japan Result: b+r

0
from 30k to 8d
English
no
Wang JianKun 7p
2006-08-12
Basic course > Original step-by-step course
10

In this lecture: - When stones are next to each other, one must hane or nobi! - Walking ahead is one of the most important principles in the game of Go. - 5 exercises. - One basic shape. - Josekis. - Life and death problems. - Counting.

0
from 30k to 5d
English
no
Guo Juan 5p
2006-08-17
Opening > Mini-Chinese
Lesson 1*Note: There is more information about the Mini-Chinese opening in the "Common Opening" series of lectures. Material: Wu YuLin 6p, Guo Juan 5p. Lesson: Guo Juan.
31
from 30k to 5d
English
no
Guo Juan 5p
2006-08-19
Other > Typical mistakes by Guo Juan (older series)
30 kyu to 20 kyu ‐ Lesson 1
0
from 30k to 20k
English
no
Guo Juan 5p
2006-08-26
Opening > Mini-Chinese
Lesson 2Material: Wu YuLin 6p, Guo Juan 5p. Lesson: Guo Juan. Example pro games: * Lee ChangHo 9p - Chang Hao 9p; 1998-08-25; B+R * Liu XiaoGuang 9p - Ma XiaoChun 9p; 1998-10-14; B+R * Yoo Changhyuk 9p - Ishida Yoshio 9p; 1999-06-05; B+R * Yoo Changhyuk 9p - Zhou HeYang 9p; 1999-09-06; B+R
0
from 30k to 5d
English
no
Guo Juan 5p
2006-08-22
Professional games > 2006
44th Japan Judan ‐ Finals 1

Black: Yamashita Keigo 9p White: Cho Chikun 9p Event: Japan - 44th Judan – Finals - game 1 Date: March 8, 2006 Result: W+R

0
from 30k to 8d
English
no
Wang JianKun 7p
2006-08-23
Middle game > All about attacking
Direction of attack ‐ Lesson 1 What is the best way to attack these two Black stones? Which moves are good and which are not good?
22
from 20k to 1d
English
no
Jennie ShenJing 2p
2006-08-28
Professional games > 2006
China CCTV Cup ‐ Final game

Black: Luo XiHe 9p White: Wang Xi 5p Event: CCTV Cup 2006 - Final game Date: 2006-07-06 Komi: 7,5 Result: B + 1,5

0
from 30k to 8d
English
no
Wang JianKun 7p
2006-08-31
Middle game > All about attacking
Thickness attack ‐ Lesson 3
0
from 30k to 5d
English
no
Jennie ShenJing 2p
2006-09-03
Opening > Mini-Chinese
Lesson 3Material: Wu YuLin 6p, Guo Juan 5p. Lesson: Guo Juan.
0
from 30k to 5d
English
no
Guo Juan 5p
2006-09-05
Professional games > 2006
Asia TV Cup ‐ Final game

Black: Lee ChangHo 9p White: Wang Xi 5p Event: 2006 Asia TV Cup final game Date: 2006-08-11 Place: Korea Result: W + R

0
from 30k to 8d
English
no
Wang JianKun 7p
2006-09-07
Other > Typical mistakes by Guo Juan (older series)
5 kyu to 3 dan ‐ Lesson 2

There are 8 typical istakes in this lecture.

0
from 5k to 3d
English
no
Guo Juan 5p
2006-09-09
Joseki > All about the 3-4 point
Lesson 6Pro game examples: * Lee JonMoon - He XiaoRen 5p, 2002-04-21, W+R * Yoda Norimoto 9p - Kato Masao 9p, 1997-03-06, W+3.5 * Seo Bong Soo 9p - Cho Hun Hyun 9p, 1985-11-26, W+
0
from 10k to 5d
English
no
Guo Juan 5p
2006-09-11
Professional games > 2006
Asia TV Cup ‐ Game 1

Black: Wang Xi 5p (China) White: Yoo Chang-Hyuk 9p (Korea) Event: 2006 Asia TV Cup Date: 2006-08-08 Place: Korea Result: B + 14,5

0
from 30k to 8d
English
no
Wang JianKun 7p
2006-09-11
Lessons in French > Antoine Fenech
Step-by-step course ‐ Lesson 05

Lesson 5 Professeur : Guo Juan 5p Version française: Antoine Fenech 5d A Garder l'équilibre - Quand c'est nécessaire, il faut envahir. Ne pas attendre trop longtemps. B: 5 exercices C: Une forme de base D: Joseki E: Problèmes de vie et de mort F: Compter

0
from 30k to 5d
French
no
Antoine Fenech 5d
2006-09-14
Other > Typical mistakes by Guo Juan (older series)
10 kyu to 1 dan ‐ Lesson 2
0
from 10k to 1d
English
no
Guo Juan 5p
2006-09-19
Professional games > 2006
Asia TV Cup ‐ Game 2

Black: Wang Xi 5p White: Cho U 9p Event: 2006 Asia TV Cup game 2 Date: 2006-08-09 Place: Korea Result: B + R Commentators: Wang JianKun 7p Guo Juan 5p English speaking: Guo Juan 5p

0
from 30k to 8d
English
no
Wang JianKun 7p
2006-09-16
Middle game > All about attacking
Direction of attack ‐ Lesson 2
22
from 10k to 3d
English
no
Jennie ShenJing 2p
2006-09-21
Other > Typical mistakes by Guo Juan (older series)
20 kyu to 10 kyu ‐ Lesson 2
0
from 20k to 10k
English
no
Guo Juan 5p
2006-09-24
Middle game > All about attacking
Direction of attack ‐ Lesson 3
27
from 10k to 3d
English
no
Jennie ShenJing 2p
2006-09-26
Professional games > 2006
3rd World Oza Cup ‐ Semi-final 1

Black: Lee SeDol 9p (Korea) White: Lee ChangHo 9p(Korea) Event: 3rd TOYOTA & DENSO CUP half finals Komi: 6,5 Date: 2006-09-01 Place: Japan, Tokyo Result: B+R

0
from 30k to 8d
English
no
Wang JianKun 7p
2006-09-28
Sponsored lectures > British Go Association
British championship - 2006 ‐ Game 2

Black: Bei Ge 5d (Challenger) White: Matthew Macfadyen 6d (Champion) Event: British Championship 2006, Title matches game 2 Date: 2006-09-24 Place: UK Result: W + R Lesson sponsored by the British Go Association

0
from 30k to 5d
English
yes
Guo Juan 5p
2006-09-30
Joseki > All about the 3-4 point
Lesson 7

Example games: * Kim EunSun 2p - Wang Xiang Yun 1p, 2005-11-02, w+2.5 * Li Jie - Chang Hao, 2005-05-02, w+R * Yoo ChangHyuk - Ma XiaoChun, B+0.5

0
from 30k to 5d
English
no
Guo Juan 5p
2006-09-30
Lessons in French > Antoine Fenech
Step-by-step course ‐ Lesson 06

Professeur: Guo Juan 5p Version française: Antoine Fenech 5d A: Prendre l'initiative - Ne pas suivre son adversaire tout le temps B: Exercices C: Une forme de base D: Joseki E: Problèmes de vie et de mort F: Compter Xian Shou Sente

0
from 30k to 5d
French
no
Antoine Fenech 5d
2006-10-05
Basic course > Original step-by-step course
11

In this lecture: - Controlling the center: Run faster! - Exercises. - One basic shape. - Josekis. - Life and death problems. - Counting.

0
from 30k to 5d
English
no
Guo Juan 5p
2006-10-03
Professional games > 2006
3rd World Oza Cup ‐ Semi-final 2

Black: Cho U 9p (Japan) white: Park YoungHoon 9p (Korea) Event: 3rd World Oza Cup half finals Komi: 6,5 Date: 2006-09-01 Place: Japan, Tokyo Result: B+R

0
from 30k to 8d
English
no
Wang JianKun 7p
2006-10-08
Other > Typical mistakes by Guo Juan (older series)
5 kyu to 3 dan ‐ Lesson 3
0
from 5k to 3d
English
no
Guo Juan 5p
2006-10-10
Professional games > 2006
6th ChunLan Cup ‐ Quarter-final 1

Black: Gu Li 9p (China) White: Lee ChangHo (Korea) Event: 2006-6th ChunLan Cup-quarter finals Komi: 7,5 Date: 2006-09-28 Place: China, Guang Zhou Result: B+R

0
from 30k to 8d
English
no
Wang JianKun 7p
2006-10-12
Basic course > Topics
Important stones ‐ Lesson 4 A or B?
22
from 10k to 5d
English
no
Jennie ShenJing 2p
2006-10-14
Lessons in French > Fan Hui 2P
Fondamental du fuseki ‐ Lesson 1

La protection du coin

0
from 30k to 1d
French
no
Fan Hui 2p
2006-10-16
Professional games > 2006
6th ChunLan Cup ‐ Quarter-final 2

Black: Xie He 6p White: Lee SeDol 9p Event: 2006-6th ChunLan Cup-quarter finals Komi: 7,5 Date: 2006-09-28 Place: China, Guang Zhou Result: B+R

0
from 30k to 8d
English
no
Wang JianKun 7p
2006-10-19
Joseki > Using basic joseki correctly
Star josekis ‐ Lesson 01In this first lesson MingJiu teaches details about these two josekis, avoiding mistakes and gaining advantage from opponent's mistakes.
0
from 15k to 5d
English
no
MingJiu Jiang 7p
2006-10-28
Opening > Common opening
Lesson 01From simple ideas to high level variations, we will step-by-step learn this common opening. Material: Duan Rong 7p, Guo Juan 5p. Lesson: Guo Juan.
0
from 30k to 5d
English
no
Guo Juan 5p
2006-10-21
Sponsored lectures > British Go Association
British championship - 2006 ‐ Game 3

Black: Matthew Macfadyen 6d (Champion) White: Bei Ge 5d (Challenger) Event: British Championship 2006, Title matches game 3 Date: 2006-10-07 Place: UK Result: W + R Lesson sponsored by the British Go Association

0
from 30k to 5d
English
yes
Guo Juan 5p
2006-10-24
Professional games > 2006
Japan 31st MeiJin ‐ Game 4

Black: Cho U 9p (title holder) White: Takao Shinji 9p Event: 2006 Japan-31st MeiJin-Title match-game 4 Komi: 6,5 Date: 2006 -10 -11,12 Place: Japan Result: w+0,5 Commentators: Wang Jian Kun 7p Editing & English speaking: Guo Juan 5p

0
from 30k to 8d
English
no
Wang JianKun 7p
2006-10-26
Basic course > Topics
Important stones ‐ Lesson 5 Which stone is more important, A or B?
22
from 10k to 5d
English
no
Jennie ShenJing 2p
2006-11-04
Opening > Common opening
Lesson 02Material: Duan Rong 7p, Guo Juan 5p. Lesson: Guo Juan.
0
from 30k to 5d
English
no
Guo Juan 5p
2006-10-31
Joseki > Using basic joseki correctly
Star josekis ‐ Lesson 02
0
from 15k to 5d
English
no
MingJiu Jiang 7p
2006-11-02
Professional games > 2006
Japan 31st MeiJin ‐ Game 5

Black: Takao Shinji 9p White: Cho U 9p Event: 2006 Japan-31st MeiJin-Title match-game 5 Komi: 6,5 Date: 2006 -10 -18,19 Place: Japan Result: w+R

0
from 30k to 8d
English
no
Wang JianKun 7p
2006-11-07
Professional games > 2006
Japan 31st MeiJin ‐ Game 3

Black: Takao Shinji 9p White: Cho U 9p Event: 2006 Japan-31st MeiJin-Title match-game 3 Komi: 6,5 Date: 2006 -9 -27,28 Place: Japan Result: W + R Commentators: Wang Jian Kun 7p Editing & English speaking: Jennie Shen 2p

0
from 30k to 8d
English
no
Wang JianKun 7p
2006-11-09
Joseki > Using basic joseki correctly
Star josekis ‐ Lesson 03
0
from 15k to 5d
English
no
MingJiu Jiang 7p
2006-11-11
Opening > Common opening
Lesson 03Material: Duan Rong 7p, Guo Juan 5p. Lesson: Guo Juan.
0
from 30k to 5d
English
no
Guo Juan 5p
2006-11-18
Middle game > All about attacking
Direction of attack ‐ Lesson 4
0
from 10k to 3d
English
no
Jennie ShenJing 2p
2006-11-13
Lessons in French > Antoine Fenech
Step-by-step course ‐ Lesson 07

Professeur: Guo Juan 5p Version française: Antoine Fenech 5p A: Faire une base B: 5 exercices C: Une forme de base D: Joseki E: Problèmes de vie et de mort F: Compter

0
from 30k to 5d
French
no
Antoine Fenech 5d
2006-11-14
Professional games > 2006
Japan 31st MeiJin ‐ Game 1

Black: Takao Shinji, 9p, Honinbo White: Cho U, 9p, Meijin Event: 31 Meijin title, game 1 Date: 2006-09-08,09 Place: Japan komi: 6.5 Result: B+0.5 Comemtator: Wang Jiankun 7p Editing & English speaking: Guo Juan 5p

0
from 30k to 8d
English
no
Wang JianKun 7p
2006-11-21
Professional games > 2006
Japan 31st MeiJin ‐ Game 2

Black: Cho U, 9p, Meijin White: Takao Shinji, 9p, Honinbo Event: Japan 31 Meijin title, game 2 Date: 2006-09-20,21 Place: Japan komi: 6.5 Result: W+R Comemtator: Wang Jiankun 7p Editing & English speaking: Guo Juan 5p

0
from 30k to 8d
English
no
Wang JianKun 7p
2006-11-16
Basic course > Original step-by-step course
12

In this lecture: - Get away from local fighting at the right moment. - Exercises. - One basic shape. - Josekis. - Life and death problems. - Counting.

0
from 30k to 1d
English
no
Guo Juan 5p
2006-11-23
Opening > Common opening
Lesson 04We will show you the variations after White plays at A, B, C or D. Material: Duan Rong 7p, Guo Juan 5p. Lesson: Guo Juan.
0
from 30k to 5d
English
no
Guo Juan 5p
2006-11-28
Professional games > 2006
Japan 31st MeiJin ‐ Game 6

Black: Cho U, 9p, Meijin White: Takao Shinji, 9p, Honinbo Event: 31 Meijin title, game 6 Date: 2006-11-02,03 Place: Japan komi: 6.5 Result: W+3.5 Comemtator: Wang Jiankun 7p Editing & English speaking: Guo Juan 5p

0
from 30k to 8d
English
no
Wang JianKun 7p
2006-11-25
Middle game > All about attacking
Thickness attack ‐ Lesson 4

How to use thickness to kill.

0
from 10k to 5d
English
no
Jennie ShenJing 2p
2006-11-30
Joseki > Using basic joseki correctly
Star josekis ‐ Lesson 04MingJiu explains White moves 4 and 8 - correct moves and also the common mistakes we see in the variations.
0
from 15k to 5d
English
no
MingJiu Jiang 7p
2006-12-02
Opening > New opening moves
Lesson 02White 2 is the new move we are going to study in this lecture. Material: Wang JianKun 7p, Guo Juan 5p. Lesson: Guo Juan.
0
from 30k to 5d
English
no
Wang JianKun 7p
2006-12-05
Professional games > 2006
China Agon Cup ‐ Final game

Black: Luo XiHe 9p White: Liu Xi 7p 2006 China A Han Tong Cup (Agon cup) Final match Komi: 7,5 Date: 2006-11-06 Place: China, NanJing Result: W + 4,5 Commentator: Wang Jiankun 7p Editing & English speaking: Guo Juan 5p

0
from 30k to 8d
English
no
Wang JianKun 7p
2006-12-07
Other > Wu ZhaoYi 9p's class
Lesson 6

This is a set of beautiful middle game problems. We will learn how to keep the global balance. Content: Wu ZhaoYi 9p, Guo Juan 5p. Lesson: Guo Juan.

0
from 30k to 5d
English
no
Wu ZhaoYi 9p
2006-12-09
Joseki > Using basic joseki correctly
Star josekis ‐ Lesson 05
0
from 15k to 5d
English
no
MingJiu Jiang 7p
2006-12-13
Middle game > All about attacking
Direction of attack ‐ Lesson 5
0
from 30k to 5d
English
no
Jennie ShenJing 2p
2006-12-11
Sponsored lectures > British Go Association
British championship - 2006 ‐ Game 5

Black: Matthew Macfadyen 6d (Champion) White: Bei Ge 5d (Challenger) Event: 2006 British Championship Title matches game 5 Date: 2006-12-02 Result: W + R Lesson sponsored by the British Go Association

0
from 30k to 5d
English
yes
Guo Juan 5p
2006-12-16
Opening > Common opening
Lesson 05In this lecture, we will show you the variations of Black's next move at A, B, C, D or E. Material: Duan Rong 7p, Guo Juan 5p. Lesson: Guo Juan.
0
from 30k to 5d
English
no
Guo Juan 5p
2006-12-16
Lessons in French > Fan Hui 2P
Fondamental du fuseki ‐ Lesson 2

Les fonctions des différentes lignes

0
from 30k to 1d
French
no
Fan Hui 2p
2006-12-19
Joseki > Using basic joseki correctly
Star josekis ‐ Lesson 06
0
from 15k to 5d
English
no
MingJiu Jiang 7p
2006-12-23
Professional games > Grand Masters' games
Go Seigen ‐ Game 01A

White: Honinbo-Shusai Black: Go SeiGen (in Chinese Wu QinYuan) Date: 1933/10/16--1934/1/29

0
from 30k to 8d
English
no
Jujo Jiang 9p
2006-12-21
Lessons in French > Antoine Fenech
Step-by-step course ‐ Lesson 08

Professeur : Guo Juan 5p Version française : Antoine Fenech 5d A: Couper / Séparer On ne coupe que les pierres / groupes qui ne sont pas vivant(e)s. B: 5 exercices C: Une forme de base D: Joseki E: Problèmes de vie et de mort F: Compter Exemple de partie de pro : Noir : Luo XiHe 9p (Chine) Blanc : Lee ChangHo 9p (Corée) Tournoi : 10ème Coupe Samsung, finale partie 1 Date : 10-01-2006 Résultat : Noir+abandon

0
from 30k to 5d
French
no
Antoine Fenech 5d
2006-12-21
Middle game > All about attacking
Thickness attack ‐ Lesson 5
0
from 5k to 5d
English
no
Jennie ShenJing 2p
2006-12-28
Joseki > Using basic joseki correctly
Star josekis ‐ Lesson 07
0
from 15k to 5d
English
no
MingJiu Jiang 7p
2006-12-23
Sponsored lectures > Free from Guo Juan
FreeLecture-2006-Christmas Something interesting - Free lecture on December 23, 2006

Teacher & English speaking:
Guo Juan 5p

Duration: 29min

Free lecture
0
from 30k to 5d
English
yes
Guo Juan 5p
2006-12-26
Professional games > Grand Masters' games
Go Seigen ‐ Game 01B

White: Honinbo-Shusai Black: Go SeiGen (in Chinese Wu QinYuan) Date: 1933/10/16--1934/1/29

0
from 30k to 8d
English
no
Jujo Jiang 9p
2007-01-09
Opening > Common opening
Lesson 06Black 1 is an interesting move. We will study the variations of White's next move at A or B. Material: Duan Rong 7p, Guo Juan 5p. Lesson: Guo Juan.
0
from 30k to 5d
English
no
Guo Juan 5p
2006-12-28
Professional games > Grand Masters' games
Go Seigen ‐ Game 01C

White: Honinbo-Shusai Black: Go SeiGen (in Chinese Wu QinYuan) Date: 1933/10/16--1934/1/29 This is the last lecture on game 1

0
from 30k to 8d
English
no
Jujo Jiang 9p
2006-12-28
Basic course > Original step-by-step course
13

In this lecture: - About attacking and defending. - Exercises. - One basic shape. - Josekis. - Life and death problems. - Counting.

0
from 30k to 1d
English
no
Guo Juan 5p
2006-12-28
Sponsored lectures > Free from Guo Juan
FreeLecture-2007-New Year Something interesting - Free lecture on December 28, 2006

Teacher & English speaking:
Guo Juan 5p

Duration: 23min

Free lecture
0
from 30k to 5d
English
yes
Guo Juan 5p
2007-01-11
Professional games > 2006
11th Samsung Cup ‐ Semi-final 1

Black: Chang Hao, 9p White: Seo BongSoo, 9p Event: 11th Samsung Cup, half finals, first round Komi: 6.5 Date: 2006-12-05 Place: Korea Result: B+R Commentator: Wang JianKun 7p Guo Juan 5p English speaking: Guo Juan 5p

0
from 30k to 8d
English
no
Wang JianKun 7p
2007-01-13
Joseki > Using basic joseki correctly
Star josekis ‐ Lesson 08
0
from 15k to 5d
English
no
MingJiu Jiang 7p
2007-01-18
Professional games > 2007
11th Samsung Cup ‐ Game 2

Black: Seo BongSoo 9p (Korea) White: Chang Hao 9p (China) Event: 11th Samsung Cup, half finals, second round Komi: 6.5 Date: 2006-12-07 Place: Korea Result: W+R Commentator: Wang Jiankun 7p Editing & English speaking: Guo Juan 5p

0
from 30k to 8d
English
no
Wang JianKun 7p
2007-01-16
Middle game > Sacrificing stones
Lesson 1
0
from 30k to 3d
English
no
Jennie ShenJing 2p
2007-01-20
Joseki > Using basic joseki correctly
Star josekis ‐ Lesson 09
0
from 15k to 5d
English
no
MingJiu Jiang 7p
2007-01-23
Opening > Common opening
Lesson 07Material: Duan Rong 7p, Guo Juan 5p. Lesson: Guo Juan.
0
from 30k to 5d
English
no
Guo Juan 5p
2007-01-25
Middle game > Sacrificing stones
Lesson 2
0
from 20k to 1k
English
no
Jennie ShenJing 2p
2007-01-30
Joseki > Using basic joseki correctly
Star josekis ‐ Lesson 10
0
from 15k to 5d
English
no
MingJiu Jiang 7p
2007-01-27
Professional games > 2006
3rd World Oza Cup ‐ Final 1

Black: Lee SeDol, 9p Korea White: Cho U, 9p Japan Event: The 3rd World Oza finals Round: 1 Komi: 6.5 Date: 2007-01-06 Place: Japan Result: W+0.5 Commentator: Wang Jiankun 7p Editing & English speaking: Guo Juan 5p

0
from 30k to 8d
English
no
Wang JianKun 7p
2007-02-01
Opening > Common opening
Lesson 08We will study the variations after White plays at A, B, C or D. Material: Duan Rong 7p, Guo Juan 5p. Lesson: Guo Juan.
0
from 30k to 5d
English
no
Guo Juan 5p
2007-02-02
Lessons in French > Fan Hui 2P
Fondamental du fuseki ‐ Lesson 3

L'extension

0
from 30k to 1d
French
no
Fan Hui 2p
2007-02-02
Lessons in French > Antoine Fenech
Step-by-step course ‐ Lesson 09

Professeur : Guo Juan 5p Voix française : Antoine Fenech 5d A: Connecter des pierres/groupes On connecte uniquement les pierres/groupes qui ne sont pas vivants. Et avant de connecter des pierres, toujours se demander : Sont-elles importantes? Sont -elles des pierres de coupe? B: 5 exercices C: Une forme de base D: Joseki E: Problèmes de vie et de mort (tous sur le thème de la connexion) F: Compter

0
from 30k to 5d
French
no
Antoine Fenech 5d
2007-02-03
Professional games > 2006
3rd World Oza Cup ‐ Final 2

Black: Cho U, 9p Japan White: Lee SeDol, 9p Korea Event: The 3rd World Oza finals Round: 2 Komi: 6.5 Date: 2007-01-08 Place: Japan Result: W+R Commentator: Wang Jiankun 7p Editing & English speaking: Guo Juan 5p

0
from 30k to 8d
English
no
Wang JianKun 7p
2007-02-06
Basic course > Original step-by-step course
14

In this lecture: - Sacrificing. - One basic shape. - Josekis. - Big moves. - Pro game: 6th Samsung semifinal, 3rd game Lee ChangHo vs. Chang Hao

0
from 30k to 1d
English
no
Guo Juan 5p
2007-02-08
Opening > Common opening
Lesson 09This is just one of the many things we are going to study in this lecture. Material: Duan Rong 7p, Guo Juan 5p. Lesson: Guo Juan.
0
from 30k to 5d
English
no
Guo Juan 5p
2007-02-11
Professional games > 2006
3rd World Oza Cup ‐ Final 3

Black: Cho U, 9p Japan White: Lee SeDol, 9p Korea Event: The 3rd World Oza finals Round: 3 Komi: 6.5 Date: 2007-01-09 Place: Japan Result: W+R Commentator: Wang Jiankun 7p Editing & English speaking: Guo Juan 5p

0
from 30k to 8d
English
no
Wang JianKun 7p
2007-02-15
Professional games > Grand Masters' games
Go Seigen ‐ Game 02A

Black: Wu QinYuan (Go SeiGen) White: Inoue Takahira Date: 25-11-1927 Place: BeiJing Result: B +

0
from 30k to 8d
English
no
Jujo Jiang 9p
2007-02-17
Professional games > Grand Masters' games
Go Seigen ‐ Game 02B

Black: Wu QinYuan (Go SeiGen) White: Inoue Takahira Date: 25-11-1927 Place: BeiJing Result: B +

0
from 30k to 8d
English
no
Jujo Jiang 9p
2007-02-13
Middle game > Sacrificing stones
Lesson 3
0
from 20k to 1d
English
no
Jennie ShenJing 2p
2007-02-17
Sponsored lectures > Free from Guo Juan
FreeLecture-2007-Chinese New Year

Some tips for handicap games (as black)

Teacher: Guo Juan 5p

Duration: 36min.


0
from 30k to 5d
English
yes
Guo Juan 5p
2007-02-23
Professional games > 2006
11th Samsung Cup ‐ Final 1

Black: Lee ChangHo, 9p (Korea) White: Chang Hao, 9p (China) Event: 11th Samsung Cup finals game 1 Komi: 6.5 Date: 2007-01-22 Place: Shanghai, China Result: W+R Commentator: Wang Jiankun 7p Editing & English speaking: Guo Juan 5p

0
from 30k to 8d
English
no
Wang JianKun 7p
2007-02-27
Middle game > All about invasion
Lesson 01
39
from 30k to 3d
English
no
MingJiu Jiang 7p
2007-02-28
Lessons in French > Antoine Fenech
Step-by-step course ‐ Lesson 10

Professeur : Guo Juan 5p Voix française : Antoine Fenech 5d A: Quand les pierres sont côte à côte, on doit jouer hane ou nobi ! Avancer en tête est un des principes les plus importants du jeu de go. B: 5 exercices C: Une forme de base D: Joseki E: Problèmes de vie et de mort F: Compter

0
from 30k to 5d
French
no
Antoine Fenech 5d
2007-03-02
Other > Typical mistakes by Guo Juan (older series)
30 kyu to 20 kyu ‐ Lesson 2

You will see three typical mistakes in this lecture.

0
from 30k to 20k
English
no
Guo Juan 5p
2007-03-04
Middle game > All about invasion
Lesson 02
53
from 30k to 5d
English
no
MingJiu Jiang 7p
2007-03-07
Professional games > 2007
11th Samsung Cup ‐ Finals 2

Black: Chang Hao, 9p (China) White: Lee ChangHo, 9p (Korea) Event: 11th Samsung Cup finals game 2 Komi: 6.5 Date: 2007-01-24 Place: Shanghai, China Result: B + 3,5 Commentator: Wang Jiankun 7p Editing & English speaking: Guo Juan 5p

0
from 30k to 8d
English
no
Wang JianKun 7p
2007-03-09
Joseki > Using basic joseki correctly
3-4 point josekis ‐ Lesson 1In this lecture, MingJiu will explain the inefficient Black marked shape at the bottom side, plus the variations in the upper right corner.
0
from 30k to 5d
English
no
MingJiu Jiang 7p
2007-03-11
Middle game > Sacrificing stones
Lesson 4
0
from 10k to 3d
English
no
Jennie ShenJing 2p
2007-03-16
Middle game > All about invasion
Lesson 03
45
from 30k to 5d
English
no
MingJiu Jiang 7p
2007-03-14
Other > Typical mistakes by Guo Juan (older series)
10 kyu to 1 dan ‐ Lesson 3
0
from 10k to 1d
English
no
Guo Juan 5p
2007-03-18
Professional games > 2006
8th NongShim Cup ‐ Game 1

Black: Yoda Norimoto, 9p Japan White: Park Yeonghun, 9p Korea Event: 2006-8th Nongshim Cup, 3rd stage, game 1 Komi: 6.5 Date: 2007-02-06 Place: Shanghai, China Result: W + 1,5 Commentator: Wang JianKun 7p Editing & English speaking: Guo Juan 5p

0
from 30k to 8d
English
no
Wang JianKun 7p
2007-03-20
Lessons in French > Fan Hui 2P
Fondamental du fuseki ‐ Lesson 4

Les coups prioritaires

0
from 30k to 3d
French
no
Fan Hui 2p
2007-03-21
Joseki > Using basic joseki correctly
3-4 point josekis ‐ Lesson 2MingJiu teaches some basic variations after Black plays A. This is mainly about the joseki in the lower left corner.
0
from 30k to 5d
English
no
MingJiu Jiang 7p
2007-03-31
Middle game > All about invasion
Lesson 04Black 3 plays from this direction. If you want to know how to handle it, don't miss this lecture!
39
from 30k to 5d
English
no
MingJiu Jiang 7p
2007-03-24
Opening > Common opening
Lesson 10In this lecture, we will mainly study how to avoid the Mini Chinese opening as White. Material: Duan Rong 7p, Guo Juan 5p. Lesson: Guo Juan.
0
from 30k to 5d
English
no
Guo Juan 5p
2007-03-27
Professional games > 2006
8th NongShim Cup ‐ Game 2

Black: Park Yeonghun, 9p Korea White: Kong Jie, 7p China Event: 2006-8th Nongshim Cup, 3rd stage, game 2 Komi: 6.5 Date: 2007-02-07 Place: Shanghai, China Result: W + R Commentator: Wang JianKun 7p Editing & English speaking: Guo Juan 5p

0
from 30k to 8d
English
no
Wang JianKun 7p
2007-03-29
Middle game > Sacrificing stones
Lesson 5
0
from 5k to 5d
English
no
Jennie ShenJing 2p
2007-04-17
Opening > Common opening
Lesson 11

Some advices from us: 1. Stones/groups need bases. 2. Play the correct directions. 3. (especially for 30k-10k) Occupy open areas. Example games: * Yoda Norimoto - Park Yeonghun, 8th Nongshim cup, W+1.5 * Chang Hao - Lee ChangHo, 11th Samsung cup, B+ Material: Duan Rong 7p, Guo Juan 5p. Lesson: Guo Juan.

0
from 30k to 5d
English
no
Guo Juan 5p
2007-04-06
Professional games > 2006
8th NongShim Cup ‐ Game 3

Black: Kong Jie, 7p China White: Lee ChangHo, 9p Korea Event: 2006-8th Nongshim Cup, 3rd stage, game 3 Komi: 6.5 Date: 2007-02-08 Place: Shanghai, China Result: W + R Commentator: Wang JianKun 7p Editing & English speaking: Guo Juan 5p

0
from 30k to 8d
English
no
Wang JianKun 7p
2007-04-02
Lessons in French > Antoine Fenech
Step-by-step course ‐ Lesson 11

Professeur: Guo Juan 5p Voix française: Antoine Fenech 5d A: Contrôler le centre. Quand les groupes avancent ensemble vers le centre, l'un d'eux doit avancer plus vite! B: Exercices C: Une forme de base D: Joseki E: Problèmes de vie et de mort F: Compter

0
from 30k to 5d
French
no
Antoine Fenech 5d
2007-04-04
Basic course > Original step-by-step course
15

In this lecture: - Direction of play. - Learning and using josekis. - Exercises. - End game: First and second line moves.

0
from 30k to 1d
English
no
Guo Juan 5p
2007-04-09
Sponsored lectures > Free from Guo Juan
FreeLecture-2007-EasterFreeLecture-2007-Easter

Teacher: Guo Juan 5p

Example games are from European Youth Masters Go League:
1, Simonov (23 yo, 3d) - Assu (16 yo, 2d)
2, fido (17 yo, 4d) - Ten (17 yo, 4d)
3, plinkzz (20 yo, 3d - Nata (19 yo, 4d)
4, fisz (22 yo, 3d) - scurge ( 17 yo, 2d)

Please take a look at EYMGL site: http://eygml.tasuki.org/

Duration: 34

This is a free lecture.
0
from 30k to 5d
English
yes
Guo Juan 5p
2007-04-14
Middle game > All about invasion
Lesson 05A
46
from 10k to 5d
English
no
MingJiu Jiang 7p
2007-04-11
Middle game > Sacrificing stones
Lesson 6
0
from 5k to 5d
English
no
Jennie ShenJing 2p
2007-04-20
Professional games > 2006
8th NongShim Cup ‐ Game 4

Black: Lee ChangHo, 9p Korea White: Gu Li, 9p China Event: 2006-8th Nongshim Cup, 3rd stage, game 4 Komi: 6.5 Date: 2007-02-09 Place: Shanghai, China Result: B + 1,5 Commentator: Wang JianKun 7p Editing & English speaking: Guo Juan 5p

0
from 30k to 8d
English
no
Wang JianKun 7p
2007-04-23
Opening > Common opening
Lesson 12

Some advices from us: 1. Do not play too close to/from thickness. 2. Pay attention to the position of each stone. 3. (especially for 30k-10k) Do not play too close to your opponent's stones. Material: Duan Rong 7p, Guo Juan 5p. Lesson: Guo Juan.

0
from 30k to 5d
English
no
Guo Juan 5p
2007-06-08
Other > Typical mistakes by Guo Juan (older series)
20 kyu to 10 kyu ‐ Lesson 3
0
from 20k to 10k
English
no
Guo Juan 5p
2007-04-29
Middle game > Sacrificing stones
Lesson 7
0
from 5k to 5d
English
no
Jennie ShenJing 2p
2007-05-02
Middle game > All about invasion
Lesson 06We will study White invasion moves at A and B.
52
from 30k to 5d
English
no
MingJiu Jiang 7p
2007-04-26
Middle game > Middle game training
Lesson A1

Level A - 30k to 10k.

0
from 30k to 20k
English
no
Guo Juan 5p
2007-07-02
Opening > Chinese opening
Lesson 1It is not good if White moves next at A, B or C. These moves are too early. In this lecture we study how to handle these and also White at D or E. Material: Duan Rong 7p, Guo Juan 5p. Lesson: Guo Juan.
20
from 30k to 5d
English
no
Guo Juan 5p
2007-07-05
Opening > Chinese opening
Lesson 2Material: Duan Rong 7p, Guo Juan 5p. Lesson: Guo Juan.
0
from 30k to 5d
English
no
Guo Juan 5p
2007-05-05
Professional games > 2007
11th LG Cup ‐ Finals 1

Black: Zhou Junxun, 9p China Taiwan White: Hu Yaoyu, 8p China Event: 2007 11th LG Cup finals, game 1 Komi: 6.5 Date: 2007-03-19 Place: Seoul, Korea Result: B+R Commentator: Wang JianKun 7p Editing & English speaking: Guo Juan 5p

0
from 30k to 8d
English
no
Wang JianKun 7p
2007-05-08
Middle game > Middle game training
Lesson A2

Level A - 30k to 10k.

0
from 30k to 10k
English
no
Guo Juan 5p
2007-07-13
Opening > Chinese opening
Lesson 3Material: Duan Rong 7p, Guo Juan 5p. Lesson: Guo Juan. Example game: * Lee ChanHo - Gu Li, 2007-02-09, B+1.5
0
from 30k to 5d
English
no
Guo Juan 5p
2007-05-20
Middle game > Middle game training
Lesson A3

Level A - 30k to 10k.

0
from 30k to 10k
English
no
Guo Juan 5p
2007-05-24
Middle game > All about invasion
Lesson 07 We will study White invasion moves at A and B.
54
from 30k to 5d
English
no
MingJiu Jiang 7p
2007-05-11
Joseki > Using basic joseki correctly
3-4 point josekis ‐ Lesson 3This is a lecture about White move 4.
0
from 30k to 5d
English
no
MingJiu Jiang 7p
2007-05-17
Professional games > 2007
11th LG Cup ‐ Finals 2

Black: Hu Yaoyu, 8p China White: Zhou Junxun, 9p China Taiwan Event: 2007 11th LG Cup finals, game 2 Komi: 6.5 Date: 2007-03-21 Place: Seoul, Korea Result: B+0,5 Commentator: Wang JianKun 7p Editing & English speaking: Guo Juan 5p

0
from 30k to 8d
English
no
Wang JianKun 7p
2007-05-28
Middle game > Middle game training
Lesson A4

Level A - 30k to 10k.

0
from 30k to 10k
English
no
Guo Juan 5p
2007-06-05
Middle game > Middle game training
Lesson A5

Level A - 30k to 10k.

0
from 30k to 10k
English
no
Guo Juan 5p
2007-05-14
Middle game > Sacrificing stones
Lesson 8

Beautiful sacrificing in pro games. game 1: Guli vs heyelin (河野临) game 2: Changhao vs Choichohan game 3: Kongjie vs Qiujun game 4: Leechangho vs Changhao

0
from 5k to 5d
English
no
Jennie ShenJing 2p
2007-05-30
Professional games > 2007
11th LG Cup ‐ Finals 3

Black: Zhou Junxun, 9p China Taiwan White: Hu Yaoyu, 8p China Event: 2007 11th LG Cup finals, game 3 Komi: 6.5 Date: 2007-03-22 Place: Seoul, Korea Result: B+0,5 Commentator: Wang JianKun 7p Editing & English speaking: Guo Juan 5p

0
from 30k to 8d
English
no
Wang JianKun 7p
2007-05-22
Sponsored lectures > Free from Guo Juan
Free Lecture-2007-AscensionFree lecture 2007-Ascension

Teacher: Guo Juan 5p

Duration: 26 min.
0
from 30k to 5d
English
yes
Guo Juan 5p
2007-06-11
Professional games > 2007
Japan 54th NHK ‐ Final game

Black: Cho Chikun 9p White: Yuki Satoshi 9p Event: Japan 54th NHK cup final game Komi: 6.5 Date: 2007-03-18 Place: Japan Result: B+3.5

0
from 30k to 8d
English
no
Wang JianKun 7p
2007-06-02
Middle game > All about invasion
Lesson 08
56
from 30k to 5d
English
no
MingJiu Jiang 7p
2007-06-17
Middle game > Middle game training
Lesson B1

Level B - 10k to 1d.

0
from 10k to 1d
English
no
Jennie ShenJing 2p
2007-06-14
Middle game > All about invasion
Lesson 09
31
from 30k to 5d
English
no
MingJiu Jiang 7p
2007-06-15
Lessons in French > Antoine Fenech
Step-by-step course ‐ Lesson 12

Professeur : Guo Juan 5p Voix française : Antoine Fenech 5d A: Sortir des combats locaux au bon moment. B: Exercices C: Une forme de base D: Joseki E: Problèmes de vie et de mort F: Compter

0
from 30k to 5d
French
no
Antoine Fenech 5d
2007-06-23
Middle game > All about invasion
Lesson 10
44
from 30k to 5d
English
no
MingJiu Jiang 7p
2007-06-20
Professional games > 2007
Japan 45th Judan ‐ Game 1

Black: Yamashita Keigo, 9p White: Cho Chikun, 9p, Judan Event: 2007 Japan 45th Judan, round 1 Komi: 6.5 Date: 2007-03-08 Place: Japan Result: W+R Commentator: Wang JianKun 7p Editing/Questioning/English speaking: Guo Juan 5p

0
from 30k to 8d
English
no
Wang JianKun 7p
2007-06-29
Professional games > 2007
Japan 45th Judan ‐ Game 2

Black: Cho Chikun, 9p, Judan White: Yamashita Keigo, 9p Event: 2007 Japan 45th Judan, round 2 Komi: 6.5 Date: 2007-03-29 Place: Japan Result: B + 2,5 Commentator: Wang JianKun 7p Editing/Questioning/English speaking: Guo Juan 5p

0
from 30k to 8d
English
no
Wang JianKun 7p
2007-06-26
Middle game > Middle game training
Lesson B2

Level B - 10k to 1d.

0
from 10k to 1d
English
no
Jennie ShenJing 2p
2007-07-24
Opening > Chinese opening
Lesson 4Material: Duan Rong 7p, Guo Juan 5p. Lesson: Guo Juan. Example games: * Lee ChangHo - Yu Bin, 1998-12-28, B+R * Cho Chikun - Shao WeiGang, 2002-03-19, W+7.5
0
from 30k to 5d
English
no
Guo Juan 5p
2007-08-05
Opening > Chinese opening
Lesson 5Material: Duan Rong 7p, Guo Juan 5p. Lesson: Guo Juan.
0
from 30k to 5d
English
no
Guo Juan 5p
2007-08-16
Opening > Chinese opening
Lesson 6Material: Duan Rong 7p, Guo Juan 5p. Lesson: Guo Juan.
0
from 30k to 5d
English
no
Guo Juan 5p
2007-08-20
Opening > Chinese opening
Lesson 7Material: Duan Rong 7p, Guo Juan 5p. Lesson: Guo Juan.
0
from 30k to 5d
English
no
Guo Juan 5p
2007-07-08
Professional games > 2007
Japan 45th Judan ‐ Game 3

Black: Yamashita Keigo, 9p White: Cho Chikun, 9p, Judan Event: 2007 Japan 45th Judan, round 3 Komi: 6.5 Date: 2007-04-05 Place: Japan Result: B+R Commentator: Wang JianKun 7p Editing/Questioning/English speaking: Guo Juan 5p

0
from 30k to 8d
English
no
Wang JianKun 7p
2007-07-11
Middle game > Middle game training
Lesson B3

Level B - 10k to 1d.

0
from 10k to 1d
English
no
Jennie ShenJing 2p
2007-07-28
Professional games > 2007
Japan 45th Judan ‐ Game 5

Black: Cho Chikun, 9p, Judan White: Yamashita Keigo, 9p Event: 2007 Japan 45th Judan, round 5 Komi: 6.5 Date: 2007-04-25 Place: Japan Result: B+3.5

0
from 30k to 8d
English
no
Wang JianKun 7p
2007-07-17
Professional games > 2007
Japan 45th Judan ‐ Game 4

Black: Cho Chikun, 9p, Judan White: Yamashita Keigo, 9p Event: 2007 Japan 45th Judan, round 4 Komi: 6.5 Date: 2007-04-19 Place: Japan Result: W+R Black 7 and white 11 are not really new, but we don't see them often. Interested? Take a look at this game.

0
from 30k to 8d
English
no
Wang JianKun 7p
2007-07-20
Middle game > Middle game training
Lesson B4

Level B - 10k to 1d.

0
from 10k to 1d
English
no
Jennie ShenJing 2p
2007-08-01
Middle game > Middle game training
Lesson B5

Level B - 10k to 1d.

0
from 10k to 1d
English
no
Jennie ShenJing 2p
2007-08-10
Middle game > All about invasion
Lesson 11
46
from 30k to 5d
English
no
MingJiu Jiang 7p
2007-08-13
Professional games > 2007
Korea 41st WangWi ‐ Game 1

Black: Lee ChangHo, 9p, Wangwi White: Yun JunSang, 4p, Kuksu Event: Korea 2007, 41rst Wangwi, game 1 Komi: 6.5 Date: 2007-05-25 Place: Korea Result: W+R Commentator: Wang JianKun 7p Editing/Questioning/English speaking: Guo Juan 5p

0
from 30k to 8d
English
no
Wang JianKun 7p
2007-08-17
Sponsored lectures > British Go Association
UK championship - 2007 ‐ Game 1

Black: Alex Sellby White: Bei Ge (Champion of 2006) Event: 2007 British Championship title match game 1 Date: July 21, 2007 Place: Oxford Lesson sponsored by the British Go Association

0
from 30k to 5d
English
yes
Guo Juan 5p
2007-08-23
Professional games > 2007
Korea 41st WangWi ‐ Game 2

Black: Yun JunSang, 4p, KuksuWangwi White: Lee ChangHo, 9p, Event: Korea 2007, 41rst Wangwi, game 2 Komi: 6.5 Date: 2007-06-14 Place: Korea Result: W+0,5

0
from 30k to 8d
English
no
Wang JianKun 7p
2007-08-24
Sponsored lectures > British Go Association
UK championship - 2007 ‐ Game 2

Black: Bei Ge 6d (Champion of 2006) White: Alex Sellby 4d Event: 2007 British Championship title match game 2 Komi: 6.5 Date: Saturday 4 August Place: Cambridge Result: B + 11,5 Lesson sponsored by the British Go Association

0
from 30k to 5d
English
yes
Guo Juan 5p
2007-08-26
Middle game > All about invasion
Lesson 12
36
from 30k to 5d
English
no
MingJiu Jiang 7p
2007-08-29
Joseki > All about the star point
Lesson 13Is the black shape at the bottom side more efficient than the one at the top side? The answer is no. In this lecture we will explain the details about these two shapes. Example games: * Chang Hao - GuLi, 2004-02-18, b+ * Thomas Hsiang - Jie Li, 2005-08-12, w+ * Zhou Junxun - Yuki Satoshi, 2006-03-11, w+ * Lee John - Lee ChangHo, 2003-04-14, w+
0
from 10k to 5d
English
no
Guo Juan 5p
2007-09-04
Middle game > All about invasion
Lesson 13A
42
from 30k to 5d
English
no
MingJiu Jiang 7p
2007-09-01
Professional games > 2007
Korea 41st WangWi ‐ Game 3Black: Lee ChangHo, 9p,Wangwi White: Yun JunSang, 4p,Kuksu Event: Korea 2007, 41st Wangwi, game 3 Komi: 6.5 Date: 2007-06-20 Place: Korea Result: W+3,5
0
from 30k to 8d
English
no
Wang JianKun 7p
2007-09-07
Middle game > All about invasion
Lesson 13B A, B and C, which move you think is correct for Black?
30
from 30k to 5d
English
no
MingJiu Jiang 7p
2007-09-10
Professional games > 2007
Korea 41st WangWi ‐ Game 4

Black: Yun JunSang, 4p, KuksuWangwi White: Lee ChangHo, 9p, Event: Korea 2007, 41st Wangwi, game 4 Komi: 6.5 Date: 2007-06-27 Place: Korea Result: W+1.5 Commentator: Wang JianKun 7p Editing/Questioning/English speaking: Guo Juan 5p

0
from 30k to 8d
English
no
Wang JianKun 7p
2007-09-13
Other > Game reviews
10 kyu to 1 kyu ‐ Lesson 1

Topics in this lecture: - When our position is stroner, we should attack. - Play a big areas in the begining of the game. - Do not touch weak stones. - Take sente when you can. - Do not push from behind if you can not find a good reason. - Invade in the bigger area where there is more space to make eyes, and where your opponent can make more territory.

0
from 10k to 1k
English
no
Guo Juan 5p
2007-09-16
Other > Game reviews
20 kyu to 10 kyu ‐ Lesson 1

Topics in this lecture: - Empty corners are big. - Be aware where are the potential territory. - Don't lose sente easily. - No need to block all the time -> take sente. - Be aware which stones are important, which are not. - Play the open areas. - Improve reading by solving tons of problems. And more...

0
from 20k to 10k
English
no
Guo Juan 5p
2007-09-19
Professional games > 2007
Korea 41st WangWi ‐ Game 5Black: Yun JunSang, 4p, KuksuWangwi White: Lee ChangHo, 9p, Event: Korea 2007, 41st Wangwi, game 5 Komi: 6.5 Date: 2007-07-18 Place: Korea Result: W+R Want to know the variations in the lower right corner? Study this lecture!
0
from 30k to 8d
English
no
Wang JianKun 7p
2007-09-22
Middle game > All about invasion
Lesson 14Do you know how to invade this White position?
36
from 30k to 5d
English
no
MingJiu Jiang 7p
2007-09-23
Sponsored lectures > British Go Association
UK championship - 2007 ‐ Game 3

Black: Alex Sellby 4d White: Bei Ge 6d, Champion of 2006 Event: 2007 British Championship title match game 3 Date: September 15, 2007 Place: Oxford Lesson sponsored by the British Go Association

0
from 30k to 5d
English
yes
Guo Juan 5p
2007-09-26
Other > Game reviews
30 kyu to 20 kyu ‐ Lesson 1

Topics in this lecture: - Do you know what is this game about? - Playing too close to opponent's stones will hurt ourselves. - Cutting points: to cut or to connect? - Be aware of our opponent will play the next move. - Do not fly in the air, but stand on the groud. - Good shape and bad shape. - Counting liberties. And more...

0
from 30k to 20k
English
no
Guo Juan 5p
2007-10-09
Professional games > 2007
China Team, A Class ‐ Game A

Black: Luo XiHe 9p (BeiJing Xinxindichan team) White: Lee SeDol 9p (GuiZhou Kesutin team) Event: China team-A, round 10 Komi: 7,5 Date: 2007-08-18 Place: BeiJing, China Result: B + R Commentator: Wang JianKun 7p Editing/Questioning/English speaking: Guo Juan 5p

0
from 30k to 8d
English
no
Wang JianKun 7p
2007-09-29
Professional games > 2007
World Top MatchBlack: Lee SeDol 9p White: Luo XiHe 9p Event: World top's match Komi: 6.5 Date: :2007-09-09 Place: China, HuNan FengHuang Result: W+R Commentator: Wang JianKun 7p Editing/Questioning/English speaking: Guo Juan 5p
0
from 30k to 8d
English
no
Wang JianKun 7p
2007-09-29
Lessons in French > Antoine Fenech
Step-by-step course ‐ Lesson 13

Professeur : Guo Juan 5p Voix française : Antoine Fenech 5d A : Attaquer et défendre B : Exercices C : Une forme de base D : Joseki E : Problèmes de vie et de mort F : Compter

0
from 30k to 5d
French
no
Antoine Fenech 5d
2007-10-17
Professional games > Grand Masters' games
Go Seigen ‐ Game 03A

Black: Kitani Minoru 7p White: Wu QinYuan (Go SeiGen) 7p Lesson A Date: September 28, 1939 Place: Kamakura Result: W + 2 points The quality of the sound of this lecture is less good, you need to keep the volume lower.

0
from 30k to 8d
English
no
Jujo Jiang 9p
2007-10-13
Middle game > All about invasion
Lesson 15 A or B?
25
from 30k to 5d
English
no
MingJiu Jiang 7p
2007-10-02
Other > Game reviews
1 dan to 3 dan ‐ Lesson 1

Topics in this lecture: - Find the right place to invade - Controling the center in middle game. - Direction of play. - Make a good plan. And more...

0
from 1d to 3d
English
no
Guo Juan 5p
2007-10-17
Professional games > Grand Masters' games
Go Seigen ‐ Game 03B

Black: Kitani Minoru 7p White: Wu QinYuan (Go SeiGen) 7p Lesson B Date: September 28, 1939 Place: Kamakura Result: W + 2 points The quality of the sound of this lecture is less good, you need to keep the volume lower.

0
from 30k to 8d
English
no
Jujo Jiang 9p
2007-10-05
Middle game > Middle game training
Lesson C1

Level C - 1d to 5d.

0
from 1d to 5d
English
no
Jennie ShenJing 2p
2007-10-14
Sponsored lectures > British Go Association
UK championship - 2007 ‐ Game 4

Black: Bei Ge 6d (Champion of 2006) White: Alex Sellby 4d Event: 2007 British Championship title match game 4 Komi: 6.5 Date: October 7, 2007 Place: Milton Keynes, UK Result: B + R Lesson sponsored by the British Go Association

0
from 30k to 5d
English
yes
Guo Juan 5p
2007-10-21
Middle game > Middle game training
Lesson C2

Level C - 1d to 5d.

0
from 1d to 5d
English
no
Jennie ShenJing 2p
2007-10-25
Middle game > All about invasion
Lesson 16 (3.3A)
34
from 10k to 5d
English
no
MingJiu Jiang 7p
2007-10-28
Other > Game reviews
3 dan to 5 dan ‐ Lesson 1

Topics in this lecture: - Modern josekis - When our opponent plays an overplay, we should not let him get away from it. - Pay more attention to territory. - About invasion And more...

0
from 3d to 5d
English
no
Guo Juan 5p
2007-10-28
Lessons in French > Fan Hui 2P
Invasions ‐ Lesson 1

L'objectif et l'extention deux Exemple games: * (N)Park Seungchul 1P - (B)Kong jie 6P , N+R. chinese Team champoinship 2001. * (N)Gu Li, 7p - (B)Xie He, 5p. N + 3.5. Tianyuan,18,China. 2004

0
from 15k to 3d
French
no
Fan Hui 2p
2007-11-01
Professional games > 2007
China Team, A Class ‐ Game B

Black: Li Zhe 6p (WuHan HuangHeLou team) White: Kong Jie 7p (BeiJing DaBao team) Event: China team-A, round 10 Komi: 7,5 Date: 2007-08-18 Place: China Result: W+0,5 Commentator: Wang JianKun 7p Guo Juan 5p Editing/Questioning/English speaking: Guo Juan

0
from 30k to 8d
English
no
Wang JianKun 7p
2007-11-08
End game > Monkey jump
Lesson 1
0
from 30k to 5d
English
no
Guo Juan 5p
2007-11-04
Middle game > All about invasion
Lesson 17 (3.3B)For many players, the Black move at 4 is still new. In this lecture, MingJiu shows us the details about this move.
30
from 30k to 5d
English
no
MingJiu Jiang 7p
2007-11-25
Other > Game reviews
10 kyu to 1 kyu ‐ Lesson 2

Topics in this lecture: - basic shapes - pushing from behind is often a bad idea - second line moves are very good for making base - High moves are mostly for: 1, moyo, 2, attacking, 3, reducing - Low moves are mostly for: 1, territory, attacking, making base. - Do not go too close to thickness if not necessary.

0
from 10k to 1k
English
no
Guo Juan 5p
2007-11-08
Lessons in French > Fan Hui 2P
Invasions ‐ Lesson 2

Clouer ! Exemple games: * Kato Masao, 9p, Oza (N) - Yamashiro Hiroshi, 9p (B), Honinbo,44,Japan,Mainichi , 1989-04-13 , B + 1.5 * Kobayashi Satoru 9p (N) - Yoda Norimoto 9p (B) ,2007-04-05, B+ , 2007-04-05 , Honinbo title,62,Japan,Mainichi Shimbun

0
from 30k to 5d
French
no
Fan Hui 2p
2007-11-18
Middle game > All about invasion
Lesson 18 (3.3C)
44
from 30k to 5d
English
no
MingJiu Jiang 7p
2007-11-11
Professional games > 2007
China Team, A Class ‐ Game C

Black: Xie He 7p (ShanDong WangTong team) White: Li Zhe 6p (WuHan HuangHeLou team) Event: China team-A, round 14 Komi: 7,5 Date: 2007-10-20 Place: China Result: B + R Commentator: Wang JianKun 7p Editing/Questioning/English speaking: Guo Juan 5p

0
from 30k to 8d
English
no
Wang JianKun 7p
2007-11-15
Middle game > Middle game training
Lesson C3

Level C - 1d to 5d.

0
from 1d to 5d
English
no
Jennie ShenJing 2p
2007-11-22
Professional games > 2007
China Team, A Class ‐ Game D

China team championship A class 2007 Lesson D Commenting/Editing/Questioning: Guo Juan 5p Lee SeDol - Zhou RuiYang, Guizhou vs Shandong, 25-08-2007, B + R Xie He - Gu Li, Shandong vs Chongqing, 27-09-2007, B + R

0
from 30k to 8d
English
no
Guo Juan 5p
2007-11-29
Opening > New opening moves
Lesson 03There are two new moves in this lecture. Material: Wang JianKun 7p, Guo Juan 5p. Lesson: Guo Juan. Example pro games: * Lee SeDol - Luo XiHe, 2007-09-09, W+R * Xie He - Li Zhe, 2007-10-20, B+R
0
from 30k to 8d
English
no
Guo Juan 5p
2007-12-02
Professional games > 2007
China Team, A Class ‐ Game E

Black: Chang Hao 9p (ShangHai team) White: Wang Lei 6p (ChongQing team) Event: China team-A, round 18 Komi: 7,5 Date: 2007-11-24 Place: China Result: B + R Commentator: Wang JianKun 7p Editing/Questioning/English speaking: Guo Juan 5p

0
from 30k to 8d
English
no
Wang JianKun 7p
2007-12-06
Other > Game reviews
1 dan to 3 dan ‐ Lesson 2

Topics in this lecture: - Star point with a double low wing is not a good shape. - Play at the open areas. - Something about Kobayashi opening. - Play too closely to opponent's thickness is not wise. - A basic thing about ko. And more...

0
from 1d to 3d
English
no
Guo Juan 5p
2007-12-09
Middle game > Middle game training
Lesson C4

Level C - 1d to 5d.

0
from 1d to 5d
English
no
Jennie ShenJing 2p
2007-12-13
Professional games > 2007
US Ing Cup ‐ Final match

Black: Feng Yun 9p White: MingJiu Jiang 7p Event: 2007 Final US qualifer for 6th World Ing Cup Date: December 7, 2007 Komi: 8 dian ( 8 points) Result: W + 1 Commentator: MingJiu Jiang 7p Duration: 42 Min.

0
from 30k to 8d
English
no
MingJiu Jiang 7p
2007-12-13
Lessons in French > Antoine Fenech
Step-by-step course ‐ Lesson 14

Professeur : Guo Juan 5p Voix française : Antoine Fenech 5d A: Sacrifice B: Une forme de base C: Joseki D: Gros coups Partie de pros: Lee ChangHo - Chang Hao, 2001-11-09, blanc+ab, 6ème coupe Samsung demi-finale 3ème partie

0
from 30k to 5d
French
no
Antoine Fenech 5d
2007-12-16
Other > Game reviews
20 kyu to 10 kyu ‐ Lesson 2

Topics in this lecture: - Don't invade 3.3 point too early. - Go too close to opponent's thickness is not a good idea. - No need to hate your opponent's territory, as long as you have more. - If not necessary, normally we do not like to play on the second lines in the beginning of the game. - Star point with doule low wing is not a good shape. And more...

0
from 20k to 10k
English
no
Guo Juan 5p
2007-12-20
Middle game > Middle game training
Lesson C5

Level C - 1d to 5d.

0
from 1d to 5d
English
no
Jennie ShenJing 2p
2007-12-23
Professional games > Grand Masters' games
Go Seigen ‐ Game 04A

Black: Wu QinYuan (Go SeiGen) White: Hashimoto Utaro Part one Date: 1928-09-04,05 Place: BeiJing, China Komi: 0 Result: B+6

0
from 30k to 8d
English
no
Jujo Jiang 9p
2007-12-23
Professional games > Grand Masters' games
Go Seigen ‐ Game 04B

Black: Wu QinYuan (Go SeiGen) White: Hashimoto Utaro Part two Date: 1928-09-04,05 Place: BeiJing, China Komi: 0 Result: B+6

0
from 30k to 8d
English
no
Jujo Jiang 9p
2007-12-23
Lessons in French > Antoine Fenech
Step-by-step course ‐ Lesson 15

Professeur : Guo Juan 5p Voix française : Antoine Fenech 5d A : Direction du jeu + apprendre et choisir les joseki B : Exercices C : Fin de partie Quand le milieu de partie est terminé ou sur le point de se terminer, on doit se focaliser sur les 1ère et 2ème lignes car c'est là qu'on trouvera les plus gros coups à jouer.

0
from 30k to 5d
French
no
Antoine Fenech 5d
2008-01-02
Sponsored lectures > Free from Guo Juan
2007 London Open-final game

Black: OuYang ShaoYou White: Csaba Mero 6d Event: 2007 London Open last round Komi: 7,5 Date: December 31, 2007 Place: London Great Portland Result: B + R

0
from 30k to 5d
English
yes
Guo Juan 5p
2008-01-05
Other > Game reviews
30 kyu to 20 kyu ‐ Lesson 2

Topics in this lecture: - Capturing stones is not by close them move by move, but from distance. - Walk ahead. - Walk as fast as your stones are safe. - connect your stones when only necessary. - Play open areas. - Stop your opponent going into your territory. - If a group has only one eye, better try to attack the stones around your group, instead of making this one eye. - Do not 'hate' your opponent's territory, because we are making territory as well. And more...

0
from 30k to 20k
English
no
Guo Juan 5p
2008-01-27
Professional games > 2007
China 19th MinRen ‐ Game 3

Black: Zhou RuiYang White: Gu Li Event: Event: China-19th Mingren Title Match - Rund 3 Komi: 7,5 Date: 2007-01-08 Place: HeNan YongCheng, China result: W + R Commentators: Wang Jiankun 7p Guo Juan 5p

0
from 30k to 8d
English
no
Wang JianKun 7p
2008-01-10
Other > Game reviews
3 dan to 5 dan ‐ Lesson 2

Topics in this lecture: - Don't play empty moves. - Attack more severely. Once we get a chance, don't let our opponent get away too easily. - At our level, we do need to know some modern josekis - Improve reading is most important. And more...

0
from 3d to 5d
English
no
Guo Juan 5p
2008-01-13
Professional games > 2007
China 19th MinRen ‐ Game 1

Black: Zhou RuiYang Challenger White: Gu Li MingRen Event: Event: China-19th Mingren Title Match - Rund 1 Komi: 7,5 Date: 2007-01-04 Place: China QiYuan, BeiJing result: W + R Commentators: Wang Jiankun 7p Guo Juan 5p

0
from 30k to 8d
English
no
Wang JianKun 7p
2008-01-17
End game > Big endgame moves
Lesson 1To know how big the moves like Black A and B are is very important. And if we learn some of them and recognize them in our games, we will certainly win more games. Material: Zhao YuHong 7p, Guo Juan 5p. Lesson: Guo Juan.
32
from 30k to 5d
English
no
Guo Juan 5p
2008-01-20
Professional games > 2007
China 19th MinRen ‐ Game 2

Black: Gu Li White: Zhou RuiYang Event: Event: China-19th Mingren Title Match - Rund 2 Komi: 7,5 Date: 2007-01-06 Place: China QiYuan, BeiJing result: B + R

0
from 30k to 8d
English
no
Wang JianKun 7p
2008-01-24
End game > Big endgame moves
Lesson 2

Material: Zhao YuHong 7p, Guo Juan 5p. Lesson: Guo Juan.

0
from 30k to 5d
English
no
Guo Juan 5p
2008-01-28
Sponsored lectures > Irish Go Association
2008 Irish championship

Black: Stephen Flinter 1d White: Ian Davis 1d Event: Irish Championship title match round 3 Komi: 6.5 Date: 2008-01-23 Place: Dublin Result: w + r This lecture sponsored by the Irish Go Association

0
from 30k to 5d
English
yes
Guo Juan 5p
2008-01-31
End game > Big endgame moves
Lesson 3

Material: Zhao YuHong 7p, Guo Juan 5p. Lesson: Guo Juan.

0
from 30k to 5d
English
no
Guo Juan 5p
2008-02-04
End game > Big endgame moves
Lesson 4

Material: Zhao YuHong 7p, Guo Juan 5p. Lesson: Guo Juan.

0
from 30k to 5d
English
no
Guo Juan 5p
2008-02-08
Middle game > All about sente moves
Lesson 1Do you recognize these Black moves in the lower left corner? You know, they are really BAD!!! In this lecture series you will see typiclal bad sente moves as well as many good ones.
0
from 10k to 1d
English
no
Jennie ShenJing 2p
2008-02-12
Sponsored lectures > Free from Guo Juan
2008-Chinese New Year Free lecture 2008-Chinese New Year Free Lecture

Teacher: Guo Juan 5p

About big end game moves

Duration: 17min.
0
from 30k to 5d
English
yes
Guo Juan 5p
2008-02-15
Professional games > 2007
21st China TianYuan ‐ Game 1

Black: Liu Shizhen, 6d White: Gu Li, Tianyuan Event: China 21st Tianyuan title match Round: 1 Komi: 7.5 Date: 2007-04-18 Place: Tong Li, China Result: w+r Commentor: Wang Jiankun 7p Editing/questioning/Speaking: Guo Juan 5p

0
from 30k to 8d
English
no
Wang JianKun 7p
2008-02-19
Middle game > All about sente moves
Lesson 2
0
from 10k to 1d
English
no
Jennie ShenJing 2p
2008-02-23
Professional games > 2007
21st China TianYuan ‐ Game 2

Black: Gu Li, Tianyuan White: Liu Shizhen, 6d Event: China 21st Tianyuan title match Round: 2 Komi: 7.5 Date: 2007-04-20 Place: Tong Li, China Result: w+r Commentor: Wang Jiankun 7p Editing/questioning/Speaking: Guo Juan 5p

0
from 30k to 8d
English
no
Wang JianKun 7p
2008-02-27
Middle game > Counting and judgement
Lesson 01

This lecture talks about counting for the corner and the side.

0
from 30k to 5d
English
no
Guo Juan 5p
2008-03-02
Professional games > 2007
21st China TianYuan ‐ Game 3

Black: Liu Shizhen, 6d White: Gu Li, Tianyuan Event: China 21st Tianyuan title match Round: 3 Komi: 7.5 Date: 2007-04-21 Place: China Result: w+3.5 Commentor: Wang Jiankun 7p Editing/questioning/Speaking: Guo Juan 5p

0
from 30k to 8d
English
no
Wang JianKun 7p
2008-03-05
Middle game > Counting and judgement
Lesson 02

This lecture is about counting thickness.

0
from 30k to 5d
English
no
Guo Juan 5p
2008-03-05
Middle game > All about sente moves
Lesson 3
0
from 30k to 5d
English
no
Jennie ShenJing 2p
2008-03-12
Professional games > 2008
9th NongShim Cup ‐ Game 10

Black: Mok JinSeok, 9p White: Chang Hao, 9p Event: The 9th Nongshim Cup (Korea,Nongshim noodles) Round: 2nd stage game 6. Game 10 in total Komi: 6.5 Date: 2007-12-01 Place: Korea Result: W+R Commentator: Wang JianKun 7p Editing/Questioning/ English speaking: Guo Juan 5p

0
from 30k to 8d
English
no
Wang JianKun 7p
2008-04-19
Professional games > 2008
9th NongShim Cup ‐ Game 13

Black: Chang Hao, 9p White: Park YoungHoon, 9p Event: The 9th Nongshim Cup (Korea,Nongshim noodles) Round: Third stage game 3. Game 13 in total Komi: 6.5 Date: 2008-02-21 Place: China, Shang Hai Result: B+R Commentator: Wang JianKun 7p Editing/English speaking: Guo Juan 5p

0
from 30k to 8d
English
no
Wang JianKun 7p
2008-03-16
Middle game > Counting and judgement
Lesson 03

This lecture is about counting a moyo.

0
from 30k to 5d
English
no
Guo Juan 5p
2008-03-27
Middle game > Counting and judgement
Lesson 04

This lecture is part 1 about territories increasing and decreasing.

0
from 30k to 5d
English
no
Guo Juan 5p
2008-03-20
Professional games > 2008
9th NongShim Cup ‐ Game 11

Black: Chang Hao 9p (China) White: Takao Shinji 9p (Japan) Event: The 9th Nongshim Cup (Korea,Nongshim noodles) Round: Third stage round 1. Round 11 in total Komi: 6.5 Date: 2008-02-19 Place: China, ShangHai Result: B + 2,5 Commentator: Wang JianKun 7p Editing/Questioning/ English speaking: Guo Juan 5p

0
from 30k to 8d
English
no
Wang JianKun 7p
2008-03-20
End game > Monkey jump
Lesson 2
0
from 30k to 5d
English
no
Guo Juan 5p
2008-04-05
Professional games > Grand Masters' games
Go Seigen ‐ Game 05A

Black: Wu QinTuan (Go Seigen) 9p White: Sakata Eio 8p Date: 1954-06-24, 25 Place: Iwate, Japan Result:B+7 Part A

0
from 30k to 8d
English
no
Jujo Jiang 9p
2008-04-05
Professional games > Grand Masters' games
Go Seigen ‐ Game 05B

Black: Wu QinTuan (Go Seigen) 9p White: Sakata Eio 8p Date: 1954-06-24, 25 Place: Iwate, Japan Result: B+7 Part B

0
from 30k to 8d
English
no
Jujo Jiang 9p
2008-03-30
Important shapes > Basic shapes
Lesson 1 - Stones next to each other: walk ahead - Broken shape
28
from 30k to 5d
English
no
Jennie ShenJing 2p
2008-04-02
Professional games > 2008
9th NongShim Cup ‐ Game 12

Black: Lee ChangHo 9p (Korea) White: Chang Hao 9p (China) Event: The 9th Nongshim Cup (Korea,Nongshim noodles) Round: Third stage round 2. Round 12 in total Komi: 6.5 Date: 2008-02-20 Place: China, ShangHai Result: W + 0,5 Commentator: Wang JianKun 7p Editing/Questioning/ English speaking: Guo Juan 5p

0
from 30k to 8d
English
no
Wang JianKun 7p
2008-04-12
Middle game > Counting and judgement
Lesson 05

This lecture is part 2 about territories increasing and decreasing.

0
from 30k to 5d
English
no
Guo Juan 5p
2008-04-16
Important shapes > Basic shapes
Lesson 2
29
from 30k to 1k
English
no
Jennie ShenJing 2p
2008-04-25
Middle game > Counting and judgement
Lesson 06

This lecture is part 1 about counting in real games.

0
from 30k to 5d
English
no
Guo Juan 5p
2008-04-27
Middle game > Counting and judgement
Lesson 07

This lecture is part 2 about counting in real games.

0
from 30k to 5d
English
no
Guo Juan 5p
2008-05-01
Professional games > 2008
Japan 32nd Kisei Title Match ‐ Game 1

Black: Cho Chikun, 9p, Judan White: Yamashita Keigo, 9p,Kisei Event: 2008 Japan 32nd Kisei title, game 1 Komi: 6.5 Date: 2008-01-12,13 Place: Sao Paolo, Brazil Result: W+R Commentator: Wang JianKun 7p Editing/Questioning/ English speaking: Guo Juan 5p

0
from 30k to 8d
English
no
Wang JianKun 7p
2008-05-03
Middle game > Counting and judgement
Lesson 08

This contains exercises for dan players.

0
from 30k to 5d
English
no
Guo Juan 5p
2008-05-08
Middle game > Counting and judgement
Lesson 09

This contains exercises for kyu players.

0
from 30k to 5d
English
no
Guo Juan 5p
2008-05-10
Professional games > 2008
Japan 32nd Kisei Title Match ‐ Game 2

Black: Yamashita Keigo, 9p,Kisei White: Cho Chikun, 9p, Judan Event: 2008 Japan 32nd Kisei title, game 2 Komi: 6.5 Date: 2008-01-30,31 Place: Japan Result: W+R Commentator: Wang JianKun 7p Editing/Questioning/ English speaking: Guo Juan 5p

0
from 30k to 8d
English
no
Wang JianKun 7p
2008-05-15
Middle game > Counting and judgement
Lesson 10

Exercises for kyu players in the 30k to 10k range.

0
from 30k to 5d
English
no
Guo Juan 5p
2008-05-22
Opening > San-ren-sei
Lesson 1

Material: Duan Rong 7p, Guo Juan 5p. Lesson: Guo Juan 5p.

0
from 30k to 5d
English
no
Guo Juan 5p
2008-05-22
Opening > San-ren-sei
Lesson 2

Material: Duan Rong 7p, Guo Juan 5p. Lesson: Guo Juan 5p.

0
from 30k to 5d
English
no
Guo Juan 5p
2008-05-29
Opening > San-ren-sei
Lesson 3

Material: Duan Rong 7p, Guo Juan 5p. Lesson: Guo Juan 5p.

0
from 30k to 5d
English
no
Guo Juan 5p
2008-06-05
Opening > San-ren-sei
Lesson 4

Material: Duan Rong 7p, Guo Juan 5p. Lesson: Guo Juan 5p.

0
from 30k to 5d
English
no
Guo Juan 5p
2008-05-18
Professional games > 2008
Japan 32nd Kisei Title Match ‐ Game 3

Black: Cho Chikun, 9p, Judan White: Yamashita Keigo, 9p,Kisei Event: 2008 Japan 32nd Kisei title, game 3 Komi: 6.5 Date: 2008-02-07,08 Place: Japan Result: W+R Commentator: Wang JianKun 7p Editing/Questioning/ English speaking: Guo Juan 5p

0
from 30k to 8d
English
no
Wang JianKun 7p
2008-05-29
Professional games > 2008
Japan 32nd Kisei Title Match ‐ Game 4

Black: Yamashita Keigo, 9p,Kisei White: Cho Chikun, 9p, Judan Event: 2008 Japan 32nd Kisei title, game 4 Komi: 6.5 Date: 2008-02-21,22 Place: Japan Result: B+R Commentator: Wang JianKun 7p Editing/Questioning/ English speaking: Guo Juan 5p

0
from 30k to 8d
English
no
Wang JianKun 7p
2008-06-08
Professional games > Grand Masters' games
Go Seigen ‐ Game 06A

Black: Karigane Junichi 8p White: Wu QinYuan (Go SeiGen) 7p Date: May 2 - 4, 1942 Place: Kamakura Result: W + R **Please notice the recording starts at 2:00. And the sound quality is really good.**

0
from 30k to 8d
English
no
Jujo Jiang 9p
2008-06-08
Professional games > Grand Masters' games
Go Seigen ‐ Game 06B

Black: Karigane Junichi 8p White: Wu QinYuan (Go SeiGen) 7p Second part of the game. Date: May 2 - 4, 1942 Place: Kamakura Result: W + R **Please notice the recording starts at 1:40. And the sound quality is really good.**

0
from 30k to 8d
English
no
Jujo Jiang 9p
2008-06-14
Opening > San-ren-sei
Lesson 5

Material: Duan Rong 7p, Guo Juan 5p. Lesson: Guo Juan 5p.

0
from 30k to 5d
English
no
Guo Juan 5p
2008-06-26
Opening > San-ren-sei
Lesson 6

Material: Duan Rong 7p, Guo Juan 5p. Lesson: Guo Juan 5p. Examples: * Takemiya Masaki - Otake Hideo, 1990-11-22, B+ * Takemiya Masaki - Ryu ShiKun, 2002-09-22, B+6.5

0
from 30k to 5d
English
no
Guo Juan 5p
2008-06-19
Professional games > 2008
Japan 32nd Kisei Title Match ‐ Game 5

Black: Cho Chikun, 9p, Judan White: Yamashita Keigo, 9p,Kisei Event: 2008 Japan 32nd Kisei title, game 5 Komi: 6.5 Date: 2008-02-27,28 Place: Japan Result: B+3.5 Commentator: Wang JianKun 7p Editing/Questioning/English speaking: Guo Juan 5p

0
from 30k to 8d
English
no
Wang JianKun 7p
2008-06-19
Important shapes > Basic shapes
Lesson 3
31
from 30k to 5d
English
no
Jennie ShenJing 2p
2008-06-29
Professional games > 2008
Japan 32nd Kisei Title Match ‐ Game 6

Black: Yamashita Keigo, 9p,Kisei White: Cho Chikun, 9p, Judan Event: 2008 Japan 32nd Kisei title, game 6 Komi: 6.5 Date: 2008-03-13,14 Place: Japan Result: W + 4,5 Commentator: Wang JianKun 7p Editing/Questioning/English speaking: Guo Juan 5p

0
from 30k to 8d
English
no
Wang JianKun 7p
2008-07-03
Professional games > 2008
Japan 32nd Kisei Title Match ‐ Game 7

Black: Cho Chikun, 9p, Judan White: Yamashita Keigo, 9p,Kisei Event: 2008 Japan 32nd Kisei title, game 7 Komi: 6.5 Date: 2008-03-19,20 Place: Japan Result: W + Commentator: Wang JianKun 7p Editing/Questioning/English speaking: Guo Juan 5p

0
from 30k to 8d
English
no
Wang JianKun 7p
2008-07-06
Opening > San-ren-sei
Lesson 7

Material: Duan Rong 7p, Guo Juan 5p. Lesson: Guo Juan 5p.

0
from 30k to 5d
English
no
Guo Juan 5p
2008-08-08
Opening > Kobayashi Koichi style
Lesson 01Material: Duan Rong 7p, Guo Juan 5p. Lesson: Guo Juan. How to handle White move 1? Example game: *Kobayashi Koichi - Ishida Akira, 1981-07-23, B+
27
from 10k to 5d
English
no
Guo Juan 5p
2008-07-09
Sponsored lectures > Free from Guo Juan
2008-Summer Free Lecture2008 summer free lecture

How to review our own games

Teacher Guo Juan 5p

Duration: 22 min.
0
from 30k to 5d
English
yes
Guo Juan 5p
2008-07-12
Other > How to review our own games
30 kyu to 20 kyu

How should we review our own games without a teacher?

0
from 30k to 20k
English
no
Guo Juan 5p
2008-07-16
Other > How to review our own games
20 kyu to 10 kyu

How should we review our own games without a teacher?

0
from 20k to 10k
English
no
Guo Juan 5p
2008-08-08
Opening > Kobayashi Koichi style
Lesson 02Material: Duan Rong 7p, Guo Juan 5p. Lesson: Guo Juan. Against White move 1, which moves are good and which are not?
42
from 10k to 5d
English
no
Guo Juan 5p
2008-08-14
Opening > Kobayashi Koichi style
Lesson 03Material: Duan Rong 7p, Guo Juan 5p. Lesson: Guo Juan.
39
from 10k to 5d
English
no
Guo Juan 5p
2008-07-19
Professional games > 2008
21st Fujitsu Cup ‐ Semi-final A

Black: Liu Xing 7p White: Lee ChangHo 9p Event: 2008, 21st Fujitsu Cup, half final Komi: 6.5 Date: 2008-07-05 Place: Japan, Nihonki-in Result: W+R Commentator: Wang JianKun 7p Editing/Questioning/ English speaking: Guo Juan 5p

0
from 30k to 8d
English
no
Wang JianKun 7p
2008-08-14
Opening > Kobayashi Koichi style
Lesson 04 Material: Duan Rong 7p, Guo Juan 5p. Lesson: Guo Juan.
38
from 30k to 5d
English
no
Guo Juan 5p
2008-08-23
Opening > Kobayashi Koichi style
Lesson 05Material: Duan Rong 7p, Guo Juan 5p. Lesson: Guo Juan. Against White move 3, which move is the best for Black?
35
from 10k to 5d
English
no
Guo Juan 5p
2008-07-24
Professional games > 2008
21st Fujitsu Cup ‐ Semi-final B

Black: Chang Hao 9p White: Gu Li 9p Event: 2008, 21st Fujitsu Cup, half final Komi: 6.5 Date: 2008-07-05 Place: Japan, Nihonki-in Result: W+R Commentator: Wang JianKun 7p Editing/Questioning/ English speaking: Guo Juan 5p

0
from 30k to 8d
English
no
Wang JianKun 7p
2008-07-24
Important shapes > Basic shapes
Lesson 4 White pushes up, how to handle this shape? A or B?
34
from 10k to 5d
English
no
Jennie ShenJing 2p
2008-07-31
Other > How to review our own games
10 kyu to 1 kyu

How should we review our own games without a teacher?

0
from 10k to 1k
English
no
Guo Juan 5p
2008-07-31
Other > How to review our own games
1 dan to 3 dan

How should we review our own games without a teacher?

0
from 30k to 5d
English
no
Guo Juan 5p
2008-08-21
Professional games > 2008
21st Fujitsu Cup ‐ Final match

Black: Gu Li 9p White: Lee ChangHo 9p Event: 2008, 21st Fujitsu Cup, final match Komi: 6.5 Date: 2008-07-07 Place: Japan Result: B+R Commentator: Wang JianKun 7p Editing/Questioning/ English speaking: Guo Juan 5p

0
from 30k to 8d
English
no
Wang JianKun 7p
2008-08-27
Joseki > Avalanche
Large avalanche ‐ Lesson 01

This is for anyone that loves the avalanche!

0
from 5k to 8d
English
no
Jennie ShenJing 2p
2008-09-04
Joseki > Avalanche
Large avalanche ‐ Lesson 02

This is for anyone that loves the avalanche! Material by Wang JianKun 7p and Jennie Shen 2p. Lesson by Jennie Shen.

0
from 5k to 8d
English
no
Jennie ShenJing 2p
2008-09-10
Joseki > Punishing opponents mistakes
Lesson 01
0
from 10k to 8d
English
no
MingJiu Jiang 7p
2008-09-13
Joseki > Avalanche
Large avalanche ‐ Lesson 03

This is for anyone that loves the avalanche! Material by Wang JianKun 7p and Jennie Shen 2p. Lesson by Jennie Shen.

0
from 5k to 8d
English
no
Jennie ShenJing 2p
2008-09-17
Joseki > Punishing opponents mistakes
Lesson 02
0
from 10k to 8d
English
no
MingJiu Jiang 7p
2008-09-21
Professional games > 2008
Japan 63rd Honinbo ‐ Game 1

Black: Takao Shinji, 9p,Honinbo White: Hane Naoki, 9p Event: 2008 Japan 63 Honinbo title match game 1 Komi: 6.5 Date: 2008-05-14,15 Place: Japan Result: B+3.5 Commentator: Wang JianKun 7p Editing/Questioning/ English speaking: Guo Juan 5p

0
from 30k to 8d
English
no
Wang JianKun 7p
2008-09-24
Joseki > Punishing opponents mistakes
Lesson 03
0
from 10k to 8d
English
no
MingJiu Jiang 7p
2008-10-01
Joseki > Punishing opponents mistakes
Lesson 04
0
from 10k to 8d
English
no
MingJiu Jiang 7p
2008-09-28
Professional games > 2008
Japan 63rd Honinbo ‐ Game 2

Black: Hane Naoki, 9p White: Takao Shinji, 9p,Honinbo Event: 2008 Japan 63 Honinbo title match game 2 Komi: 6.5 Date: 2008-05-27,28 Place: Japan Result: W+R Commentator: Wang JianKun 7p Editing/Questioning/ English speaking: Guo Juan 5p

0
from 30k to 8d
English
no
Wang JianKun 7p
2008-10-06
Professional games > 2008
Japan 63rd Honinbo ‐ Game 3

Black: Takao Shinji, 9p,Honinbo White: Hane Naoki, 9p Event: 2008 Japan 63 Honinbo title match game 3 Komi: 6.5 Date: 2008-06-11,12 Place: Japan Result: B+R Commentator: Wang JianKun 7p Editing/Questioning/ English speaking: Guo Juan 5p

0
from 30k to 8d
English
no
Wang JianKun 7p
2008-10-16
Professional games > 2008
Japan 63rd Honinbo ‐ Game 4

Black: Hane Naoki, 9p White: Takao Shinji, 9p,Honinbo Event: 2008 Japan 63 Honinbo title match game 4 Komi: 6.5 Date: 2008-06-23,24 Place: Japan Result: B+R Commentator: Wang JianKun 7p Editing/Questioning/ English speaking: Guo Juan 5p

0
from 30k to 8d
English
no
Wang JianKun 7p
2008-10-16
Joseki > Punishing opponents mistakes
Lesson 05
0
from 10k to 8d
English
no
MingJiu Jiang 7p
2008-10-22
Opening > New opening moves
Lesson 04

Material: Wang JianKun 7p, Guo Juan 5p. Lesson: Guo Juan. Example pro game: * Gu Li - Lee ChangHo, 2008-07-07, b+r

0
from 5k to 8d
English
no
Guo Juan 5p
2008-10-26
Professional games > 2008
Japan 63rd Honinbo ‐ Game 5

Black: Takao Shinji, 9p,Honinbo White: Hane Naoki, 9p Event: 2008 Japan 63 Honinbo title match game 5 Komi: 6.5 Date: 2008-07-01,02 Place: Japan Result: W+R Commentator: Wang JianKun 7p Editing/Questioning/ English speaking: Guo Juan 5p

0
from 30k to 8d
English
no
Wang JianKun 7p
2008-10-28
Joseki > Avalanche
Large avalanche ‐ Lesson 04

This is for anyone that loves the avalanche! Material by Wang JianKun 7p and Jennie Shen 2p. Lesson by Jennie Shen.

0
from 5k to 8d
English
no
Jennie ShenJing 2p
2008-11-03
Professional games > 2008
Japan 63rd Honinbo ‐ Game 6

Black: Hane Naoki, 9p White: Takao Shinji, 9p,Honinbo Event: 2008 Japan 63 Honinbo title match game 6 Komi: 6.5 Date: 2008-07-16,17 Place: Japan Result: B+R Commentator: Wang JianKun 7p Editing/Questioning/ English speaking: Guo Juan 5p

0
from 30k to 8d
English
no
Wang JianKun 7p
2008-11-03
Joseki > Punishing opponents mistakes
Lesson 06
0
from 10k to 8d
English
no
MingJiu Jiang 7p
2008-11-03
Joseki > Punishing opponents mistakes
Lesson 07
0
from 10k to 8d
English
no
MingJiu Jiang 7p
2008-11-05
Sponsored lectures > Free from Guo Juan
2008 US Cotsen Open

2008 Cotsen tournament Game 5 Black: Jong Jeong 8d White: Jennie Shen 2p

0
from 30k to 8d
English
yes
Jennie ShenJing 2p
2008-11-08
Joseki > Avalanche
Large avalanche ‐ Lesson 05

This is for anyone that loves the avalanche! Material by Wang JianKun 7p and Jennie Shen 2p. Lesson by Jennie Shen.

0
from 5k to 8d
English
no
Jennie ShenJing 2p
2008-11-14
Professional games > Grand Masters' games
Go Seigen ‐ Game 07

Black: Wu QinYuan (Go SeiGen) White: Segoe Kensaku 7p Date: 1928-11-10 Two stones handicap Result: Not finished Commentator: This game has never been published before.

0
from 30k to 8d
English
no
Jujo Jiang 9p
2008-11-20
Professional games > 2008
Japan 63rd Honinbo ‐ Game 7

Black: Hane Naoki, 9p White: Takao Shinji, 9p,Honinbo Event: 2008 Japan 63 Honinbo title match game 7 Komi: 6.5 Date: 2008-07-22,23 Place: Japan Result: B+R Commentator: Wang JianKun 7p Editing/Questioning/ English speaking: Guo Juan 5p

0
from 30k to 8d
English
no
Wang JianKun 7p
2008-11-21
Joseki > Magic sword
Lesson 01Material: Wang JianKun 7p and Jennie Shen 2p. Lesson: Jennie Shen.
0
from 5k to 8d
English
no
Jennie ShenJing 2p
2008-11-30
Joseki > Avalanche
Large avalanche ‐ Lesson 06

This is for anyone that loves the avalanche! Material by Wang JianKun 7p and Jennie Shen 2p. Lesson by Jennie Shen.

0
from 5k to 8d
English
no
Jennie ShenJing 2p
2008-12-04
Basic course > Topics
High-low moves ‐ Lesson 1
23
from 30k to 1k
English
no
Guo Juan 5p
2008-12-04
Joseki > Avalanche
Large avalanche ‐ Lesson 07

This is for anyone that loves the avalanche! Material by Wang JianKun 7p and Jennie Shen 2p. Lesson by Jennie Shen.

0
from 5k to 8d
English
no
Jennie ShenJing 2p
2008-12-05
Joseki > Magic sword
Lesson 02

Material: Wang JianKun 7p and Jennie Shen 2p. Lesson: Jennie Shen.

0
from 5k to 8d
English
no
Jennie ShenJing 2p
2008-12-05
Professional games > Grand Masters' games
Go Seigen ‐ Game 08A

Black: Hashimoto Utaro 5p White: Wu QinYuan (Go SeiGen) 5p Date: August 30 to September 13, 1933 No komi W + 2 Part 1

0
from 30k to 8d
English
no
Jujo Jiang 9p
2008-12-05
Professional games > Grand Masters' games
Go Seigen ‐ Game 08B

Black: Hashimoto Utaro 5p White: Wu QinYuan (Go SeiGen) 5p Date: August 30 to September 13, 1933 No komi W + 2 Part 2

0
from 30k to 8d
English
no
Jujo Jiang 9p
2008-12-07
Professional games > Grand Masters' games
Go Seigen ‐ Game 09A

Black: Fujisawa Kuranosuke 9p White: Wu QinYuan (Go SeiGen) 9p Date: June 11-13, 1952 Komi: 0 W + 3 Part A This is one of the most famous Jubango games.

0
from 30k to 8d
English
no
Jujo Jiang 9p
2008-12-07
Professional games > Grand Masters' games
Go Seigen ‐ Game 09B

Black: Fujisawa Kuranosuke 9p White: Wu QinYuan (Go SeiGen) 9p Date: June 11-13, 1952 Komi: 0 W + 3 Part B

0
from 30k to 8d
English
no
Jujo Jiang 9p
2008-12-08
Basic course > Topics
High-low moves ‐ Lesson 2
18
from 30k to 1k
English
no
Guo Juan 5p
2008-12-13
Basic course > Topics
High-low moves ‐ Lesson 3
23
from 30k to 1k
English
no
Guo Juan 5p
2008-12-19
Professional games > Grand Masters' games
Go Seigen ‐ Game 10A

Black: Kubomatsu Katsukiyo 6p White: Wu QinYuan (Go SeiGen) 6p Date: August 20 to September 5, 1936 Komi: 3.5 W + 5.5 Part 1

0
from 30k to 8d
English
no
Jujo Jiang 9p
2008-12-19
Professional games > Grand Masters' games
Go Seigen ‐ Game 10B

Black: Kubomatsu Katsukiyo 6p White: Wu QinYuan (Go SeiGen) 6p Date: August 20 to September 5, 1936 Komi: 3.5 W + 5.5 Part 2

0
from 30k to 8d
English
no
Jujo Jiang 9p
2008-12-22
Sponsored lectures > Free from Guo Juan
2008-Christmas free lecture

Black: Song RongHui 1p
White: Lee MinJin 5p

Event: The 1st Mind Sports Games, Female individual finals
Komi: 6,5

Date: 2008-10-09
Place: Beijing, China

B + R

Commentary: Guo Juan 5p

Duration: 31 minutes

0
from 30k to 8d
English
yes
Guo Juan 5p
2009-01-03
Sponsored lectures > Free from Guo Juan
Pair-Go games

2009-New Year Free Lesson Two PairGo games from 35th London Open Go Congress 2008 Game 1: 3 stones handicap Black: Annika Piiroinen 1k & Antti Holappa 3d White: Guo Juan 7d & Ian Davis 1d, W + Game 2: 6 stones handicap Black: Martha Mcgill & Matt Crosby 2d White: Guo Juan 7d & Ian Davis 1d, W +

0
from 30k to 5d
English
yes
Guo Juan 5p
2009-01-06
Basic course > Topics
Approaching corners ‐ Lesson 1
22
from 30k to 1k
English
no
Guo Juan 5p
2009-01-10
Joseki > Magic sword
Lesson 03

Material: Wang JianKun 7p and Jennie Shen 2p. Lesson: Jennie Shen.

0
from 5k to 8d
English
no
Jennie ShenJing 2p
2009-01-14
Joseki > Magic sword
Lesson 04

Material: Wang JianKun 7p and Jennie Shen 2p. Lesson: Jennie Shen.

0
from 5k to 8d
English
no
Jennie ShenJing 2p
2009-01-20
Professional games > 2009
Oza World Cup ‐ Finals 1

Black: Gu Li 9p White: Piao WenYiao 5p Event: 2009 4th World Oza Cup , finals game 1 Komi: 6.5 Date: 2009-01-06 Place: China BeiJing, China QiYuan Result: B+R Commentator: Wang JianKun 7p Editing/Questioning/ English speaking: Guo Juan 5p

0
from 30k to 8d
English
no
Wang JianKun 7p
2009-01-23
Basic course > Topics
Approaching corners ‐ Lesson 2
13
from 30k to 1k
English
no
Guo Juan 5p
2009-01-27
Joseki > Avalanche
Large avalanche ‐ Lesson 08

This is for anyone that loves the avalanche! Material by Wang JianKun 7p and Jennie Shen 2p. Lesson by Jennie Shen.

0
from 5k to 8d
English
no
Jennie ShenJing 2p
2009-02-06
Joseki > Magic sword
Lesson 05

Material: Wang JianKun 7p and Jennie Shen 2p. Lesson: Jennie Shen.

0
from 5k to 8d
English
no
Jennie ShenJing 2p
2009-02-13
Professional games > 2009
Oza World Cup ‐ Finals 2

Black: Piao WenYiao 5p White: Gu Li 9p Event: 2009 4th World Oza Cup , finals game 2 Komi: 6.5 Date: 2009-01-08 Place: China BeiJing, China QiYuan Result: W+R Commentator: Wang JianKun 7p Editing/Questioning/ English speaking: Guo Juan 5p

0
from 30k to 8d
English
no
Wang JianKun 7p
2009-02-18
Joseki > Magic sword
Lesson 06

Material: Wang JianKun 7p and Jennie Shen 2p. Lesson: Jennie Shen.

0
from 5k to 8d
English
no
Jennie ShenJing 2p
2009-02-20
Basic course > Topics
Approaching corners ‐ Lesson 3
10
from 30k to 1k
English
no
Guo Juan 5p
2009-02-25
Joseki > Avalanche
Large avalanche ‐ Lesson 09

This is for anyone that loves the avalanche! Material by Wang JianKun 7p and Jennie Shen 2p. Lesson by Jennie Shen.

0
from 5k to 8d
English
no
Jennie ShenJing 2p
2009-03-02
Joseki > Avalanche
Large avalanche ‐ Lesson 10

This is for anyone that loves the avalanche! Material by Wang JianKun 7p and Jennie Shen 2p. Lesson by Jennie Shen.

0
from 5k to 8d
English
no
Jennie ShenJing 2p
2009-03-05
Professional games > 2009
13th Samsung Cup ‐ Finals 1

Black: Lee SeDol 9p (Korea) White: Kong Jie 7p (China) Event: 2009 13th Samsung Cup, finals game 1 Komi: 6.5 Date: 2009-01-19 Place: Korea Commentator: Wang JianKun 7p Editing/Questioning/ English speaking: Guo Juan 5p

0
from 30k to 8d
English
no
Wang JianKun 7p
2009-03-05
Professional games > 2009
13th Samsung Cup ‐ Finals 2

Black: Kong Jie 7p (China) White: Lee SeDol 9p (Korea) Event: 2009 13th Samsung Cup, finals game 2 Komi: 6.5 Date: 2009-01-21 Place: Korea Commentator: Wang JianKun 7p Editing/Questioning/ English speaking: Guo Juan 5p

0
from 30k to 8d
English
no
Wang JianKun 7p
2009-03-12
Joseki > Avalanche
Large avalanche ‐ Lesson 11

This is for anyone that loves the avalanche! Material by Wang JianKun 7p and Jennie Shen 2p. Lesson by Jennie Shen.

0
from 5k to 8d
English
no
Jennie ShenJing 2p
2009-03-16
Joseki > Magic sword
Lesson 07

Material: Wang JianKun 7p and Jennie Shen 2p. Lesson: Jennie Shen.

0
from 5k to 8d
English
no
Jennie ShenJing 2p
2009-03-21
Sponsored lectures > Free from Guo Juan
2009-Spring Free Lecture

2009 Spring Free Lecture

Three games from 2009 European Ing Cup

Game 1: Guo Juan 5p - Burzo Cornel 6d
Game 2: Fan Hui 2p - Guo Juan 5p
Game 3: Guo Juan 5p - Catalin Taranu 5p

Commentator: Guo Juan 5p

0
from 30k to 8d
English
yes
Guo Juan 5p
2009-03-25
Basic course > Topics
Defending corners ‐ Lesson 1
17
from 30k to 1k
English
no
Guo Juan 5p
2009-03-28
Professional games > 2009
13th LG Cup ‐ Finals 1

Black: Gu Li 9p White: Lee SeDol 9p Event: 2009 13th LG Cup finals game 1 Komi: 6.5 Date: 2009-02-23 Place: Korea Result: B+R Commentators: Wang Jiankun 7p, Guo Juan 5p

0
from 30k to 8d
English
no
Wang JianKun 7p
2009-03-31
Professional games > 2009
13th LG Cup ‐ Finals 2

Black: Lee SeDol 9p White: Gu Li 9p Event: 2009 13th LG Cup finals game 2 Komi: 6.5 Date: 2009-02-25 Place: Korea Commentators: Wang Jiankun 7p, Guo Juan 5p

0
from 30k to 8d
English
no
Wang JianKun 7p
2009-04-03
Joseki > Magic sword
Lesson 08

Material: Wang JianKun 7p and Jennie Shen 2p. Lesson: Jennie Shen.

0
from 5k to 8d
English
no
Jennie ShenJing 2p
2009-04-08
Professional games > Grand Masters' games
Go Seigen ‐ Game 11A

Black: Iwamoto Kaoru 8p White: Wu QinYuan (Go SeiGen) 8p Date: July 7 to 9, 1948 Komi: 0 W + 1 or 2 points Part one

0
from 30k to 8d
English
no
Jujo Jiang 9p
2009-04-08
Professional games > Grand Masters' games
Go Seigen ‐ Game 11B

Black: Iwamoto Kaoru 8p White: Wu QinYuan (Go SeiGen) 8p Date: July 7 to 9, 1948 Komi: 0 W + 1 or 2 points Part two

0
from 30k to 8d
English
no
Jujo Jiang 9p
2009-04-16
Joseki > Magic sword
Lesson 09

Material: Wang JianKun 7p and Jennie Shen 2p. Lesson: Jennie Shen.

0
from 5k to 8d
English
no
Jennie ShenJing 2p
2009-04-20
Basic course > Topics
Defending corners ‐ Lesson 2
13
from 30k to 1k
English
no
Guo Juan 5p
2009-04-24
Basic course > Topics
Defending corners ‐ Lesson 3
12
from 30k to 1k
English
no
Guo Juan 5p
2009-04-28
Joseki > Avalanche
Large avalanche ‐ Lesson 12

This is for anyone that loves the avalanche! Material by Wang JianKun 7p and Jennie Shen 2p. Lesson by Jennie Shen.

0
from 5k to 8d
English
no
Jennie ShenJing 2p
2009-05-01
Professional games > 2009
10th Nongsim Cup ‐ Game 11

Black: Chang Hao 9p White: TaKao Shinji 9p Event: 10th Nongshim Cup, last stage game 1 (the 11th game in total) Komi: 6,5 Date: 2009-02-17 Place: Shanghai,China Commentator: Wang JianKun 7p Guo Juan 5p

0
from 30k to 8d
English
no
Wang JianKun 7p
2009-05-05
Professional games > 2009
10th Nongsim Cup ‐ Game 12

Black: Lee SeDol 9p (Korea) White: Chang Hao 9p (China) Event: 10th Nongshim Cup, last stage game 2 (the 12th game in total) Komi: 6,5 Date: 2009-02-18 Place: Shanghai,China Commentator: Wang JianKun 7p Guo Juan 5p

0
from 30k to 8d
English
no
Wang JianKun 7p
2009-05-05
Professional games > 2009
10th Nongsim Cup ‐ Game 13

Black: Gu Li 9p (China) White: Lee SeDol 9p (Korea) Event: 10th Nongshim Cup, last stage game 3 (the 13th game in total) Komi: 6,5 Date: 2009-02-19 Place: Shanghai,China Commentator: Wang JianKun 7p Guo Juan 5p

0
from 30k to 8d
English
no
Wang JianKun 7p
2009-05-11
Joseki > Avalanche
Large avalanche ‐ Lesson 13

This is for anyone that loves the avalanche! Material by Wang JianKun 7p and Jennie Shen 2p. Lesson by Jennie Shen.

0
from 30k to 8d
English
no
Jennie ShenJing 2p
2009-05-12
Basic course > Topics
Capturing stones ‐ Lesson 1
15
from 30k to 10k
English
no
Guo Juan 5p
2009-05-21
Joseki > Punishing opponents mistakes
Lesson 08
0
from 10k to 8d
English
no
MingJiu Jiang 7p
2009-05-21
Basic course > Topics
Capturing stones ‐ Lesson 2
27
from 30k to 10k
English
no
Guo Juan 5p
2009-05-27
Joseki > Avalanche
Large avalanche ‐ Lesson 14

This is for anyone that loves the avalanche! Material by Wang JianKun 7p and Jennie Shen 2p. Lesson by Jennie Shen.

0
from 5k to 8d
English
no
Jennie ShenJing 2p
2009-06-02
Basic course > Topics
Capturing stones ‐ Lesson 3
8
from 30k to 10k
English
no
Guo Juan 5p
2009-06-04
Joseki > Avalanche
Large avalanche ‐ Lesson 15

This is for anyone that loves the avalanche! Material by Wang JianKun 7p and Jennie Shen 2p. Lesson by Jennie Shen.

0
from 5k to 8d
English
no
Jennie ShenJing 2p
2009-06-09
Joseki > Avalanche
Large avalanche ‐ Lesson 16

This is for anyone that loves the avalanche! Material by Wang JianKun 7p and Jennie Shen 2p. Lesson by Jennie Shen.

0
from 5k to 8d
English
no
Jennie ShenJing 2p
2009-06-10
Sponsored lectures > Free from Guo Juan
In memory of Fujisawa Shuko

Black: Fujisawa Shuko - Kisei White: Kato- Masao - Honinbo (challenger) Event: Kisei match 5th game Date: 1978 - 03 - 1, 2 Komi: 5,5 Result: B +

0
from 30k to 8d
English
yes
Jujo Jiang 9p
2009-06-12
Joseki > Magic sword
Lesson 10

Material: Wang JianKun 7p and Jennie Shen 2p. Lesson: Jennie Shen.

0
from 5k to 8d
English
no
Jennie ShenJing 2p
2009-06-12
Joseki > Punishing opponents mistakes
Lesson 09
0
from 10k to 8d
English
no
MingJiu Jiang 7p
2009-06-21
Joseki > Magic sword
Lesson 11

Material: Wang JianKun 7p and Jennie Shen 2p. Lesson: Jennie Shen.

0
from 5k to 8d
English
no
Jennie ShenJing 2p
2009-06-24
Professional games > 2009
1st BC Card Cup ‐ Finals 1

Black: Cho HanSung 9p White: Gu Li 9p Event: 1st BC Card Cup finals game 1 Komi: 6,5 Date: May 1, 2009 Place: Korea Commentator: Wang JianKun 7p Guo Juan 5p

0
from 30k to 8d
English
no
Wang JianKun 7p
2009-06-27
Professional games > 2009
1st BC Card Cup ‐ Finals 2

Black: Gu Li 9p White: Cho HanSung 9p Event: 1st BC Card Cup finals game 2 Komi: 6,5 Date: May 2, 2009 Place: Korea Commentator: Wang JianKun 7p Guo Juan 5p

0
from 30k to 8d
English
no
Wang JianKun 7p
2009-07-01
Professional games > 2009
1st BC Card Cup ‐ Finals 3

Black: Cho HanSung 9p White: Gu Li 9p Event: 1st BC Card Cup finals game 3 Komi: 6,5 Date: May 3, 2009 Place: Korea Commentator: Wang JianKun 7p Guo Juan 5p

0
from 30k to 8d
English
no
Wang JianKun 7p
2009-07-03
Professional games > 2009
1st BC Card Cup ‐ Finals 4

Black: Gu Li 9p White: Cho HanSung 9p Event: 1st BC Card Cup finals game 4 Komi: 6,5 Date: May 4, 2009 Place: Korea Commentator: Wang JianKun 7p Guo Juan 5p

0
from 30k to 8d
English
no
Wang JianKun 7p
2009-07-08
Joseki > Punishing opponents mistakes
Lesson 10
0
from 10k to 8d
English
no
MingJiu Jiang 7p
2009-07-11
Basic course > Topics
Double atari ‐ Lesson 1
8
from 30k to 10k
English
no
Guo Juan 5p
2009-07-17
Joseki > Magic sword
Lesson 12

Material: Wang JianKun 7p and Jennie Shen 2p. Lesson: Jennie Shen.

0
from 5k to 8d
English
no
Jennie ShenJing 2p
2009-07-22
Basic course > Topics
Double atari ‐ Lesson 2
11
from 30k to 10k
English
no
Guo Juan 5p
2009-07-25
Joseki > Punishing opponents mistakes
Lesson 11
0
from 10k to 8d
English
no
MingJiu Jiang 7p
2009-07-25
Basic course > Topics
Double atari ‐ Lesson 3
10
from 30k to 10k
English
no
Guo Juan 5p
2009-08-02
Professional games > 2009
7th Cun Lan Cup ‐ Finals 1

Black: Chang Hao 9p White: Lee ChangHo 9p Event: 2009 the 7th Chun Lan Cup finals game 1 Komi: 6,5 Date: June 22, 2009 Place: China Commentator: Wang JianKun 7p Guo Juan 5p

0
from 30k to 8d
English
no
Wang JianKun 7p
2009-08-02
Professional games > 2009
7th Cun Lan Cup ‐ Finals 1

Black: Lee ChangHo 9p White: Chang Hao 9p Event: 2009 the 7th Chun Lan Cup finals game 2 Komi: 6,5 Date: June 24, 2009 Place: China Commentator: Wang JianKun 7p Guo Juan 5p

0
from 30k to 8d
English
no
Wang JianKun 7p
2009-08-10
Joseki > Magic sword
Lesson 13

Material: Wang JianKun 7p and Jennie Shen 2p. Lesson: Jennie Shen.

0
from 5k to 8d
English
no
Jennie ShenJing 2p
2009-08-16
Opening > Kobayashi Koichi style
Lesson 06 Material: Duan Rong 7p, Guo Juan 5p. Lesson: Guo Juan.
37
from 1d to 8d
English
no
Guo Juan 5p
2009-08-16
Opening > Kobayashi Koichi style
Lesson 07Material: Duan Rong 7p, Guo Juan 5p. Lesson: Guo Juan. A funny move!
35
from 1k to 8d
English
no
Guo Juan 5p
2009-08-23
Joseki > Punishing opponents mistakes
Lesson 12
0
from 10k to 8d
English
no
MingJiu Jiang 7p
2009-08-26
Middle game > All about invasion
Lesson 19 (3.3D) In this lecture Guo Juan made a reading mistake, find it! She explained in the problem set.
25
from 10k to 5d
English
no
Guo Juan 5p
2009-08-30
Middle game > All about invasion
Lesson 20
45
from 10k to 5d
English
no
Guo Juan 5p
2009-09-03
Professional games > Grand Masters' games
Go Seigen ‐ Game 12A

Black: Wu QinYuan (Go SeiGen) 9p White: Fujisawa Kuranosuke 9p Date: March 2-4, 1953 Komi: 0 B +

0
from 30k to 8d
English
no
Jujo Jiang 9p
2009-09-03
Professional games > Grand Masters' games
Go Seigen ‐ Game 12B

Black: Wu QinYuan (Go SeiGen) 9p White: Fujisawa Kuranosuke 9p Date: March 2-4, 1953 Komi: 0 B +

0
from 30k to 8d
English
no
Jujo Jiang 9p
2009-09-10
Joseki > Magic sword
Lesson 14Material: Wang JianKun 7p and Jennie Shen 2p. Lesson: Jennie Shen.
0
from 5k to 8d
English
no
Jennie ShenJing 2p
2009-09-14
Opening > Kobayashi Koichi style
Lesson 08 Material: Duan Rong 7p, Guo Juan 5p. Lesson: Guo Juan.
25
from 30k to 8d
English
no
Guo Juan 5p
2009-09-18
Joseki > Punishing opponents mistakes
Lesson 13
0
from 10k to 8d
English
no
MingJiu Jiang 7p
2009-09-22
Joseki > Magic sword
Lesson 15

Material: Wang JianKun 7p and Jennie Shen 2p. Lesson: Jennie Shen.

0
from 10k to 8d
English
no
Jennie ShenJing 2p
2009-09-26
Basic course > Topics
Pincers ‐ Lesson 1
18
from 30k to 1k
English
no
Guo Juan 5p
2009-09-30
Joseki > Punishing opponents mistakes
Lesson 14
0
from 10k to 8d
English
no
MingJiu Jiang 7p
2009-10-03
Basic course > Topics
Pincers ‐ Lesson 2
21
from 30k to 1k
English
no
Guo Juan 5p
2009-10-09
Joseki > Magic sword
Lesson 16

Material: Wang JianKun 7p and Jennie Shen 2p. Lesson: Jennie Shen.

0
from 5k to 8d
English
no
Jennie ShenJing 2p
2009-10-14
Joseki > Punishing opponents mistakes
Lesson 15
0
from 10k to 8d
English
no
MingJiu Jiang 7p
2009-10-22
Joseki > Magic sword
Lesson 17

Material: Wang JianKun 7p and Jennie Shen 2p. Lesson: Jennie Shen.

0
from 10k to 8d
English
no
Jennie ShenJing 2p
2009-10-27
Basic course > Topics
Pincers ‐ Lesson 3
10
from 30k to 1k
English
no
Guo Juan 5p
2009-10-30
Opening > Kobayashi Koichi style
Lesson 09 Material: Duan Rong 7p, Guo Juan 5p. Lesson: Guo Juan. Tricky!
48
from 10k to 8d
English
no
Guo Juan 5p
2009-11-04
Opening > Kobayashi Koichi style
Lesson 10 Material: Duan Rong 7p, Guo Juan 5p. Lesson: Guo Juan. A funny move!
46
from 10k to 8d
English
no
Guo Juan 5p
2009-11-07
Professional games > Grand Masters' games
Go Seigen ‐ Game 13A

Black: Kitani Minoru 5p White: Wu QinYuan (Go SeiGen) 5p Date: Jan. 30 to Feb. 19, 1934 Komi: 0 W + 4 Part 1

0
from 30k to 8d
English
no
Jujo Jiang 9p
2009-11-07
Professional games > Grand Masters' games
Go Seigen ‐ Game 13B

Black: Kitani Minoru 5p White: Wu QinYuan (Go SeiGen) 5p Date: Jan. 30 to Feb. 19, 1934 Komi: 0 W + 4 Part 2

0
from 30k to 8d
English
no
Jujo Jiang 9p
2009-11-12
Professional games > 2009
China Ming Ren Challenger decision

Game 1: Black: Liu Xing 7p White: Gu Ling Yi 5p Game 2: Black: Gu Ling Yi 5p White: Liu Xing 7p Event: 2009-China 22nd Ming-Ren challenger decision matches game 1 and game 2 Komi: 7,5 Date: August 19, 21, 2009 Place: China, Tibet

0
from 30k to 8d
English
no
Guo Juan 5p
2009-11-14
Joseki > Punishing opponents mistakes
Lesson 16
0
from 10k to 8d
English
no
MingJiu Jiang 7p
2009-11-19
Opening > Kobayashi Koichi style
Lesson 11 Material: Duan Rong 7p, Guo Juan 5p. Lesson: Guo Juan. Which moves are popular among pros?
23
from 30k to 8d
English
no
Guo Juan 5p
2009-11-22
Important shapes > Basic shapes
Lesson 5 Give up a stone for better shape
19
from 10k to 3d
English
no
Jennie ShenJing 2p
2009-11-27
Opening > Kobayashi Koichi style
Lesson 12 Material: Duan Rong 7p, Guo Juan 5p. Lesson: Guo Juan. Which move is the best?
28
from 1k to 8d
English
no
Guo Juan 5p
2009-11-30
Joseki > Punishing opponents mistakes
Lesson 17
0
from 30k to 8d
English
no
MingJiu Jiang 7p
2009-12-07
Middle game > Punishing opponents mistakes
Lesson 1
0
from 30k to 8d
English
no
MingJiu Jiang 7p
2009-12-08
Sponsored lectures > Irish Go Association
2009 Irish championship

Black: Ian Davis 2d White: Claas Roever 2k Event: Irish Championship title match round 1 Komi: 6.5 Date: 2000-11-26 Result: b + 11,5 This lecture sponsored by the Irish Go Association

0
from 30k to 8d
English
yes
Guo Juan 5p
2009-12-11
Professional games > 2009
China 22nd MingRen Title ‐ Match 1

Black: Gu Ling Yi 5p White: Gu Li 9p Event: 2009-China 22nd Ming-Ren title match game 1 Komi: 7,5 Date: 2009-11-26 Place: China, Beijing Commentators: Wang JianKun 7p Guo Juan 5p

0
from 30k to 8d
English
no
Wang JianKun 7p
2009-12-16
Important shapes > Basic shapes
Lesson 6 How to respond to Black's pincer move 1? A, B or C?
35
from 30k to 5d
English
no
Jennie ShenJing 2p
2009-12-20
Opening > Kobayashi Koichi style
Lesson 13

Material: Duan Rong 7p, Guo Juan 5p. Lesson: Guo Juan.

23
from 30k to 8d
English
no
Guo Juan 5p
2009-12-24
Middle game > Punishing opponents mistakes
Lesson 2

**NOTE: This lecture starts at 2:55**

0
from 30k to 5d
English
no
MingJiu Jiang 7p
2009-12-24
Sponsored lectures > Free from Guo Juan
2009 winter free lecture

2009 Winter Free Lecture

Game 1
Black: Thomas Debarre 5d
White: Fan Hui 2p

Event: Paris MeiJin 2009
Komi: 6,5
B + 1,5

Game 2
Black Catalin Taranu 5p
White: Thomas Debarre 5d

Event: 2009 European Championship
Komi: 6,5
W + R

Duration 40m

You can down load the sgf file.

0
from 30k to 8d
English
yes
Guo Juan 5p
2010-01-03
Lessons in French > Fan Hui 2P
La forme ‐ Lesson 1

Les quatres formes fondamentales

0
from 30k to 1d
French
no
Fan Hui 2p
2010-01-08
Basic course > Topics
Invasion ‐ Lesson 1

**Note: There is a gap in the audio in this lecture from 5:28 until 5:53. **

18
from 30k to 1k
English
no
Guo Juan 5p
2010-01-14
Professional games > 2009
China 22nd MingRen Title ‐ Match 2

Black: Gu Li 9p White: Gu Ling Yi 5p Event: 2009-China 22nd Ming-Ren title match game 2 Komi: 7,5 Date: 2009-12-22 Place: China, Beijing Commentators: Wang JianKun 7p Guo Juan 5p

0
from 30k to 8d
English
no
Wang JianKun 7p
2010-01-17
Professional games > 2009
China 22nd MingRen Title ‐ Match 3

Black: Gu Ling Yi 5p White: Gu Li 9p Event: 2009-China 22nd Ming-Ren title match game 3 Komi: 7,5 Date: 2010-01-05 Place: China, Beijing Commentators: Wang JianKun 7p Guo Juan 5p

0
from 30k to 8d
English
no
Wang JianKun 7p
2010-01-21
Professional games > 2009
China 22nd MingRen Title ‐ Match 4

Black: Gu Li 9p White: Gu Ling Yi 5p Event: 2009-China 22nd Ming-Ren title match game 4 Komi: 7,5 Date: 2010-01-07 Place: China Commentators: Wang JianKun 7p Guo Juan 5p

0
from 30k to 8d
English
no
Wang JianKun 7p
2010-01-25
Joseki > Punishing opponents mistakes
Lesson 18
0
from 10k to 5d
English
no
MingJiu Jiang 7p
2010-01-30
Basic course > Topics
Invasion ‐ Lesson 2
15
from 30k to 1k
English
no
Guo Juan 5p
2010-02-03
Middle game > Punishing opponents mistakes
Lesson 3
0
from 10k to 5d
English
no
MingJiu Jiang 7p
2010-02-08
Basic course > Topics
Invasion ‐ Lesson 3
31
from 30k to 1k
English
no
Guo Juan 5p
2010-02-12
Professional games > 2010
Japan 34th Kisei Title ‐ Match 1

Black: Yamashita Keiko 9p-Kisei White: Cho U 9p Event: 2010 Japanese 34th Kisei title match game 1 Komi: 6,5 Date: January 14,15, 2010 Place: TaiWan Commentators: Wang JianKun 7p Guo Juan 5p

0
from 30k to 8d
English
no
Wang JianKun 7p
2010-02-12
Lessons in French > Fan Hui 2P
La forme ‐ Lesson 2

Les mauvaises habitudes

0
from 30k to 1d
French
no
Fan Hui 2p
2010-02-15
Joseki > Punishing opponents mistakes
Lesson 19
0
from 30k to 5d
English
no
MingJiu Jiang 7p
2010-02-22
Middle game > Efficiency
Lesson 1
0
from 15k to 5d
English
no
Guo Juan 5p
2010-02-22
Lessons in French > Fan Hui 2P
La forme ‐ Lesson 3

Des formes générales 1

0
from 15k to 3d
French
no
Fan Hui 2p
2010-02-26
Middle game > Punishing opponents mistakes
Lesson 4
0
from 10k to 5d
English
no
MingJiu Jiang 7p
2010-03-02
Lessons in French > Fan Hui 2P
La forme ‐ Lesson 4

Des formes générales 2

0
from 15k to 3d
French
no
Fan Hui 2p
2010-03-02
Middle game > Efficiency
Lesson 2

Lesson includes theory and 5 exercises.

0
from 15k to 5d
English
no
Guo Juan 5p
2010-03-05
Lessons in French > Fan Hui 2P
La forme ‐ Lesson 5

Des formes générales 3

0
from 15k to 5d
French
no
Fan Hui 2p
2010-03-05
Middle game > Efficiency
Lesson 3

Lesson includes theory and 8 exercises.

0
from 15k to 5d
English
no
Guo Juan 5p
2010-03-09
Important shapes > Basic shapes
Lesson 7 - Move broken shapes - How to play against Black cutting move 1?
23
from 30k to 5d
English
no
Jennie ShenJing 2p
2010-03-12
Basic course > Topics
Efficiency 30k-10k ‐ Lesson 1
0
from 30k to 10k
English
no
Guo Juan 5p
2010-03-16
Joseki > Punishing opponents mistakes
Lesson 20
0
from 10k to 5d
English
no
MingJiu Jiang 7p
2010-03-20
Professional games > 2010
11th NongShim Cup ‐ Round 11

Black: Liu Xing 7p - China White: Hane Naoki 9p - Japan Event: 2010, 11th Nongshim Cup round 11 Komi: 6.5 Date: 2010-03-09 Place: China ShangHai Commentators: Wang JianKun 7p Guo Juan 5p

0
from 30k to 8d
English
no
Wang JianKun 7p
2010-03-23
Professional games > 2010
11th NongShim Cup ‐ Round 12

Black: Lee ChangHo 9p - Korea White: Liu Xing 7p - China Event: 2010, 11th Nongshim Cup round 12 Komi: 6.5 Date: 2010-03-09 Place: China ShangHai Commentators: Wang JianKun 7p Guo Juan 5p

0
from 30k to 8d
English
no
Wang JianKun 7p
2010-03-26
Basic course > Topics
Efficiency 30k-10k ‐ Lesson 2
0
from 30k to 10k
English
no
Guo Juan 5p
2010-03-30
Lessons in French > Fan Hui 2P
La forme ‐ Lesson 6

Des formes générales 4 (le kosumi)

0
from 15k to 5d
French
no
Fan Hui 2p
2010-04-02
Professional games > 2010
11th NongShim Cup ‐ Round 13

Black: Lee ChangHo 9p - Korea White: Gu Li 9p - China Event: 2010, 11th Nongshim Cup round 13 Komi: 6.5 Date: 2010-03-11 Place: China ShangHai Commentators: Wang JianKun 7p Guo Juan 5p

0
from 30k to 8d
English
no
Wang JianKun 7p
2010-04-06
Professional games > 2010
11th NongShim Cup ‐ Round 14

Black: Lee ChangHo 9p - Korea White: Chang Hao 9p - China Event: 2010, 11th Nongshim Cup round 14 (final) Komi: 6.5 Date: 2010-03-12 Place: China ShangHai Commentators: Wang JianKun 7p Guo Juan 5p

0
from 30k to 8d
English
no
Wang JianKun 7p
2010-04-09
Sponsored lectures > Free from Guo Juan
One of the things about Ko

One of the important things about Ko

0
from 30k to 5d
English
yes
Guo Juan 5p
2010-04-11
Lessons in French > Fan Hui 2P
Les parties fantastiques ‐ Lesson 1

La colère de Fujisaka Shukô

0
from 30k to 5d
French
no
Fan Hui 2p
2010-04-14
Basic course > Topics
Efficiency 30k-10k ‐ Lesson 3
0
from 30k to 10k
English
no
Guo Juan 5p
2010-04-16
Important shapes > Ponnuki
Lesson 1
0
from 30k to 3d
English
no
Guo Juan 5p
2010-04-20
Lessons in French > Fan Hui 2P
La forme ‐ Lesson 7

Des formes générales 5

0
from 15k to 5d
French
no
Fan Hui 2p
2010-04-21
Important shapes > Ponnuki
Lesson 2
0
from 30k to 3d
English
no
Guo Juan 5p
2010-04-23
Middle game > Controlling the center
Lesson 1
0
from 30k to 5d
English
no
Guo Juan 5p
2010-04-27
Professional games > 2010
Japan 34th Kisei Title ‐ Match 2

Black: Cho U 9p-Ch White: Yamashita Keiko 9p-Kisei Event: 2010 Japanese 34th Kisei title match game 2 Komi: 6,5 Date: January 27,28, 2010 Place: Japan Commentators: Wang JianKun 7p Guo Juan 5p

0
from 30k to 8d
English
no
Wang JianKun 7p
2010-04-29
Lessons in French > Dai JunFu
Comments on his own games ‐ Lesson 1

Noir : Dai Junfu 8d (Fr) - Chinois Blanc : Hwang Inseong 8d (DE) - Corean Partie info : 5eme rounde du Tournoi de Paris 2010 Komi : 6.5 Date: 2010-04-05 Lieu : Antony

0
from 30k to 8d
French
no
Dai JunFu 8d
2010-04-29
Other > Dai JunFu talks about strategy
Lesson 01

Black : Dai Junfu 8d (Fr) - Chinese White : Hwang Inseong 8d (DE) - Korean game info : 5th round of Paris Tournament 2010 Komi : 6.5 Date: 2010-04-05 Place : Antony

0
from 30k to 8d
English
no
Dai JunFu 8d
2010-05-03
Important shapes > Ponnuki
Lesson 3
0
from 30k to 3d
English
no
Guo Juan 5p
2010-05-07
Other > Dai JunFu talks about strategy
Lesson 02

Black: :ZHANG Yanqi 6d (Fr) - Chinese White : DAI Junfu 8d (Fr) - Chinese game info : 4th round of Paris Go tournament Komi : 6.5 Date: 2010-04-04 Place : Antony, France

0
from 30k to 8d
English
no
Dai JunFu 8d
2010-05-11
Lessons in French > Dai JunFu
Comments on his own games ‐ Lesson 2

Noir: :ZHANG Yanqi 6d (Fr) - Chinoise Blanc : DAI Junfu 8d (Fr) - Chinois Partie info : ronde 4 du Tournoi de Paris 2010 Komi : 6.5 Date: 2010-04-04 Lieu : Antony

0
from 30k to 8d
French
no
Dai JunFu 8d
2010-05-11
Middle game > Controlling the center
Lesson 2
0
from 30k to 5d
English
no
Guo Juan 5p
2010-05-15
Joseki > Punishing opponents mistakes
Lesson 21
0
from 30k to 5d
English
no
MingJiu Jiang 7p
2010-05-18
Professional games > 2010
2nd BC Cup ‐ Game 1

Black: Lee SeDol, 9p White: Chang Hao, 9p Event: 2010 2nd BC Card Cup, finals game 1 Komi: 6.5 Date: 2010-04-24 Place: Korea Result: B+R Commentators: Wang JianKun 7p Guo Juan 5p

0
from 30k to 8d
English
no
Wang JianKun 7p
2010-05-22
Lessons in French > Fan Hui 2P
Les parties fantastiques ‐ Lesson 2A

Le plan de 'cochon génie' 1

0
from 30k to 8d
French
no
Fan Hui 2p
2010-05-22
Lessons in French > Fan Hui 2P
Les parties fantastiques ‐ Lesson 2B

Le plan de 'cochon génie' 2

0
from 30k to 8d
French
no
Fan Hui 2p
2010-05-22
Middle game > Punishing opponents mistakes
Lesson 5
0
from 10k to 5d
English
no
MingJiu Jiang 7p
2010-05-26
Professional games > 2010
2nd BC Cup ‐ Game 2

Black: Chang Hao, 9p White: Lee SeDol, 9p Event: 2010 2nd BC Card Cup, finals game 2 Komi: 6.5 Date: 2010-04-25 Place: Korea Result: W+R Commentators: Wang JianKun 7p Guo Juan 5p

0
from 30k to 8d
English
no
Wang JianKun 7p
2010-05-28
Other > Dai JunFu talks about strategy

Dai JunFu's Class lecture 3 - English

Black: :DAI Junfu 8d -Chinese
White : TIAN Ye 8d - Chinese
game info : 5th round of 2010 Amsterdam Go tournament
Komi : 6.5
Date: 2010-05-15
Place : Amsterdam

Commentary : Dai Junfu 8d
Time : 34 minutes

0
from 30k to 8d
English
no
Dai JunFu 8d
2010-05-28
Other > Dai JunFu talks about strategy
Lesson 03

Black: :DAI Junfu 8d -Chinese White : TIAN Ye 8d - Chinese game info : 5th round of 2010 Amsterdam Go tournament Komi : 6.5 Date: 2010-05-15 Place : Amsterdam

0
from 30k to 8d
English
no
Dai JunFu 8d
2010-06-02
Professional games > 2010
2nd BC Cup ‐ Game 3

Black: Lee SeDol, 9p White: Chang Hao, 9p Event: 2010 2nd BC Card Cup, finals game 3 Komi: 6.5 Date: 2010-04-27 Place: Korea Result: B+R Commentators: Wang JianKun 7p Guo Juan 5p

0
from 30k to 8d
English
no
Wang JianKun 7p
2010-06-05
Joseki > Punishing opponents mistakes
Lesson 22
0
from 10k to 5d
English
no
MingJiu Jiang 7p
2010-06-09
Other > Dai JunFu talks about strategy
Lesson 04

Black: :DAI Junfu 7d -Chinese White : Hu Yuqing 8d - Chinese game info : University tournament of Shanghai Komi : 7.5 Date: 2006-08-06 Place : Shanghai

0
from 30k to 8d
English
no
Dai JunFu 8d
2010-06-09
Joseki > Double approach
Lesson 01Material by Wang JianKun 7p and Jennie Shen 2p. Lesson by Jennie Shen.
37
from 10k to 8d
English
no
Jennie ShenJing 2p
2010-06-16
Other > Dai JunFu talks about strategy
Lesson 05

Black: :DAI Junfu 7d -Chinese White : Fan Tingyu 3p (now) 6d (when during the game) - Chinese game info : teaching game for preperation of professional entrance exam Komi : 7.5 Date: 2006-06 Place : Shanghai

0
from 30k to 8d
English
no
Dai JunFu 8d
2010-06-18
Professional games > 2010
Japan 34th Kisei Title ‐ Match 3

Black: Yamashita Keiko 9p-Kisei White: Cho U 9p Event: 2010 Japanese 34th Kisei title match game 3 Komi: 6,5 Date: 2010 -02-03,04 Place: Japan Commentators: Wang JianKun 7p Guo Juan 5p

0
from 30k to 8d
English
no
Wang JianKun 7p
2010-06-23
Professional games > 2010
Japan 34th Kisei Title ‐ Match 4

Black: Cho U 9p White: Yamashita Keiko 9p-Kisei Event: 2010 Japanese 34th Kisei title match game 4 Komi: 6,5 Date: 2010 -02-18/19 Place: Japan Commentators: Wang JianKun 7p Guo Juan 5p

0
from 30k to 8d
English
no
Wang JianKun 7p
2010-06-27
Professional games > 2010
Japan 34th Kisei Title ‐ Match 5

Black: Yamashita Keiko 9p-Kisei White: Cho U 9p Event: 2010 Japanese 34th Kisei title match game 5 Komi: 6,5 Date: 2010 -02-25,26 Place: Japan W + 1,5 Commentators: Wang JianKun 7p Guo Juan 5p

0
from 30k to 8d
English
no
Wang JianKun 7p
2010-07-01
Joseki > Double approach
Lesson 02 Material by Wang JianKun 7p and Jennie Shen 2p. Lesson by Jennie Shen.
82
from 10k to 5d
English
no
Jennie ShenJing 2p
2010-07-03
Opening > New opening moves
Lesson 05

Material: Wang JianKun 7p, Guo Juan 5p. Lesson: Guo Juan.

0
from 10k to 8d
English
no
Guo Juan 5p
2010-07-07
Other > Dai JunFu talks about strategy
Lesson 06

Black: :DAI Junfu 7d -Chinese White : Du Qing 7d - Chinese Event: 2008 Paris Tournament Komi : 6.5 Date: 2008-04 Place : Paris

0
from 30k to 8d
English
no
Dai JunFu 8d
2010-07-11
Middle game > Controlling the center
Lesson 3
0
from 30k to 5d
English
no
Guo Juan 5p
2010-07-15
End game > Monkey jump
Lesson 3
0
from 10k to 5d
English
no
Guo Juan 5p
2010-07-18
Sponsored lectures > Free from Guo Juan
2010 Summer Free Lecture

2010 Summer Free Lecture

Subject: Sharing our studies
1, Shape
2, Balance

By Guo Juan 5p

Duration: 20 Minutes

This is a free lecture

0
from 30k to 8d
English
yes
Guo Juan 5p
2010-07-22
Important shapes > Empty triangles
Lesson 1
0
from 30k to 5d
English
no
Guo Juan 5p
2010-07-26
Other > Dai JunFu talks about strategy
Lesson 07

Black: :DAI Junfu 7d -Chinese White : Fan Hui 2p- French (Chinese) game info :2005 Antony tournament Komi : 7.5 Date: 2005-02 Place : Paris

0
from 30k to 8d
English
no
Dai JunFu 8d
2010-07-29
Important shapes > Empty triangles
Lesson 2

There are 10 questions in the sgf file which you can download.

0
from 30k to 5d
English
no
Guo Juan 5p
2010-08-04
Opening > New opening moves
Lesson 06
0
from 10k to 8d
English
no
Guo Juan 5p
2010-08-08
Important shapes > Empty triangles
Lesson 3

There are 10 questions in the sgf file which you can download.

0
from 30k to 5d
English
no
Guo Juan 5p
2010-08-11
Other > Dai JunFu talks about strategy
Lesson 08

Black: : DAI Junfu 7d -Chinese White : Fan Hui 2p- French (Chinese) game info :2003 Antony tournament Komi : 7.5 Date: 2003-02 Place : Paris

0
from 30k to 8d
English
no
Dai JunFu 8d
2010-08-14
Professional games > 2010
China team league class A ‐ Game A

Black:Chang Hao 9p White: Kong Jie 9p Event: 2010 China team league class A, round 8 Komi: 7,5 Date: June 19, 2010 Place: China Commentators: Wang JianKun 7p Guo Juan 5p

0
from 30k to 8d
English
no
Wang JianKun 7p
2010-08-18
Professional games > 2010
China team league class A ‐ Game B

Black: Liu Xing 7p White: Choi Cheolhan 9p Event: 2010 China team class A, round 8 Komi: 7,5 Date: June 19, 2010 Place: China Commentators: Wang JianKun 7p Guo Juan 5p

0
from 30k to 8d
English
no
Wang JianKun 7p
2010-08-20
Basic course > Topics
All about eyes ‐ Lesson 1
0
from 30k to 1k
English
no
Guo Juan 5p
2010-08-25
Middle game > Invasion in real games
Lesson 1
0
from 30k to 8d
English
no
MingJiu Jiang 7p
2010-08-28
Basic course > Topics
All about eyes ‐ Lesson 2
0
from 30k to 1k
English
no
Guo Juan 5p
2010-08-31
Middle game > Invasion in real games
Lesson 2
0
from 30k to 8d
English
no
MingJiu Jiang 7p
2010-08-31
Basic course > Topics
All about eyes ‐ Lesson 3
0
from 30k to 1k
English
no
Guo Juan 5p
2010-09-09
Other > Dai JunFu talks about strategy
Lesson 09

Black: :DAI Junfu 7d -Chinese White : Fan Hui 2p- French (Chinese) Game info :2007 Paris Meijin tournament Komi : 7.5 Date: 2007-12 Place : Paris

0
from 30k to 8d
English
no
Dai JunFu 8d
2010-09-11
Basic course > Handicap
Black with 9 stones ‐ Lesson 1
31
from 30k to 1k
English
no
Guo Juan 5p
2010-09-15
Basic course > Handicap
Black with 9 stones ‐ Lesson 2
27
from 30k to 1k
English
no
Guo Juan 5p
2010-09-19
Basic course > Handicap
Black with 9 stones ‐ Lesson 3
28
from 30k to 1k
English
no
Guo Juan 5p
2010-09-23
Basic course > Handicap
Black with 9 stones ‐ Lesson 4
28
from 30k to 1k
English
no
Guo Juan 5p
2010-09-27
Other > Dai JunFu talks about strategy
Lesson 10

Black: :DAI Junfu 7d -Chinese White : Fan Hui 2p- French (Chinese) game info :2008 Tournament of AIX Komi : 7.5 Date: 2008-11 Place : AIX

0
from 30k to 8d
English
no
Dai JunFu 8d
2010-09-30
Middle game > Invasion in real games
Lesson 3
0
from 30k to 8d
English
no
MingJiu Jiang 7p
2010-10-03
Professional games > GJ shares her studies
Lesson 1

Game 1: B: Choi Cheolhan 9p W: Kong Jie 9p 8th Chun Lan Cup round 2 Game 2: B: Gu LingYi 5p W: Lee ChangHo 9p 8th Chun Lan Cup round 2 Game 3: B: Cho Chikun 9p W: Qiu Jun 8p 8th Chun Lan Cup round 2

0
from 30k to 5d
English
no
Guo Juan 5p
2010-10-06
Joseki > Double approach
Lesson 03Material by Wang JianKun 7p and Jennie Shen 2p. Lesson by Jennie Shen.
31
from 10k to 8d
English
no
Jennie ShenJing 2p
2010-10-07
Middle game > Invasion in real games
Lesson 4

There are example games with cross-cut shapes.

0
from 30k to 8d
English
no
MingJiu Jiang 7p
2010-10-13
Professional games > GJ shares her studies
Lesson 2

Game 1: 21st Asia TV cup B: Kong Jie 9p W: Kang DongYun Game 2: 2009 FengHuang Old city world top match B: Gu Li 9p W: Li Seldol 9p

0
from 30k to 8d
English
no
Guo Juan 5p
2010-10-17
Joseki > Double approach
Lesson 04 Material by Wang JianKun 7p and Jennie Shen 2p. Lesson by Jennie Shen. Upper right: Which move are good and which are not good Lower left: Oh, empty triangle!
58
from 10k to 5d
English
no
Jennie ShenJing 2p
2010-10-21
Basic course > Handicap
Black with 7 stones ‐ Lesson 1
0
from 30k to 1k
English
no
Guo Juan 5p
2010-10-25
Basic course > Handicap
Black with 7 stones ‐ Lesson 2
0
from 30k to 1k
English
no
Guo Juan 5p
2010-10-28
Middle game > Punishing opponents mistakes
Lesson 6
0
from 10k to 5d
English
no
MingJiu Jiang 7p
2010-10-31
Joseki > Double approach
Lesson 05Material by Wang JianKun 7p and Jennie Shen 2p. Lesson by Jennie Shen.
31
from 10k to 5d
English
no
Jennie ShenJing 2p
2010-11-03
Sponsored lectures > Free from Guo Juan
2010 Fall free lecture

2010 Fall free lecture

By Guo Juan 5p

Duation: 21 minutes

0
from 30k to 5d
English
yes
Guo Juan 5p
2010-11-06
Professional games > 2010
China team league class A ‐ Game C

Black: Lee Younggu 7p White: Huang YiZhong 7p Event: 2010 China team class A, round 11 Komi: 7,5 Place: China Commentators: Wang JianKun 7p Guo Juan 5p

0
from 30k to 8d
English
no
Wang JianKun 7p
2010-11-11
Professional games > 2010
China team league class A ‐ Game D

Black: Li Zhe 6p (GuiZhou) White: Hu YaoYu 8p (ShangHai) Event: 2010 China team class A, round 11 2010-08-25 Komi: 7,5 Place: China Commentators: Wang JianKun 7p Guo Juan 5p

0
from 30k to 8d
English
no
Wang JianKun 7p
2010-11-13
Middle game > Punishing opponents mistakes
Lesson 7
0
from 10k to 5d
English
no
MingJiu Jiang 7p
2010-11-18
Professional games > GJ shares her studies
Lesson 3

Game 1: B: Wang Xi 9p W: Gu Li 9p China 7th ChangQi cup quater final Game 2: B: Zhou RuiYang 5p W: Gu Li 9p China 2010 4th National Sports Congress Game3: B: Gu Li 9p W: Zhou RuiYang 5p 2010 Guangzhou Asian Games qualification tournament

0
from 30k to 5d
English
no
Guo Juan 5p
2010-11-21
Joseki > Double approach
Lesson 06Material by Wang JianKun 7p and Jennie Shen 2p. Lesson by Jennie Shen.
54
from 10k to 8d
English
no
Jennie ShenJing 2p
2010-11-25
Other > Dai JunFu talks about strategy
Lesson 11

White : Cho Seokbin 8d - Korean game info :2010 Lyon tournament Komi : 7.5 Result : Black + 1.5 Date: 2010-10 Place : Lyon

0
from 30k to 8d
English
no
Dai JunFu 8d
2010-11-28
Professional games > GJ shares her studies
Lesson 4

Game 1: B: Hashimoto Utaro 9p W: Nie WeiPing 9p 1977-04-22 China, Japen friendly match Game 2: B: Mingjiu 7p W: Nie WeiPing 9p 1978-07 China national team training game

0
from 30k to 5d
English
no
Guo Juan 5p
2010-12-04
Professional games > 2010
12th Nongshim Cup ‐ Game 01

Black: Lee Sedol 9p White: Wang Xi 9p Event: 12th Nongshim Cup game 1 Komi: 6.5 Date: 2010-10-18 Place: Beijing Commentators: Wang JianKun 7p Guo Juan 5p

0
from 30k to 8d
English
no
Wang JianKun 7p
2010-12-08
Middle game > Punishing opponents mistakes
Lesson 8
0
from 10k to 5d
English
no
MingJiu Jiang 7p
2010-12-11
Professional games > 2010
12th Nongshim Cup ‐ Game 02

Black: Lee Sedol 9p White: Iyama Yuta 9p Event: 12th Nongshim Cup game 2 Komi: 6.5 Date: 2010-10-19 Place: Beijing Commentators: Wang JianKun 7p Guo Juan 5p

0
from 30k to 8d
English
no
Wang JianKun 7p
2010-12-15
Basic course > Handicap
Black with 5 stones ‐ Lesson 1
0
from 30k to 3d
English
no
Guo Juan 5p
2010-12-18
Middle game > Punishing opponents mistakes
Lesson 9
0
from 30k to 8d
English
no
MingJiu Jiang 7p
2010-12-23
Joseki > Double approach
Lesson 07Material by Wang JianKun 7p and Jennie Shen 2p. Lesson by Jennie Shen.
70
from 10k to 8d
English
no
Jennie ShenJing 2p
2010-12-24
Sponsored lectures > Free from Guo Juan
2010 Christmas Free Lecture

2010-Christmas

Teacher: Guo Juan 5p

Duration: 21 minutes

0
from 30k to 3d
English
yes
Guo Juan 5p
2010-12-28
Basic course > Handicap
Black with 5 stones ‐ Lesson 2
0
from 30k to 3d
English
no
Guo Juan 5p
2011-01-03
Professional games > 2010
12th Nongshim Cup ‐ Game 03

Black: Xie He 7p White: Lee Sedol 9p Event: 12th Nongshim Cup game 3 Komi: 6.5 Date: 2010-10-20 Place: Beijing Commentators: Wang JianKun 7p Guo Juand 5p

0
from 30k to 8d
English
no
Wang JianKun 7p
2011-01-06
Other > Dai JunFu talks about strategy
Lesson 12

Black: :DAI Junfu 8d -Chinese White : Thomas Debarre 6d - French game info :2010 Paris Meijin tournament Komi : 6.5 Result : Black + resign Date: 2010-11 Place : Paris

0
from 30k to 8d
English
no
Dai JunFu 8d
2011-01-11
Professional games > 2010
12th Nongshim Cup ‐ Game 04

Black: Xie He 7p White: Sakai Hideyuki 8p Event: 12th Nongshim Cup game 4 Komi: 6.5 Date: 2010-10-21 Place: Beijing Commentators: Wang JianKun 7p Guo Juan 5p

0
from 30k to 8d
English
no
Wang JianKun 7p
2011-01-14
Professional games > GJ shares her studies
Lesson 5
0
from 30k to 5d
English
no
Guo Juan 5p
2011-01-19
Basic course > Topics
Second-line moves ‐ Lesson 1
0
from 30k to 1k
English
no
Guo Juan 5p
2011-01-22
Basic course > Handicap
Black with 5 stones ‐ Lesson 3
0
from 10k to 3d
English
no
Guo Juan 5p
2011-01-26
Opening > New opening moves
Lesson 07
0
from 10k to 8d
English
no
Guo Juan 5p
2011-01-29
Professional games > 2010
12th Nongshim Cup ‐ Game 05

Black: Xie He 7p White: Park Seung Hwa 4p Event: 12th Nongshim Cup game 5 Komi: 6.5 Date: 2010-11-29 Place: Korea, Busan Commentators: Wang JianKun 7p Guo Juan 5p

0
from 30k to 8d
English
no
Wang JianKun 7p
2011-02-02
Basic course > Topics
Second-line moves ‐ Lesson 2
0
from 30k to 3d
English
no
Guo Juan 5p
2011-02-04
Professional games > 2010
12th Nongshim Cup ‐ Game 06

Black: Hane Naoki 9p White: Xie He 7p Event: 12th Nongshim Cup game 6 Komi: 6.5 Date: 2010-11-30 Place: Korea, Busan Commentators: Wang JianKun 7p Guo Juan 5p

0
from 30k to 8d
English
no
Wang JianKun 7p
2011-02-09
Other > Dai JunFu talks about strategy
Lesson 13

Black: :DAI Junfu 8d -Chinese White : Fan Hui 2p - Chinese game info :2008 Paris Meijin tournament Komi : 6.5 Result : Black + resign Date: 2008-12 Place : Paris

0
from 30k to 8d
English
no
Dai JunFu 8d
2011-02-13
Basic course > Topics
Second-line moves ‐ Lesson 3
0
from 30k to 3d
English
no
Guo Juan 5p
2011-02-18
Basic course > Handicap
Black with 3 stones ‐ Lesson 1
0
from 30k to 3d
English
no
Guo Juan 5p
2011-02-23
Other > Typical mistakes by Young Sun 8P
Lesson 1
0
from 30k to 5d
English
no
Young Sun Yoon 8p
2011-02-26
Professional games > 2014
15th Samsung Cup ‐ Finals 1

Black: Heo Young Ho 8p White: Gu Li 9p Event: 15th Samsung Cup finals, game 1 Komi: 6.5 Date: 2010-12-07 Place: Beijing Commentator: Wang JianKun 7p Guo Juan 5p

0
from 30k to 8d
English
no
Wang JianKun 7p
2011-03-03
Professional games > 2014
15th Samsung Cup ‐ Finals 2

Black: Gu Li 9p White: Heo Young Ho 8p Event: 15th Samsung Cup finals, game 2 Komi: 6.5 Date: 2010-12-09 Place: Beijing, China Commentator: Wang JianKun 7p Guo Juan 5p

0
from 30k to 8d
English
no
Wang JianKun 7p
2011-03-05
Other > Dai JunFu talks about strategy
Lesson 14

Lesson on 10 principals in GO. 1st half (1-5) The guiding lines on playing Go, illustrated with the examples in my own game. 1 Not be greedy 2. Ask for peace when In a weaker position 3. Not speed up your play in the important moment 4. Protect yourself before the influence of your adversary 5. Do not hurry invading a moyo

0
from 30k to 8d
English
no
Dai JunFu 8d
2011-03-10
Other > Typical mistakes by Young Sun 8P
Lesson 2
0
from 30k to 5d
English
no
Young Sun Yoon 8p
2011-03-12
Professional games > 2014
15th Samsung Cup ‐ Finals 3

Black: Gu Li 9p White: Heo Young Ho 8p Event: 15th Samsung Cup finals, game 2 Komi: 6.5 Date: 2010-12-10 Place: Beijing, China Commentator: Wang JianKun 7p Guo Juan 5p

0
from 30k to 8d
English
no
Wang JianKun 7p
2011-03-17
Joseki > Double approach
Lesson 08 Material by Wang JianKun 7p and Jennie Shen 2p. Lesson by Jennie Shen. A, B, C, which move is the best?
44
from 30k to 8d
English
no
Jennie ShenJing 2p
2011-03-21
Middle game > Direction of play
Lesson 1

All the examples are real games.

0
from 30k to 5d
English
no
MingJiu Jiang 7p
2011-03-24
Sponsored lectures > Free from Guo Juan
About direction of play
0
from 30k to 5d
English
yes
Guo Juan 5p
2011-03-27
Joseki > Double approach
Lesson 09 Material by Wang JianKun 7p and Jennie Shen 2p. Lesson by Jennie Shen. A, B and C, which move is the best in this situation?
40
from 30k to 8d
English
no
Jennie ShenJing 2p
2011-03-31
Professional games > Grand Masters' games
Korean Masters' games ‐ Game 1A

Korean Master's Games Game 1_A Black: Lee SeDol 9p White: Lee ChangHo 9p

0
from 30k to 8d
English
no
Young Sun Yoon 8p
2011-04-04
Other > Dai JunFu talks about strategy
Lesson 15

Lesson on 10 principals in GO. 2nd half (6-10) The guiding lines on playing Go, illustrated with the examples in my own game. 6. Make preparations before big action 7. Make sacrifice for gaining important initiative 8. Take care of yourself when attack 9. When one group endangered, giving it up is also one choice 10. Take the water melon rather than sesame.

0
from 30k to 8d
English
no
Dai JunFu 8d
2011-04-10
Professional games > Grand Masters' games
Korean Masters' games ‐ Game 1B

Korean Master's Games Game 1_B Black: Lee SeDol 9p White: Lee ChangHo 9p

0
from 30k to 8d
English
no
Young Sun Yoon 8p
2011-04-10
Joseki > Double approach
Lesson 10 Material by Wang JianKun 7p and Jennie Shen 2p. Lesson by Jennie Shen. A, B, C and D, which move is the best in this situation?
42
from 30k to 8d
English
no
Jennie ShenJing 2p
2011-04-16
Professional games > 2010
12th Nongshim Cup ‐ Game 07

Black: Xie He 7p White: Mok Jin Seok 9p Event: 12th Nongshim Cup game 7 Komi: 6.5 Date: 2010-12-01 Place: Korea, Busan Commentators: Wang JianKun 7p Guo Juan 5p

0
from 30k to 8d
English
no
Wang JianKun 7p
2011-04-22
Middle game > Direction of play
Lesson 2

All the examples are real games.

0
from 30k to 5d
English
no
MingJiu Jiang 7p
2011-04-24
Professional games > 2010
12th Nongshim Cup ‐ Game 08

Black: Mok Jin Seok 9p White: Takao Shinji 9p Event: 12th Nongshim Cup game 8 Komi: 6.5 Date: 2010-12-02 Place: Korea, Busan Commentators: Wang JianKun 7p Guo Juan 5p

0
from 30k to 8d
English
no
Wang JianKun 7p
2011-04-29
Joseki > Double approach
Lesson 11 Material by Wang JianKun 7p and Jennie Shen 2p. Lesson by Jennie Shen.
39
from 30k to 8d
English
no
Jennie ShenJing 2p
2011-05-04
Professional games > 2010
12th Nongshim Cup ‐ Game 09

Black: Tuo JiaXi 3p White: Takao Shinji 9p Event: 12th Nongshim Cup game 9 Komi: 6.5 Date: 2010-12-03 Place: Korea, Busan Commentators: Wang JianKun 7p Guo Juan 5p

0
from 30k to 8d
English
no
Wang JianKun 7p
2011-05-07
Professional games > GJ shares her studies
Lesson 6

Game 1: B: Park YoungHoon 9p W: Liu Xing 7p 2011-03-07 Game 2: B: Kong Jie 9p W: Heo Young Ho 8p 2011-03-07

0
from 30k to 5d
English
no
Guo Juan 5p
2011-05-11
Joseki > Korean style
Lesson 01More about the Mini-Chinese opening - a popular new move.
44
from 30k to 8d
English
no
Young Sun Yoon 8p
2011-05-14
Middle game > Direction of play
Lesson 3

All the examples are real games.

0
from 30k to 8d
English
no
MingJiu Jiang 7p
2011-05-21
Professional games > 2010
12th Nongshim Cup ‐ Game 10

Black: Choi Cheolhan White: Takao Shinji 9p Event: 12th Nongshim Cup game 10 Komi: 6.5 Date: 2010-12-04 Place: Korea, Busan Commentators: Wang JianKun 7p Guo Juan 5p

0
from 30k to 8d
English
no
Wang JianKun 7p
2011-05-24
Professional games > 2010
12th Nongshim Cup ‐ Game 11

Black: Zhou RuiYang 5p White: Choi Cheolhan 9p Event: 12th Nongshim Cup game 11 Komi: 6.5 Date: 2011-01-18 Place: China, ShangHai Commentators: Wang JianKun 7p Guo Juan 5p

0
from 30k to 8d
English
no
Wang JianKun 7p
2011-05-27
Middle game > Direction of play
Lesson 4
0
from 30k to 5d
English
no
MingJiu Jiang 7p
2011-05-27
Middle game > Direction of play
Lesson 5
0
from 30k to 5d
English
no
Guo Juan 5p
2011-06-01
Other > Guo Juan's workshop lectures
1 We will study the moves A and B.
0
from 10k to 5d
English
no
Guo Juan 5p
2011-06-04
Basic course > Handicap
Black with 3 stones ‐ Lesson 2
0
from 30k to 5d
English
no
Guo Juan 5p
2011-06-09
Professional games > 2010
12th Nongshim Cup ‐ Game 12

Black: Choi Cheolhan 9p White: Satoshi Yuki 9p Event: 12th Nongshim Cup game 12 Komi: 6.5 Date: 2011-01-19 Place: China, ShangHai Commentators: Wang JianKun 7p Guo Juan 5p

0
from 30k to 8d
English
no
Wang JianKun 7p
2011-06-12
Professional games > 2010
12th Nongshim Cup ‐ Game 13

Black: Kong Jie 9p White: Choi Cheolhan 9p Event: 12th Nongshim Cup game 13 Komi: 6.5 Date: 2011-01-20 Place: China, ShangHai Commentators: Wang JianKun 7p Guo Juan 5p

0
from 30k to 8d
English
no
Wang JianKun 7p
2011-06-15
Middle game > Middle game strategy
Strategical moments ‐ Lesson 1

The identification of a strategical moment - part 1.

0
from 20k to 8d
English
no
Dai JunFu 8d
2011-06-19
Basic course > Handicap
Black with 3 stones ‐ Lesson 3

There are four example games in this lecture.

0
from 10k to 3d
English
no
Guo Juan 5p
2011-06-23
Other > Guo Juan's workshop lectures
2 About this wedge, and more.
14
from 30k to 5d
English
no
Guo Juan 5p
2011-06-28
Sponsored lectures > Free from Guo Juan
2011-Summer Free Lecture

2011 Summer Free Lecture

Black: T.DEBARRE - France (Rubik on kgs)
White: C.CHAN - Hong Kong (kghin on kgs)

Event: 32nd WAGC

By Guo Juan 5p

0
from 30k to 8d
English
yes
Guo Juan 5p
2011-07-02
Professional games > 2011
1st BoSai Cup ‐ Game 1

Black: Yuta Iyama 9p (Japan) White: Lee SelDo 9p (Korea) Event: 1st BoSai Cup game 1 Komi: 7.5 Date: 2011-05-16 Place: China, ChongQing Commentators: Wang JianKun 7p Guo Juan 5p

0
from 30k to 8d
English
no
Wang JianKun 7p
2011-07-05
Sponsored lectures > British Go Association
UK championship - 2011 ‐ Game 1

Black: Nick Krempel White: Matthew Macfadyen UK 2011 Championship Challenging Match Round 1 2011-07-3 Lesson sponsored by the British Go Association

0
from 30k to 8d
English
yes
Guo Juan 5p
2011-07-08
Middle game > Middle game strategy
Strategical moments ‐ Lesson 2

The identification of a strategical moment - part 2.

0
from 30k to 8d
English
no
Dai JunFu 8d
2011-07-14
Professional games > Grand Masters' games
Korean Masters' games ‐ Game 2A

Korean Master's Games 2-A Black: Lee Sedol 9p White: Gu Li 9p Event: BC cup finals

0
from 30k to 8d
English
no
Young Sun Yoon 8p
2011-07-18
Sponsored lectures > British Go Association
UK championship - 2011 ‐ Game 2

Black: Matthew Macfadyen 6d White: Nick Krempel 3d UK 2011 Championship Challenging Match Round 2 2011-07-17 Komi: 7,5 Lesson sponsored by the British Go Association

0
from 30k to 8d
English
yes
Guo Juan 5p
2011-07-23
Professional games > 2011
1st BoSai Cup ‐ Game 2

Black: Gu Li 9p (China) White: Yuta Iyama 9p (Japan) Event: 1st BoSai Cup game 2 Komi: 7.5 Date: 2011-05-18 Place: China, ChongQing Commentators: Wang JianKun 7p Guo Juan 5p

0
from 30k to 8d
English
no
Guo Juan 5p
2011-07-28
Middle game > Middle game strategy
Strategical moments ‐ Lesson 3

The methods of analysis - part 1.

0
from 30k to 5d
English
no
Dai JunFu 8d
2011-08-02
Professional games > Grand Masters' games
Korean Masters' games ‐ Game 2B

Korean Master's Games 2-B Black: Lee Sedol 9p White: Gu Li 9p Event: BC cup finals

0
from 30k to 8d
English
no
Young Sun Yoon 8p
2011-08-08
Other > Guo Juan's workshop lectures
3 We will study these moves, and much more in this lecture.
0
from 30k to 5d
English
no
Guo Juan 5p
2011-08-13
Professional games > 2011
8th ChunLan Cup ‐ Game 1

Black: Lee SeDol 9p White: Xie He 7p Event: 2011-8th ChunLan Cup finals game 1 Komi: 7.5 Date: 2011-06-27 Place: ChongQing, China Commentators: Wang JianKun 7p Guo Juan 5p

0
from 30k to 8d
English
no
Wang JianKun 7p
2011-08-17
Other > Guo Juan's workshop lectures
4 Details about these two shapes.
0
from 30k to 5d
English
no
Guo Juan 5p
2011-08-20
Middle game > Middle game strategy
Strategical moments ‐ Lesson 4

The methods of analysis - part 2 - practices.

0
from 20k to 5d
English
no
Dai JunFu 8d
2011-08-25
Other > Ten proverbs of Go
Lesson 01

Ten proverbs lecture 1 不得贪胜 - Don't be greedy Example games: 1, Black: Yuta Iyama 9p (Japan), white: Lee SelDo 9p (Korea), event: 1st BoSai Cup game 1 2, Black: Gu Li 9p (China), white: Yuta Iyama 9p (Japan), event: 1st BoSai Cup game 2 3, A game from kgs, level 4k. 4, UK 2011 Championship Challenging Match Round 2

0
from 30k to 8d
English
no
Guo Juan 5p
2011-08-31
Professional games > 2011
8th ChunLan Cup ‐ Game 2

Black: Xie He 7p White: Lee SeDol 9p Event: 2011-8th ChunLan Cup finals game 2 Komi: 7.5 Date: 2011-06-29 Place: ChongQing, China Commentators: Wang JianKun 7p Guo Juan 5p

0
from 30k to 8d
English
no
Wang JianKun 7p
2011-09-04
Middle game > Middle game strategy
Practice ‐ Lesson 1

Strategic solutions in real games - part 1.

0
from 30k to 8d
English
no
Dai JunFu 8d
2011-09-07
Joseki > After josekis
Lesson 1
50
from 10k to 5d
English
no
Young Sun Yoon 8p
2011-09-11
Professional games > 2011
8th ChunLan Cup ‐ Game 3

Black: Xie He 7p White: Lee SeDol 9p Event: 2011-8th ChunLan Cup finals game 3 Komi: 7.5 Date: 2011-06-30 Place: ChongQing, China Commentators: Wang JianKun 7p Guo Juan 5p

0
from 30k to 8d
English
no
Wang JianKun 7p
2011-09-15
Other > Ten proverbs of Go
Lesson 02

Ten proverbs lecture 2 入界宜缓 - Do not hurry into your opponent's area. Example games: 1, B: On Sojin 6p (温昭珍), W: Daisuke Murakawa 5p (村川大介), 2010-08-06 2, About Chinese opening 3, About the big knight corner 4, a game from two 4k. 5, A basic shape 6, B: Jiang WeiJie (江维杰 5p), W: Zhong Wen JIng (钟文靖, 5p), 2010-08-04

0
from 30k to 5d
English
no
Guo Juan 5p
2011-09-20
Sponsored lectures > British Go Association
UK championship - 2011 ‐ Game 3

Black: Nick Krempel 3d White: Matthew Macfadyen 6d UK 2011 Championship Challenging Match Round 3 2011-09-17 Komi: 7,5 Lesson sponsored by the British Go Association

0
from 30k to 8d
English
yes
Guo Juan 5p
2011-09-24
Basic course > Topics
Extensions ‐ Lesson 1
0
from 30k to 1k
English
no
Guo Juan 5p
2011-09-29
Basic course > Topics
Extensions ‐ Lesson 2
0
from 30k to 1k
English
no
Guo Juan 5p
2011-09-30
Professional games > GJ shares her studies
Lesson 7

Game 1: b: Piao WenYao 9p - w: Kong Jie 9p Game 2: b: 4k - w: 3k Game 3: b: Piao WenYao 9p - w: Gu Li 9p

0
from 30k to 8d
English
no
Guo Juan 5p
2011-10-06
Professional games > 2010
23rd China MingRen Challenger ‐ Deciding 1

Black: Li Zhe 6p White: Jiang WeiJie 5p Event: Black: Li Zhe 6p White: Jiang WeiJie 5p Event: 23rd China MingRen Challenger deciding game 1 Komi: 7.5 Date: 2010-08-18 Place: China Commentator: Wang JianKun 7p Guo Juan 5p

0
from 30k to 8d
English
no
Wang JianKun 7p
2011-10-09
Professional games > Grand Masters' games
Korean Masters' games ‐ Game 3A

Korean Master's Games 3-A B: Park Mun Yo 8p - W: Lee Se DoL 9p

0
from 30k to 8d
English
no
Young Sun Yoon 8p
2011-10-09
Professional games > Grand Masters' games
Korean Masters' games ‐ Game 3B

Korean Master's Games 3-B B: Park Mun Yo 8p - W: Lee Se Dol 9p

0
from 30k to 8d
English
no
Young Sun Yoon 8p
2011-10-18
Basic course > Topics
Extensions ‐ Lesson 3
0
from 30k to 1k
English
no
Guo Juan 5p
2011-10-18
Other > Guo Juan's workshop lectures
5A Subject in this lecture: When Black plays a pincer move on one of the marked places, should White jump out at A or not.
0
from 10k to 5d
English
no
Guo Juan 5p
2011-10-28
Other > Guo Juan's workshop lectures
5B Continuation of lecture 5A
0
from 10k to 5d
English
no
Guo Juan 5p
2011-11-02
Professional games > 2010
23rd China MingRen Challenger ‐ Deciding 2

Black: Jiang WeiJie 5p White: Li Zhe 6p Event: 23rd China MingRen Challenger deciding game 2 Komi: 7.5 Date: 2010-08-19 Place: China Commentator: Wang JianKun 7p Guo Juan 5p

0
from 30k to 8d
English
no
Wang JianKun 7p
2011-11-02
Professional games > 2010
23rd China MingRen Challenger ‐ Deciding 3

Black: Li Zhe 6p White: Jiang WeiJie 5p Event: 23rd China MingRen Challenger deciding game 3 Komi: 7.5 Date: 2010-08-30 Place: China, BeiJing Commentator: Wang JianKun 7p Guo Juan 5p

0
from 30k to 8d
English
no
Wang JianKun 7p
2011-11-09
Other > Guo Juan's workshop lectures
6 We will study these two shapes.
0
from 30k to 5d
English
no
Guo Juan 5p
2011-11-12
Middle game > Middle game strategy
Practice ‐ Lesson 2

Strategic solutions in real games - part 2.

0
from 30k to 8d
English
no
Dai JunFu 8d
2011-11-16
Other > Lunch Special
Lesson 01This is a new understanding of this old joseki.
11
from 30k to 8d
English
no
Guo Juan 5p
2011-11-19
Professional games > 2010
23rd China MingRen Challenger ‐ Game 1

Black: Jiang WeiJie 5p White: Gu Li 9p Event: 23rd China MingRen Challenging game 1 Komi: 7.5 Date: 2010-11-07 Place: China, BeiJing Commentator: Wang JianKun 7p Guo Juan 5p

0
from 30k to 8d
English
no
Wang JianKun 7p
2011-11-24
Other > Lunch Special
Lesson 02When should we play A? What is its weakness?
17
from 20k to 5d
English
no
Guo Juan 5p
2011-11-27
Professional games > 2010
23rd China MingRen Challenger ‐ Game 2

Black: Gu Li 9p White: Jiang WeiJie 5p Event: 23rd China MingRen Challenging game 2 Komi: 7.5 Date: 2010-11-09 Place: China, BeiJing Commentator: Wang JianKun 7p Guo Juan 5p

0
from 30k to 8d
English
no
Wang JianKun 7p
2011-12-01
Middle game > Direction of play
Lesson 6
0
from 15k to 3d
English
no
Guo Juan 5p
2011-12-06
Middle game > Direction of play
Lesson 7

Example games: 1: A game between a 1dan and a 2dan. 2: A pro game between Gu LingYi 5p and Peng LiYao 5p.

0
from 20k to 5d
English
no
Guo Juan 5p
2011-12-11
Other > Ten proverbs of Go
Lesson 03

Ten proverbs lecture 3 攻彼顾我 - Offend while defending; Take care of your back yard while you attack. Example games: 1, b: 5K, W: 4K 2, GuoJuan's game 3, a kuy player's game

0
from 30k to 5d
English
no
Guo Juan 5p
2011-12-14
Professional games > 2010
23rd China MingRen Challenger ‐ Game 3

Black: Jiang WeiJie 5p White: Gu Li 9p Event: 23rd China MingRen Challenging game 3 Komi: 7.5 Date: 2010-11-29 Place: China, YongCheng Commentator: Wang JianKun 7p Guo Juan 5p

0
from 30k to 8d
English
no
Wang JianKun 7p
2011-12-17
Other > Lunch Special
Lesson 03Doesn't this White shape look nice? But it's not! Black can break into this shape easily!
14
from 10k to 5d
English
yes
Guo Juan 5p
2011-12-22
Professional games > 2010
23rd China MingRen Challenger ‐ Game 4

Black: Gu Li 9p White: Jiang WeiJie 5p Event: 23rd China MingRen Challenging game 4 Komi: 7.5 Date: 2010-12-01 Place: China, YongCheng Commentator: Wang JianKun 7p Guo Juan 5p

0
from 30k to 8d
English
no
Wang JianKun 7p
2011-12-25
Basic course > Topics
Making territory ‐ Lesson 1
0
from 30k to 1k
English
no
Guo Juan 5p
2011-12-28
Professional games > 2010
23rd China MingRen Challenger ‐ Game 5

Black: Gu Li 9p White: Jiang WeiJie 5p Event: 23rd China MingRen Challenging game 5 Komi: 7.5 Date: 2010-12-02 Place: China, YongCheng Commentator: Wang JianKun 7p Guo Juan 5p

0
from 30k to 8d
English
no
Wang JianKun 7p
2012-01-03
Basic course > Topics
Making territory ‐ Lesson 2
0
from 30k to 1k
English
no
Guo Juan 5p
2012-01-09
Other > Lunch Special
Lesson 04We will study this corner invasion.
12
from 10k to 5d
English
no
Guo Juan 5p
2012-01-12
Basic course > Topics
Making territory ‐ Lesson 3
0
from 30k to 1k
English
no
Guo Juan 5p
2012-01-15
Other > Lunch Special
Lesson 05Black invades. Do you like A or B for White? We will study the development of this opening.
4
from 10k to 5d
English
no
Guo Juan 5p
2012-01-18
Professional games > 2011
16th Samsung Cup ‐ Finals 1

Black: Gu Li 9p White: Won Seong-jin 9p Event: 16th Samsung Cup finals, game 1 Komi: 6.5 Date: 2011-12-05 Place: ShangHai, China Commentator: Wang JianKun 7p Guo Juan 5p

0
from 30k to 8d
English
no
Wang JianKun 7p
2012-01-22
Professional games > 2011
16th Samsung Cup ‐ Finals 2

Black: Won Seong-jin 9p White: Gu Li 9p Event: 16th Samsung Cup finals, game 2 Komi: 6.5 Date: 2011-12-06 Place: ShangHai, China Commentator: Wang JianKun 7p Guo Juan 5p

0
from 30k to 8d
English
no
Wang JianKun 7p
2012-01-24
Middle game > Middle game strategy
Practice ‐ Lesson 3

Strategic solutions in real games - part 3.

0
from 30k to 8d
English
no
Dai JunFu 8d
2012-01-29
Professional games > 2011
16th Samsung Cup ‐ Finals 3

Black: Won Seong-jin 9p White: Gu Li 9p Event: 16th Samsung Cup finals, game 3 Komi: 6.5 Date: 2011-12-07 Place: ShangHai, China Commentator: Wang JianKun 7p Guo Juan 5p

0
from 30k to 8d
English
no
Wang JianKun 7p
2012-02-03
Middle game > Direction of play
Lesson 8
0
from 10k to 3d
English
no
Guo Juan 5p
2012-02-08
Professional games > 2011
13th Nongshim Cup ‐ Game 01

Black: Takao Shinji 9p (Japan) White: Zhou RuiYang 5p (China) Event: 13th Nongshim Cup game 1 Komi: 6.5 Date: 2011-10-11 Place: Beijing Commentators: Wang JianKun 7p Guo Juan 5p

0
from 30k to 8d
English
no
Wang JianKun 7p
2012-02-12
Joseki > All about the 3-4 point
Lesson 8
0
from 30k to 3d
English
no
Guo Juan 5p
2012-02-15
Professional games > 2011
13th Nongshim Cup ‐ Game 02

Black: Ahn Kuk Hyun 3p (Korea) White: Zhou RuiYang 5p (China) Event: 13th Nongshim Cup game 2 Komi: 6.5 Date: 2011-10-12 Place: Beijing Commentators: Wang JianKun 7p Guo Juan 5p

0
from 30k to 8d
English
no
Wang JianKun 7p
2012-02-18
Joseki > Using basic joseki correctly
3-4 point josekis ‐ Lesson 4A
0
from 10k to 5d
English
no
MingJiu Jiang 7p
2012-02-23
Middle game > Middle game strategy
Practice ‐ Lesson 4

Strategic solutions in real games - part 4.

0
from 30k to 8d
English
no
Dai JunFu 8d
2012-02-26
Joseki > Using basic joseki correctly
3-4 point josekis ‐ Lesson 4B
0
from 10k to 5d
English
no
MingJiu Jiang 7p
2012-03-01
Other > Ten proverbs of Go
Lesson 04

Ten proverbs lecture 4 弃子争先 - sacrifice to take the lead Example games: 1, Wang Yao (王垚 6p), Nie WeiPing (聂卫平 9p), 2010-09-01 2, A game played by two kyu players from our group class 3. 13th NongShim Cup 12th game

0
from 30k to 5d
English
no
Guo Juan 5p
2012-03-05
Professional games > 2011
13th Nongshim Cup ‐ Game 03

B: Sakai Hideaki 9p (Japan) W: Ahn Kuk Hyun 3p (Korea) Event: 13th Nongshim Cup game 3 Komi: 6.5 Date: 2011-10-13 Place: Beijing Commentators: Wang JianKun 7p, Guo Juan 5p

0
from 30k to 8d
English
no
Wang JianKun 7p
2012-03-05
Other > Ten proverbs of Go
Lesson 05

Ten proverbs lecture 5 舍小就大 - Release the small and seize the big Example games: 1, B: Wang Yao (王垚 6p), W: Zhou RuiYang (周睿羊 5p) 2, B: Wang Yao (王垚 6p), W: Lee ChangHo 9p, 2010-11-08 3, a game played by 3k.

0
from 30k to 5d
English
no
Guo Juan 5p
2012-03-05
Other > Lunch Special
Lesson 06AWe will study Black move 2.
11
from 30k to 5d
English
no
Guo Juan 5p
2012-03-05
Other > Lunch Special
Lesson 06BMore about Black move 2.
10
from 30k to 5d
English
no
Guo Juan 5p
2012-03-05
Professional games > 2011
13th Nongshim Cup ‐ Game 04

B: Ahn Kuk Hyun 3p (Korea) W: Tan Xiao 5p (China) Event: 13th Nongshim Cup game 3 Komi: 6.5 Date: 2011-10-14 Place: Beijing Commentators: Wang JianKun 7p, Guo Juan 5p

0
from 30k to 8d
English
no
Wang JianKun 7p
2012-03-05
Opening > New opening moves
Lesson 08
0
from 30k to 8d
English
no
Guo Juan 5p
2012-03-05
Joseki > Using basic joseki correctly
3-4 point josekis ‐ Lesson 5A
0
from 30k to 5d
English
no
MingJiu Jiang 7p
2012-03-05
Other > Lunch Special
Lesson 07AThere might be things you don't know yet about this common joseki!
21
from 30k to 5d
English
no
Guo Juan 5p
2012-03-05
Other > Lunch Special
Lesson 07BAha! Many more things to talk about with this common joseki.
13
from 30k to 5d
English
no
Guo Juan 5p
2012-03-05
Middle game > Direction of play
Lesson 9
0
from 30k to 5d
English
no
Guo Juan 5p
2012-03-05
Professional games > 2011
13th Nongshim Cup ‐ Game 05

B: Tan Xiao 5p (China) W: Hane Naoki 9p (Japan) Event: 13th Nongshim Cup game 5 Komi: 6.5 Date: 2011-11-28 Place: Busan Korea Commentators: Wang JianKun 7p, Guo Juan 5p

0
from 30k to 8d
English
no
Wang JianKun 7p
2012-03-05
Professional games > 2011
13th Nongshim Cup ‐ Game 06

B: Kang Yootack 4p (Korea) W: Tan Xiao 5p (China) Event: 13th Nongshim Cup game 6 Komi: 6.5 Date: 2011-11-29 Place: Busan Korea Commentators: Wang JianKun 7p, Guo Juan 5p

0
from 30k to 8d
English
no
Wang JianKun 7p
2012-03-05
Other > Lunch Special
Lesson 08White to play next. A or B? There is a big difference between high and low.
10
from 30k to 3d
English
no
Guo Juan 5p
2012-03-15
Middle game > To attack or to kill?
Lesson 2

Topics: 1. Counting points-losing/kill, winning/attack. 2. Finding weak groups - check the eyes. 3. If to attack - direction. 4. If to kill - solid shape for me and eyeless shape for him. There are two example games.

0
from 10k to 5d
English
no
Guo Juan 5p
2012-03-15
Middle game > Middle game strategy
Practice ‐ Lesson 5

Strategic solutions in real games - part 5.

0
from 30k to 8d
English
no
Dai JunFu 8d
2012-05-06
Joseki > Using basic joseki correctly
3-4 point josekis ‐ Lesson 5B
0
from 15k to 5d
English
no
MingJiu Jiang 7p
2012-05-10
Opening > Direction and trick moves
Lesson 01Includes an interesting direction discussion plus two trick moves.
13
from 10k to 8d
English
no
Dai JunFu 8d
2012-05-15
Professional games > 2012
16th LG Cup ‐ Finals 1

Black: Jiang WeiJie 5p (China) White: Lee ChangHo 9p (Korea) Event: 16th LG Cup finals game 1 Komi: 6.5 Date: 2012-02-13 Place: Korea Commentators: Wang JianKun 7p, Guo Juan 5p

0
from 30k to 8d
English
no
Wang JianKun 7p
2012-05-19
Professional games > 2012
16th LG Cup ‐ Finals 2

Black: Lee ChangHo 9p (Korea) White: Jiang WeiJie 5p (China) Event: 16th LG Cup finals game 2 Komi: 6.5 Date: 2012-02-15 Place: Korea Commentators: Wang JianKun 7p, Guo Juan 5p

0
from 30k to 8d
English
no
Wang JianKun 7p
2012-05-25
Joseki > Using basic joseki correctly
3-4 point josekis ‐ Lesson 6A
0
from 10k to 5d
English
no
MingJiu Jiang 7p
2012-05-25
Joseki > Using basic joseki correctly
3-4 point josekis ‐ Lesson 6B
0
from 10k to 5d
English
no
MingJiu Jiang 7p
2012-06-04
Professional games > 2011
13th Nongshim Cup ‐ Game 07

Black: Tan Xiao 5p (China) White: Yuki Satoshi (9p (Japan) Event: 13th Nongshim Cup game 7 Komi: 6.5 Date: 2011-11-30, Place: Busan Korea Commentators: Wang JianKun 7p, Guo Juan 5p

0
from 30k to 8d
English
no
Wang JianKun 7p
2012-06-08
Opening > Direction and trick moves
Lesson 02How can you attack White globally?
9
from 30k to 8d
English
no
Dai JunFu 8d
2012-06-12
Other > Lunch Special
Lesson 09Most of the time, Black move A is very wrong. Why?
9
from 30k to 3d
English
no
Guo Juan 5p
2012-06-15
Joseki > Using basic joseki correctly
3-4 point josekis ‐ Lesson 7
0
from 30k to 5d
English
no
MingJiu Jiang 7p
2012-06-20
Professional games > 2011
13th Nongshim Cup ‐ Game 08

Black: Tan Xiao 5p (China) White: Kim Ji Seok 7p (Korea) Event: 13th Nongshim Cup game 8 Komi: 6.5 Date: 2011-12-01 Place: Busan Korea Commentators: Wang JianKun 7p, Guo Juan 5p

0
from 30k to 8d
English
no
Wang JianKun 7p
2012-06-27
Other > Lunch Special
Lesson 10Is Black A a good move?
11
from 30k to 3d
English
no
Guo Juan 5p
2012-06-30
Professional games > 2011
13th Nongshim Cup ‐ Game 09

Black: Keigo Yamashita 9p (Japan) - White: Kim Ji Seok 7p (Korea) Event: 13th Nongshim Cup game 9 Komi: 6.5 Date: 2011-12-03 Place: Busan Korea Commentators: Wang JianKun 7p, Guo Juan 5p

0
from 30k to 8d
English
no
Wang JianKun 7p
2012-07-04
Opening > Direction and trick moves
Lesson 03In the upper left, how do you handle the two stones as White?
12
from 10k to 5d
English
no
Dai JunFu 8d
2012-07-07
Middle game > Value of stones
Lesson 1
0
from 10k to 5d
English
no
Jennie ShenJing 2p
2012-07-11
Professional games > 2011
13th Nongshim Cup ‐ Game 10

Black: Kim Ji Seok 7p (Korea) White: Piao WenYao 9p (China) Event: 13th Nongshim Cup game 10 Komi: 6.5 Date: 2011-12-03, Place: Busan Korea Commentators: Wang JianKun 7p, Guo Juan 5p

0
from 30k to 8d
English
no
Wang JianKun 7p
2012-07-15
Joseki > Using basic joseki correctly
3-4 point josekis ‐ Lesson 8A
0
from 15k to 5d
English
no
MingJiu Jiang 7p
2012-07-15
Joseki > Using basic joseki correctly
3-4 point josekis ‐ Lesson 8B
0
from 15k to 5d
English
no
MingJiu Jiang 7p
2012-07-21
Middle game > Value of stones
Lesson 2
0
from 10k to 5d
English
no
Jennie ShenJing 2p
2012-07-26
Opening > New opening moves
Lesson 09
0
from 30k to 8d
English
no
Guo Juan 5p
2012-07-29
Professional games > 2011
13th Nongshim Cup ‐ Game 11

Black: Kim Ji Seok 7p (Korea) White: Gu Li 9p (China) Event: 13th Nongshim Cup game 11 Komi: 6.5 Date: 2012-02-21 Place: ShangHai, China Commentators: Wang JianKun 7p, Guo Juan 5p

0
from 30k to 8d
English
no
Wang JianKun 7p
2012-08-02
Opening > Direction and trick moves
Lesson 04Black needs to make a good plan. Which move do you like most?
19
from 30k to 8d
English
no
Dai JunFu 8d
2012-08-06
Professional games > 2011
13th Nongshim Cup ‐ Game 12

Black: Kim Ji Seok 7p (Korea) White: Xie he 7p (China) Event: 13th Nongshim Cup game 12 Komi: 6.5 Date: 2012-02-22 Place: ShangHai, China Commentators: Wang JianKun 7p, Guo Juan 5p

0
from 30k to 8d
English
no
Wang JianKun 7p
2012-08-09
Middle game > Value of stones
Lesson 3
0
from 30k to 8d
English
no
Jennie ShenJing 2p
2012-08-11
Professional games > 2011
13th Nongshim Cup ‐ Game 13

B: Won Seong-jin 9p (Korea) W: Xie He 7p (China) Event: 13th Nongshim Cup game 13 Komi: 6.5 Date: 2012-02-23 Place: ShangHai, China Commentators: Wang JianKun 7p, Guo Juan 5p

0
from 30k to 8d
English
no
Wang JianKun 7p
2012-08-16
Other > Lunch Special
Lesson 11AWe will study this "nasty" move :-)
20
from 10k to 5d
English
no
Guo Juan 5p
2012-08-16
Other > Lunch Special
Lesson 11BIsn't Black A a bad move? We will continue to study the development of this "nasty" move.
15
from 10k to 5d
English
no
Guo Juan 5p
2012-08-24
Opening > Direction and trick moves
Lesson 05How can you attack White by using the thickness in the lower right?
20
from 30k to 8d
English
no
Dai JunFu 8d
2012-08-30
Professional games > 2011
13th Nongshim Cup ‐ Game 14

B: Xie He 7p (China) W: Lee ChangHo 9p (Korea) Event: 13th Nongshim Cup game 14 Komi: 6.5 Date: 2012-02-24 Place: ShangHai, China Commentators: Wang JianKun 7p, Guo Juan 5p

0
from 30k to 8d
English
no
Wang JianKun 7p
2012-09-05
Middle game > Value of stones
Lesson 4
0
from 10k to 5d
English
no
Jennie ShenJing 2p
2012-09-08
Opening > Chinese opening
Part 3: Modern developments ‐ Lesson 1Material: Wang JianKun 7p, Guo Juan 5p. Lesson: Guo Juan.
30
from 10k to 8d
English
no
Guo Juan 5p
2012-09-13
Middle game > Value of stones
Lesson 5
0
from 10k to 5d
English
no
Jennie ShenJing 2p
2012-09-16
Opening > Direction and trick moves
Lesson 06Black should make a good plan.
20
from 10k to 5d
English
no
Dai JunFu 8d
2012-09-20
Opening > Chinese opening
Part 3: Modern developments ‐ Lesson 2Material: Wang JianKun 7p, Guo Juan 5p. Lesson: Guo Juan.
32
from 10k to 8d
English
no
Guo Juan 5p
2012-09-23
Opening > New opening moves
Lesson 10
0
from 10k to 5d
English
no
Guo Juan 5p
2012-09-28
Opening > Chinese opening
Part 3: Modern developments ‐ Lesson 3Material: Wang JianKun 7p, Guo Juan 5p. Lesson: Guo Juan.
38
from 10k to 8d
English
no
Guo Juan 5p
2012-10-02
Opening > Chinese opening
Part 3: Modern developments ‐ Lesson 4Material: Wang JianKun 7p, Guo Juan 5p. Black move 1 looks tough. Should White answer with A or B?
25
from 10k to 8d
English
no
Guo Juan 5p
2012-10-06
Opening > Chinese opening
Part 3: Modern developments ‐ Lesson 5Material: Wang JianKun 7p, Guo Juan 5p. Is Black 2 a good move?
31
from 10k to 8d
English
no
Guo Juan 5p
2012-10-11
Opening > Chinese opening
Part 3: Modern developments ‐ Lesson 6Very tricky!
48
from 10k to 8d
English
no
Guo Juan 5p
2012-10-14
Opening > Direction and trick moves
Lesson 07
18
from 10k to 8d
English
no
Dai JunFu 8d
2012-10-18
Professional games > 2012
4th BC Cup ‐ Game A

B: Mi3 yu4 ting2 (芈昱廷, China) W: Lee ChangHo 9p (Korea) The 4th BC credit card cup 2012-03-17, Korea

0
from 30k to 8d
English
no
Guo Juan 5p
2012-10-23
Professional games > 2012
9th ChunLan Cup ‐ Game A

B: Chen YaoYe 9p (China) W: Cho Chikun 9p (Japan) The 9th Chunlan cup top 16 game A 2012-03-30

0
from 30k to 8d
English
no
Guo Juan 5p
2012-10-28
Opening > Chinese opening
Part 3: Modern developments ‐ Lesson 7Material: Wang JianKun 7p, Guo Juan 5p. White 3 is very tricky, hehe :)
27
from 10k to 8d
English
no
Guo Juan 5p
2012-11-01
Opening > Chinese opening
Part 3: Modern developments ‐ Lesson 8White plays Chinese Opening!!!
23
from 10k to 8d
English
no
Guo Juan 5p
2012-11-05
Opening > Direction and trick moves
Lesson 08
15
from 30k to 8d
English
no
Dai JunFu 8d
2012-11-10
Professional games > 2012
4th BC Cup ‐ Finals 1

Black:Baek HongSuk (백홍석, 白洪淅) 7p White: Dang YiFei (党毅飞) 4p 2012, the 4th BC credit card cup finals, game 1 By Wang Jiankun 7p and Guo Juan 5p

0
from 30k to 8d
English
no
Wang JianKun 7p
2012-11-15
Other > Lunch Special
Lesson 12Understand more about the joseki in the lower left - especially what to do on the left and bottom.
11
from 10k to 5d
English
no
Guo Juan 5p
2012-11-19
Professional games > 2012
4th BC Cup ‐ Finals 2

Black: Dang YiFei (党毅飞) 4p White: Baek HongSuk (백홍석, 白洪淅) 7p 2012, the 4th BC credit card cup finals, game 2 By Wang Jiankun 7p and Guo Juan 5p

0
from 30k to 8d
English
no
Wang JianKun 7p
2012-11-25
Other > Lunch Special
Lesson 13We will study Black moves A and B.
11
from 30k to 5d
English
no
Guo Juan 5p
2012-11-29
Other > Game reviews
6 dan + (Paris Meijin 2012)

Paris Meijin Cup final game Black: Dai Junfu 8d White: Mraemer Lukas 5d

0
from 30k to 8d
English
no
Dai JunFu 8d
2012-12-03
Professional games > 2012
4th BC Cup ‐ Finals 3

Black: Baek HongSuk (백홍석, 白洪淅) 7p White: Dang YiFei (党毅飞) 4p 2012, the 4th BC credit card cup finals, game 2 By Wang Jiankun 7p and Guo Juan 5p

0
from 30k to 8d
English
no
Wang JianKun 7p
2012-12-08
Joseki > Korean style
Lesson 02
27
from 10k to 8d
English
no
YoungSun Yoon 8p
2012-12-13
Professional games > 2012
4th BC Cup ‐ Finals 4

Black: Dang YiFei (党毅飞) 4p White: Baek HongSuk (백홍석, 白洪淅) 7p 2012, the 4th BC credit card cup finals, game 4 By Wang Jiankun 7p and Guo Juan 5p

0
from 30k to 8d
English
no
Wang JianKun 7p
2012-12-19
Opening > Direction and trick moves
Lesson 09
13
from 10k to 8d
English
no
Dai JunFu 8d
2012-12-24
Professional games > 2012
17th Samsung Cup ‐ Finals 1A

B: Gu Li 9p W: Lee SeDol 9p Event: The 17th Samsung Cup finals game 1 Komi: 6,5 Place: China ShangHai Date: 2012-12-11 Commentators: Wang JianKun 7p, Guo Juan 5p

0
from 30k to 8d
English
no
Wang JianKun 7p
2012-12-24
Professional games > 2012
17th Samsung Cup ‐ Finals 1B

B: Gu Li 9p W: Lee SeDol 9p Event: The 17th Samsung Cup finals game 1_B Komi: 6,5 Place: China ShangHai Date: 2012-12-11 Commentators: Wang JianKun 7p, Guo Juan 5p

0
from 30k to 8d
English
no
Wang JianKun 7p
2012-12-30
Professional games > Grand Masters' games
Korean Masters' games ‐ Game 4

B: Chen YaoYe 9p W: Lee Se Dol 9p Samsung Cup

0
from 30k to 8d
English
no
YoungSun Yoon 8p
2013-01-03
Other > Lunch Special
Lesson 14A
12
from 10k to 8d
English
no
Guo Juan 5p
2013-01-03
Other > Lunch Special
Lesson 14BMuch more about this invasion.
23
from 10k to 8d
English
no
Guo Juan 5p
2013-01-09
Joseki > Korean style
Lesson 03
30
from 30k to 8d
English
no
YoungSun Yoon 8p
2013-01-09
Sponsored lectures > British Go Association
2012 London open - Brunner vs Kay

2012 London Open B: Andrew Kay 4d W: Vit Brunner 4d

0
from 30k to 8d
English
yes
Guo Juan 5p
2013-01-13
Middle game > Value of stones
Lesson 6
0
from 10k to 5d
English
no
Jennie ShenJing 2p
2013-01-19
Professional games > 2012
17th Samsung Cup ‐ Finals 2

B: Lee SeDol 9p W: Gu Li 9p Event: The 17th Samsung Cup finals game 2 Komi: 6,5 Place: China ShangHai Date: 2012-12-12 Commentators: Wang JianKun 7p, Guo Juan 5p

0
from 30k to 8d
English
no
Wang JianKun 7p
2013-01-24
Professional games > 2012
17th Samsung Cup ‐ Finals 3

B: Lee SeDol 9p W: Gu Li 9p Event: The 17th Samsung Cup finals game 3 Komi: 6,5 Place: China ShangHai Date: 2012-12-13 Commentators: Wang JianKun 7p, Guo Juan 5p

0
from 30k to 8d
English
no
Wang JianKun 7p
2013-01-29
Other > Lunch Special
Lesson 15On the upper side, Black's follow-up at A forms a good shape. But at the bottom, it won't be good if Black still plays at B. Why?
10
from 10k to 8d
English
no
Guo Juan 5p
2013-02-03
Other > Lunch Special
Lesson 16We are going to study this White move and the typical mistakes and variations around it.
15
from 30k to 1k
English
no
Guo Juan 5p
2013-02-08
Professional games > 2012
7th Ing Cup ‐ Finals 1

B: Park Junghwan 9p (Korea) W: Fan TingYu 3p (China) Event: The 7th Ing Cup finals, game 1 Place: Singapore Date: 2012-12-22 Komi: 8 Commentators: Wang JianKun 7p, Guo Juan 5p

0
from 30k to 8d
English
no
Wang JianKun 7p
2013-02-13
Professional games > Grand Masters' games
Korean Masters' games ‐ Game 5

Korean masters game 4

0
from 30k to 8d
English
no
YoungSun Yoon 8p
2013-02-21
Other > Typical mistakes by Young Sun 8P
Lesson 3
0
from 10k to 5d
English
no
YoungSun Yoon 8p
2013-02-25
Professional games > 2012
7th Ing Cup ‐ Finals 2

B: Fan TingYu 3p (China) W: Park Junghwan 9p (Korea) Event: The 7th Ing Cup finals, game 2 Place: Singapore Date: 2012-12-24 Komi: 8 dian (if even black wins) Commentators: Wang JianKun 7p, Guo Juan 5p

0
from 30k to 8d
English
no
Wang JianKun 7p
2013-03-01
Other > Lunch Special
Lesson 17Want to know about this shape?
13
from 10k to 5d
English
no
Guo Juan 5p
2013-03-05
Other > Lunch Special
Lesson 18There is a huge difference between these two shapes!
16
from 10k to 5d
English
no
Guo Juan 5p
2013-03-09
Middle game > Invasion ideas
Lesson 1

Invasion or floating?

0
from 30k to 5d
English
no
Jennie ShenJing 2p
2013-03-14
Professional games > 2012
7th Ing Cup ‐ Finals 3

B: Park Junghwan 9p (Korea) W: Fan TingYu 3p (China) Event: The 7th Ing Cup finals, game 3 Place: ShangHai, China Date: 2013-03-04 Komi: 8 dian (if even black wins) Commentators: Wang JianKun 7p, Guo Juan 5p

0
from 30k to 8d
English
no
Wang JianKun 7p
2013-03-17
Professional games > 2012
7th Ing Cup ‐ Finals 4A

B: Fan TingYu 3p (China) W: Park Junghwan 9p (Korea) Event: The 7th Ing Cup finals, game 4_A Place: ShangHai, China Date: 2013-03-06 Komi: 8 dian (if even black wins) Commentators: Wang JianKun 7p, Guo Juan 5p

0
from 30k to 8d
English
no
Wang JianKun 7p
2013-03-19
Professional games > 2012
7th Ing Cup ‐ Finals 4B

B: Fan TingYu 3p (China) W: Park Junghwan 9p (Korea) Event: The 7th Ing Cup finals, game 4_B Place: ShangHai, China Date: 2013-03-06 Komi: 8 dian (if even black wins) Commentators: Wang JianKun 7p, Guo Juan 5p

0
from 30k to 8d
English
no
Wang JianKun 7p
2013-03-23
Middle game > To attack or to kill?
Lesson 1
0
from 10k to 3d
English
no
Guo Juan 5p
2013-03-28
Middle game > Invasion ideas
Lesson 2

Invasion or floating - part 2.

0
from 30k to 5d
English
no
Jennie ShenJing 2p
2013-04-03
Other > Lunch Special
Lesson 19AVery confusing!! There is much to understand in these two similar shapes.
13
from 10k to 5d
English
no
Guo Juan 5p
2013-04-03
Other > Lunch Special
Lesson 19BMore to learn.
13
from 10k to 5d
English
no
Guo Juan 5p
2013-04-09
Professional games > 2012
14th Nongshim Cup ‐ Game 11

B: Chen YaoYe 9p (China) W: Choi Chulhan 9p (Korea) Event: 14th Nongshim Cup game 11 Komi: 6.5 Date: 2013-02-26 Place: ShangHai, China Commentators: Wang JianKun 7p, Guo Juan 5p

0
from 30k to 8d
English
no
Wang JianKun 7p
2013-04-13
Joseki > Josekis: Step-by-step
Lesson 01 We will learn two josekis and many typical mistakes. In the upper left, should Black play A or B?
13
from 30k to 1k
English
no
Guo Juan 5p
2013-04-18
Joseki > Josekis: Step-by-step
Lesson 02
14
from 30k to 1k
English
no
Guo Juan 5p
2013-04-21
Other > Lunch Special
Lesson 20Isn't White 1 too slow? We will study the idea of this move.
16
from 10k to 3d
English
no
Guo Juan 5p
2013-04-26
Professional games > 2012
14th Nongshim Cup ‐ Game 12

B: Choi Chulhan 9p (Korea) W: Xie He 7p Event: 14th Nongshim Cup game 12 Komi: 6.5 Date: 2013-02-27 Place: ShangHai, China Commentators: Wang JianKun 7p, Guo Juan 5p

0
from 30k to 8d
English
no
Wang JianKun 7p
2013-04-30
Joseki > Josekis: Step-by-step
Joseki for beginners lecture 3

Joseki for beginners

Lecture 3

By Guo Juan 5p

Duration: 17 minutes

0
from 30k to 1k
English
no
Guo Juan 5p
2013-05-02
Joseki > Josekis: Step-by-step
Joseki for beginners lecture 3

Joseki for beginners

Lecture 3

By Guo Juan 5p

Duration: 17 Minutes

0
from 30k to 1k
English
no
Guo Juan 5p
2013-05-02
Joseki > Josekis: Step-by-step
Lesson 03After White jumps into the corner, Black blocks with move 5, but from different directions.
16
from 30k to 1k
English
no
Guo Juan 5p
2013-05-07
Professional games > 2012
14th Nongshim Cup ‐ Game 13

B: Xie He 7p (China) W: Park Junghwan 9p (Korea) Event: 14th Nongshim Cup game 13 Komi: 6.5 Date: 2013-02-28 Place: ShangHai, China Commentators: Wang JianKun 7p, Guo Juan 5p

0
from 30k to 8d
English
no
Wang JianKun 7p
2013-05-12
Other > Dai JunFu talks about strategy
Lesson 16

2013 Paris Open game 1 B: Dai Junfu 8d W: Fan Hui 2p B + 16,5 Casting by Dai JunFu 8d

0
from 30k to 8d
English
no
Dai JunFu 8d
2013-05-16
Joseki > Josekis: Step-by-step
Lesson 04 We will study Black move 1 in this lecture.
12
from 30k to 1k
English
no
Guo Juan 5p
2013-05-21
Other > Dai JunFu talks about strategy
Lesson 17

2013 Paris Open game 2 B: Cristian Pop 7p W: Dai Junfu 8d W + R

0
from 30k to 8d
English
no
Dai JunFu 8d
2013-05-26
Professional games > 2012
14th Nongshim Cup ‐ Game 14

B: Park Junghwan 9p (Korea) W: Jiang WeiJie 9p (China) Event: 14th Nongshim Cup game 14 Komi: 6.5 Date: 2013-02-29 Place: ShangHai, China Commentators: Wang JianKun 7p, Guo Juan 5p

0
from 30k to 8d
English
no
Wang JianKun 7p
2013-06-02
Joseki > Josekis: Step-by-step
Lesson 05 White jumps into the corner and Black blocks at A or B. In this lecture we will mainly study A, plus a little bit about B.
19
from 30k to 1k
English
no
Guo Juan 5p
2013-06-07
Other > Guo Juan's workshop lectures
7 Approaching high or low? With much details.
0
from 30k to 1k
English
no
Guo Juan 5p
2013-06-09
Opening > Direction and trick moves
Lesson 10
21
from 10k to 5d
English
no
Dai JunFu 8d
2013-06-12
Other > Lunch Special
Lesson 21Wow! White jumped in right away! Guo Juan answers an interesting question from one of our Pro Lesson site users.
8
from 10k to 5d
English
no
Guo Juan 5p
2013-06-16
Joseki > Josekis: Step-by-step
Lesson 06We will study White move 1 and the follow-ups.
13
from 30k to 1k
English
no
Guo Juan 5p
2013-06-20
Professional games > 2013
9th ChunLan Cup ‐ Finals 1

Black: Lee SelDo 9p White: Chen YaoYe 9p Event: The 9th ChunLan Cup finals game 1 Date: 2013-06-18 Place: China

0
from 30k to 8d
English
no
Guo Juan 5p
2013-06-22
Professional games > 2013
9th ChunLan Cup ‐ Finals 2

Black: Chen YaoYe 9p White: Lee SelDo 9p Event: The 9th ChunLan Cup finals game 2 Date: 2013-06-19 Place: China

0
from 30k to 8d
English
no
Guo Juan 5p
2013-06-26
Middle game > Invasion ideas
Lesson 3

Narrow or wide?

0
from 10k to 5d
English
no
Jennie ShenJing 2p
2013-06-30
Professional games > 2013
9th ChunLan Cup ‐ Finals 3

Black: Chen YaoYe 9p White: Lee SelDo 9p Event: The 9th ChunLan Cup finals game 3 Date: 2013-06-20 Place: China

0
from 30k to 8d
English
no
Guo Juan 5p
2013-07-04
Other > Guo Juan's workshop lectures
8A About double approach moves A and B
0
from 10k to 3d
English
no
Guo Juan 5p
2013-07-04
Other > Guo Juan's workshop lectures
8B Continuation of lecture 8A
0
from 10k to 5d
English
no
Guo Juan 5p
2013-07-09
Other > Typical mistakes by Young Sun 8P
Lesson 4
0
from 30k to 8d
English
no
YoungSun Yoon 8p
2013-07-14
Opening > Direction and trick moves
Lesson 11
18
from 30k to 8d
English
no
Dai JunFu 8d
2013-07-18
Middle game > Value of stones
Lesson 7
0
from 10k to 5d
English
no
Jennie ShenJing 2p
2013-07-23
Basic course > Handicap
Playing White
0
from 5k to 5d
English
no
Guo Juan 5p
2013-07-27
Joseki > Josekis: Step-by-step
Lesson 07
26
from 30k to 1k
English
no
Guo Juan 5p
2013-08-01
Opening > Direction and trick moves
Lesson 12
25
from 30k to 8d
English
no
Dai JunFu 8d
2013-08-06
Joseki > Josekis: Step-by-step
Lesson 08
21
from 30k to 1k
English
no
Guo Juan 5p
2013-08-09
Professional games > 2013
25th Asia TV Cup ‐ Final game

B: Park Junghwan 9p W: Yuta Iyama 9p Event: 25th Asia TV cup final game Date: 2013-06-30 Place: Tokyo

0
from 30k to 8d
English
no
Guo Juan 5p
2013-08-14
Opening > New opening moves
Lesson 11A
15
from 10k to 5d
English
no
Guo Juan 5p
2013-08-16
Opening > New opening moves
Lesson 11B
13
from 30k to 8d
English
no
Guo Juan 5p
2013-08-21
Professional games > GJ shares her studies
Lesson 8

Example game 1: B: Meng TaiLin 6p W: Zhou RuiYang 9p, 2013-06-29 Example game 2: B: Lian Xiao W: Liu Xing, 2013-08-21

0
from 10k to 5d
English
no
Guo Juan 5p
2013-08-24
Professional games > 2013
China Pro-qualification tournament

B: Xie Ke (13 years old) W: Li WeiQing (13 years old) 2013 China National Pro qualification tournament Komi: 7,5 July 23, 2013 W+R

0
from 30k to 8d
English
no
Guo Juan 5p
2013-08-29
Opening > Direction and trick moves
Lesson 13
20
from 30k to 5d
English
no
Dai JunFu 8d
2013-09-01
Joseki > Josekis: Step-by-step
Lesson 09After Black played the pincer move, how should White answer? Which of moves A, B, C and D are good and which are so-so?
21
from 30k to 1k
English
no
Guo Juan 5p
2013-09-05
Joseki > Josekis: Step-by-step
Lesson 10This looks very hard! No worries, Guo Juan will tell you how to handle it as Black.
13
from 30k to 1k
English
no
Guo Juan 5p
2013-09-09
Other > Lunch Special
Lesson 22Many students want to know about this White move.
27
from 10k to 5d
English
no
Guo Juan 5p
2013-09-12
Joseki > Josekis: Step-by-step
Lesson 11We will study the basic joseki in the upper right corner. Also, if White goes one line farther as seen at the bottom side, what can we do as Black?
22
from 30k to 1k
English
no
Guo Juan 5p
2013-09-15
Professional games > 2013
BingShen Cup ‐ Final game

B: Yu ZhiYing 2p W: Wang ChengXing 5p 2013, The 4th BingShen women's world championship, final game Isn't this cool? We will study this modern joseki.

0
from 30k to 8d
English
no
Guo Juan 5p
2013-09-19
Joseki > Josekis: Step-by-step
Lesson 12What is the difference between the joseki in the lower left and the top right?
19
from 30k to 1k
English
no
Guo Juan 5p
2013-09-22
Professional games > GJ shares her studies
Lesson 9
0
from 30k to 8d
English
no
Guo Juan 5p
2013-09-26
Joseki > Tricky moves in josekis
Lesson 01Do you know how to handle Black move 1? This is a common mistake we see so often!
13
from 10k to 3d
English
no
MingJiu Jiang 7p
2013-10-01
Joseki > Josekis: Step-by-step
Lesson 13We will study this joseki. It looks complicated, but Guo Juan will find an easy way for you.
19
from 30k to 1k
English
no
Guo Juan 5p
2013-10-05
Joseki > Tricky moves in josekis
Lesson 02How should you handle Black move 1?
15
from 30k to 5d
English
no
MingJiu Jiang 7p
2013-10-11
Joseki > Josekis: Step-by-step
Lesson 14We will study how to handle these two White moves.
21
from 30k to 1k
English
no
Guo Juan 5p
2013-10-15
Joseki > Tricky moves in josekis
Lesson 03How should you handle Black move 1?
11
from 10k to 5d
English
no
MingJiu Jiang 7p
2013-10-20
Professional games > 2013
Female veterens of the Chinese Nat'l Team ‐ Game 1

B: Guo Juan 5p W: Zhang ChenHua 4p Event: 2013 Female veterans of the Chinese National Team Tournament and Reunion Date: 2013-09-28 Place: ChengDu Result: B + 10points

0
from 30k to 8d
English
no
Guo Juan 5p
2013-10-22
Joseki > Josekis: Step-by-step
Lesson 15We will talk about these three common mistakes.
14
from 30k to 1d
English
no
Guo Juan 5p
2013-10-27
Opening > Direction and trick moves
Lesson 14
24
from 30k to 8d
English
no
Dai JunFu 8d
2013-10-31
Professional games > 2013
Female veterens of the Chinese Nat'l Team ‐ Game 2

B: Guo Juan 5p W: Zhu JuFei 5p Event: 2013 Female veterans of the Chinese National Team Tournament and Reunion Date: 2013-09-29, Place: ChengDu, China

0
from 30k to 8d
English
no
Guo Juan 5p
2013-11-03
Joseki > Tricky moves in josekis
Lesson 04How should you handle Black move 1? It's a bit of a trick!
11
from 10k to 8d
English
no
MingJiu Jiang 7p
2013-11-05
Joseki > Josekis: Step-by-step
Lesson 16More typical mistakes!
8
from 30k to 1k
English
no
Guo Juan 5p
2013-11-08
Joseki > Tricky moves in josekis
Lesson 05Black move 1 looks strange - not a joseki move for sure. How do you handle it?
13
from 10k to 5d
English
no
MingJiu Jiang 7p
2013-11-14
Professional games > 2013
15th Nongshim Cup ‐ Game 01B: Fan TingYu 9p (China) W: Yao ZhiTen 1p (Japan) Event: 15th NongShim cup game 1 Date: 2013-10-22 There is deep meaning behind Black move 1!
0
from 30k to 8d
English
no
Guo Juan 5p
2013-11-17
Professional games > 2013
15th Nongshim Cup ‐ Game 02B: Fan TingYu 9p (China) W: Choi Kihoon 4p (Korea) Event: 15th NongShim cup game 2 Date: 2013-10-23 Black move 1, super calm! I would not dare to play it, but would play the reducing move A instead...how about you?
0
from 30k to 8d
English
no
Guo Juan 5p
2013-11-22
Joseki > Tricky moves in josekis
Lesson 06In the upper right corner, Black move 1 is a trick move plus a typical mistake. MingJiu will explain why it is wrong and how to handle it.
18
from 10k to 3d
English
no
MingJiu Jiang 7p
2013-11-25
Sponsored lectures > British Go Association
2013 British championship ‐ Title matchBlack: Andrew Kay (warfreak2) White: Andrew Simons (uberdude) British Go Championship 2013 Title Match game 2 Beautiful moves! Lesson sponsored by The British Go Association
0
from 30k to 8d
English
yes
Guo Juan 5p
2013-11-28
Opening > Gu Li style
Lesson 1We will study the White invasion at 1.
18
from 10k to 8d
English
no
Guo Juan 5p
2013-12-03
Professional games > 2013
Paris Meijin final game ‐ EnglishThe final game in Paris Meijin 2013 (English version) Black: DAI Junfu 8d White : FAN Hui 8d(2p) Black moves 1 and 3 are beautiful!
0
from 30k to 8d
English
no
Dai JunFu 8d
2013-12-04
Professional games > 2013
Paris Meijin final game ‐ Française

La partie finale au Paris Meijin 2013 (version française) Noir: DAI Junfu 8d Blanc : FAN Hui 8d Noir + 5,5

0
from 30k to 8d
French
no
Dai JunFu 8d
2013-12-07
Opening > Gu Li style
Lesson 2We study two moves: White invasions at A and B.
23
from 30k to 8d
English
no
Guo Juan 5p
2013-12-10
Professional games > 2013
15th Nongshim Cup ‐ Game 03B: Anzai Nobuaki 6p (Japan) W:Fan TingYu 9p (China) Event: 15th NongShim cup game 3 Date: 2013-10-24 Why does Black attack White with move A while his stone B is not safe? If you are White, how are you going to respond?
0
from 30k to 8d
English
no
Guo Juan 5p
2013-12-15
Opening > Gu Li style
Lesson 3AWhat? This is not good for Black? But I just played a joseki perfectly!
20
from 30k to 8d
English
no
Guo Juan 5p
2013-12-20
Joseki > Tricky moves in josekis
Lesson 07
17
from 10k to 5d
English
no
MingJiu Jiang 7p
2013-12-22
Professional games > 2013
18th Samsung Cup ‐ Finals 1Event: 18th Samsung Cup finals Game 1 B: Tang WeiXing 3p W: Lee SeDol 9p Place: China SuZhou Date: 2013-12-10 White is shinning in the center, and black does not have enough territory. What can black do now?
0
from 30k to 8d
English
no
Guo Juan 5p
2013-12-28
Opening > Gu Li style
Lesson 4Moves 1 to 11 is a middle game variation. Normally White needs to defend with move 11. The question is if White does not defend, how should Black play to punish?
13
from 30k to 8d
English
no
Guo Juan 5p
2014-01-03
Opening > Gu Li style
Lesson 5AIn this lecture, we will study this shape.
12
from 10k to 8d
English
no
Guo Juan 5p
2014-01-07
Professional games > 2013
18th Samsung Cup ‐ Finals 2Event: 18th Samsung Cup finals game 2 B: Lee SeDol 9p W: Tang WeiXing 3p Date: 2013-12-11, W + R The theory of this opening is interesting.
0
from 30k to 8d
English
no
Guo Juan 5p
2014-01-12
Other > Lunch Special
Lesson 23Dan players know this modern opening, but I just found out a wonderful followup!
11
from 1d to 8d
English
no
Guo Juan 5p
2014-01-16
Joseki > Tricky moves in josekis
Lesson 08
23
from 10k to 8d
English
no
MingJiu Jiang 7p
2014-01-19
Opening > Gu Li style
Lesson 5BBlack to play next: 1 or 2?
14
from 10k to 8d
English
no
Guo Juan 5p
2014-01-22
Professional games > 2013
15th Nongshim Cup ‐ Game 04B: Fan TingYu 9p (China) W: Kang Dong Yun 9p (Korea) Event: 15th NongShim cup game 4 Date: 2013-10-25, W + R A beautiful end game move.
0
from 30k to 8d
English
no
Guo Juan 5p
2014-01-25
Other > Lunch Special
Lesson 24After Black 4, White can play at A or B. But what is the difference between these two moves?
13
from 15k to 3d
English
no
Guo Juan 5p
2014-01-30
Opening > Gu Li style
Lesson 3BHow should you respond to White move 2? Also, some important corner tsumego.
21
from 30k to 8d
English
no
Guo Juan 5p
2014-02-02
Professional games > 2014
Gu Li vs Lee SeDol Jubango ‐ Game 1AB: Lee SeDol 9p W: Gu Li 9p JubanGo game 1_A In Chinese: Mlily - Meng Bai He Shi Fan Qi 2014-01-26, BeiJing China
0
from 30k to 8d
English
no
Guo Juan 5p
2014-02-02
Professional games > 2014
Gu Li vs Lee SeDol Jubango ‐ Game 1BB: Lee SeDol 9p W: Gu Li 9p JubanGo game 1_B In Chinese: Mlily - Meng Bai He Shi Fan Qi 2014-01-26, BeiJing China Zhou RuiYang 9p thinks white lost a huge chance! Instead of A, white should have played at B.
0
from 30k to 8d
English
no
Guo Juan 5p
2014-02-09
Joseki > Tricky moves in josekis
Lesson 09In the lower right, White has A and B as normal joseki moves. In the upper right, aren't White moves 1 and 3 rude?!
10
from 10k to 8d
English
no
MingJiu Jiang 7p
2014-02-13
Joseki > Josekis: Step-by-step
Lesson 17There are two important things you must know in this basic joseki.
8
from 30k to 1k
English
no
Guo Juan 5p
2014-02-20
Joseki > Josekis: Step-by-step
Lesson 18In this lecture, Guo Juan will talk about a couple of common mistakes and how to punish them. These arise from the joseki in Lesson 17.
23
from 30k to 1k
English
yes
Guo Juan 5p
2014-02-22
Professional games > 2013
15th Nongshim Cup ‐ Game 05B: Kono Rin 9p (Japan) W: Kang Dong Yun 9p (Korea) Event: 15th NongShim cup game 5 Date: 2013-12-02 What does black 1 want? How to handle it?
0
from 30k to 8d
English
no
Guo Juan 5p
2014-02-27
Joseki > Tricky moves in josekis
Lesson 10:-)
10
from 30k to 8d
English
no
MingJiu Jiang 7p
2014-03-02
Professional games > 2013
15th Nongshim Cup ‐ Game 06B: Chen YaoYe 9p (China) W: Kang Dong Yun 9p (Korea) Event: 15th NongShim cup game 6 Date: 2013-12-03 Don't you love black move 1?
0
from 30k to 8d
English
no
Guo Juan 5p
2014-03-07
Joseki > Josekis: Step-by-step
Lesson 19Why the White "crying move" is not good, and other important things in this joseki.
20
from 30k to 1k
English
no
Guo Juan 5p
2014-03-13
Joseki > Choose josekis
Choose Josekis lecture 1
0
from 30k to 5d
English
no
Jennie ShenJing 2p
2014-03-20
Joseki > Choose josekis
Lesson 1Black to play next. Which move would lead to the best choice of joseki?
0
from 5k to 5d
English
no
Jennie ShenJing 2p
2014-03-21
Other > Lunch Special
Lesson 25
12
from 1d to 8d
English
no
Guo Juan 5p
2014-03-25
Professional games > 2013
15th Nongshim Cup ‐ Game 07B: Chen YaoYe 9p (China) W: Yuki Satoshi 9p (Japan) Event: 15th NongShim cup game 7 Date: 2013-12-04
0
from 30k to 8d
English
no
Guo Juan 5p
2014-03-29
Joseki > Choose josekis
Lesson 2
0
from 5k to 5d
English
no
Jennie ShenJing 2p
2014-03-30
Professional games > 2013
15th Nongshim Cup ‐ Game 08B: Chen YaoYe 9p (China) W: Choi Cheol-han 9p (Korea) Event: 15th NongShim cup game 8 Date: 2013-12-05, Doesn't Black's move 1 help White? Normally we don't want to make him solid, why did he do it?
0
from 30k to 8d
English
no
Guo Juan 5p
2014-04-03
Joseki > Tricky moves in josekis
Lesson 11How should you play against Black move 1?
25
from 10k to 8d
English
no
MingJiu Jiang 7p
2014-04-05
Professional games > 2014
Gu Li vs Lee SeDol Jubango ‐ Game 2Black: Gu Li 9p White: Lee SeDol 9p Mlli MengBaiHe JubanGo game 2 2014-02-23, Ping Hu, China The best defending is attacking.
0
from 30k to 8d
English
no
Guo Juan 5p
2014-04-09
Professional games > 2014
Gu Li vs Lee SeDol Jubango ‐ Game 3B: Lee SeDol 9p W: Gu Li 9p Mlli MengBaiHe JubanGo game 3 2014-03-30, ChengDu, China
0
from 30k to 8d
English
no
Guo Juan 5p
2014-04-13
Joseki > Josekis: Step-by-step
Lesson 20We will learn why the White move in the top right is good and in the lower left is wrong.
20
from 30k to 1k
English
no
Guo Juan 5p
2014-04-16
Joseki > Josekis: Step-by-step
Lesson 21This lecture is good for beginners up to about 3 dan. You will learn an important theory about this kind of shape.
15
from 30k to 1k
English
no
Guo Juan 5p
2014-04-20
Professional games > 2013
15th Nongshim Cup ‐ Game 09B: Cho U 9p (Japan) W: Chen YaoYe 9p (China) Event: 15th NongShim cup game 9 Date: 2013-12-06 White played at A in the game, why not B?
0
from 30k to 8d
English
no
Guo Juan 5p
2014-04-25
Joseki > Tricky moves in josekis
Lesson 12How do you handle Black 1?
14
from 30k to 5d
English
no
MingJiu Jiang 7p
2014-04-30
Middle game > Invasion in real games
Lesson 5In this lecture we will study Black move 1, White move 6, and more invasions.
0
from 10k to 5d
English
no
Guo Juan 5p
2014-05-03
Professional games > 2014
Gu Li vs Lee SeDol Jubango ‐ Game 4B: Gu Li 9p W: Lee SeDol 9p Mlli MengBaiHe JubanGo game 4 2014-04-27 Black move 1, a super tesuji.
0
from 30k to 8d
English
no
Guo Juan 5p
2014-05-08
Joseki > Josekis: Step-by-step
Lesson 22In this lecture we will start a new joseki, beginning with some typical mistakes and how to handle them.
14
from 30k to 1k
English
no
Guo Juan 5p
2014-05-11
Joseki > Josekis: Step-by-step
Lesson 23We will study some important idea, details and common mistakes in this joseki.
13
from 30k to 1k
English
no
Guo Juan 5p
2014-05-17
Joseki > Tricky moves in josekis
Lesson 13AIf Black move 5 makes a messy fight, White move 8 his hell. Want to know how to handle them? MingJiu has good answers for you.
9
from 1k to 5d
English
no
MingJiu Jiang 7p
2014-05-17
Joseki > Tricky moves in josekis
Lesson 13B
16
from 1k to 5d
English
no
MingJiu Jiang 7p
2014-05-23
Professional games > 2013
15th Nongshim Cup ‐ Game 10Black: Cho U 9p (Japan) White: Kim Ji-Suk 9p (Korea) Event: 15th NongShim Cup game 10 Date: 2013-12-07 Attack the shape!
0
from 30k to 8d
English
no
Guo Juan 5p
2014-05-27
Joseki > Josekis: Step-by-step
Lesson 24We will study a basic joseki and its many common mistakes.
23
from 30k to 1k
English
no
Guo Juan 5p
2014-05-31
Professional games > 2014
Gu Li vs Lee SeDol Jubango ‐ Game 5B: Lee SeDol 9p W: Gu Li 9p Mlli MengBaiHe JubanGo game 5 2014-05-25, Xiang Ge Li La, China Black did not follow the normal joseki in the lower left corner, very interesting.
0
from 30k to 8d
English
no
Guo Juan 5p
2014-06-01
Joseki > Josekis: Step-by-step
Lesson 25How should you deal with Black move 1? We will study this and more about this basic joseki.
15
from 30k to 1k
English
no
Guo Juan 5p
2014-06-01
Joseki > Josekis: Step-by-step
Lesson 26More common mistakes in this basic joseki.
16
from 30k to 1k
English
no
Guo Juan 5p
2014-06-02
Joseki > Tricky moves in josekis
Lesson 14
16
from 10k to 3d
English
no
MingJiu Jiang 7p
2014-06-10
Joseki > Choose josekis
Lesson 3Good direction is he most important thing when choosing josekis. More examples are in this lecture.
0
from 5k to 5d
English
no
Jennie ShenJing 2p
2014-06-20
Joseki > Tricky moves in josekis
Lesson 15What is this?!
14
from 10k to 5d
English
no
MingJiu Jiang 7p
2014-06-25
Professional games > 2013
15th Nongshim Cup ‐ Game 14B: Shi Yue 9p (China) W: Park Junghwan 9p (Korea) Event: 15th NongShim cup game 14 Date: 2014-02-28 Black was behind on territory, what now? Move 4 and 6 was the only way: make a messy game.
8
from 30k to 8d
English
no
Guo Juan 5p
2014-06-28
Other > Lunch Special
Lesson 26Two things in this lecture: The typical mistake in the upper left corner, and how to play the ko in the lower right corner.
7
from 10k to 5d
English
no
Guo Juan 5p
2014-06-30
Joseki > Tricky moves in josekis
Lesson 16Be very careful, Black move 1 is a trap!
14
from 30k to 5d
English
no
MingJiu Jiang 7p
2014-07-07
Other > Lunch Special
Lesson 27How should you invade the bottom side as Black? And more!
8
from 10k to 3d
English
no
Guo Juan 5p
2014-07-12
Other > Lunch Special
Lesson 28In this lecture, Guo Juan 5p has stories about Black move 1.
25
from 10k to 8d
English
no
Guo Juan 5p
2014-07-17
Joseki > Tricky moves in josekis
Lesson 17White 1 is normal, but Black 2 is not!
7
from 10k to 8d
English
no
MingJiu Jiang 7p
2014-07-19
Other > Lunch Special
Lesson 29Can White live in the corner?
20
from 10k to 5d
English
no
Guo Juan 5p
2014-07-23
Joseki > Josekis: Step-by-step
Lesson 27
14
from 30k to 1k
English
no
Guo Juan 5p
2014-07-25
Joseki > Choose josekis
Lesson 4In the upper left corner, what kind of joseki should Black choose?
0
from 5k to 5d
English
no
Jennie ShenJing 2p
2014-07-31
Joseki > Josekis: Step-by-step
Lesson 10 AHow should you handle Black's cross cut?
14
from 30k to 1k
English
no
Guo Juan 5p
2014-08-04
Joseki > Tricky moves in josekis
Lesson 18How do you handle White move 1 in the upper right? The lower left corner is the normal joseki.
0
from 1d to 8d
English
no
MingJiu Jiang 7p
2014-08-09
Joseki > Josekis: Step-by-step
Lesson 28
7
from 30k to 1k
English
no
Guo Juan 5p
2014-08-12
Professional games > 2014
Gu Li vs Lee SeDol Jubango ‐ Game 6B: Gu Li 9p W: Lee SeDol 9p Mlli MengBaiHe JubanGo game 6 2014-07-27, AnHui, China Often, the empty traingle is the only move.
12
from 30k to 8d
English
no
Guo Juan 5p
2014-08-15
Joseki > Josekis: Step-by-step
Lesson 29
11
from 30k to 1d
English
no
Guo Juan 5p
2014-08-17
Life & Death > Corner shapes
6 spacesSix space corner shapes. This is a short lecture for use with the Training System.
13
from 30k to 3d
English
no
Guo Juan 5p
2014-08-20
Middle game > Ladder
Reading ladders
13
from 30k to 3d
English
no
Guo Juan 5p
2014-08-22
Basic course > Basics: Step-by-step
Lesson 01 ‐ A

What is this game about?

9
from 30k to 1k
English
no
Guo Juan 5p
2014-08-24
Life & Death > Corner shapes
Big pig snout
32
from 10k to 3d
English
no
Guo Juan 5p
2014-08-25
Joseki > Josekis: Step-by-step
Lesson 30How do you handle Black 1?
14
from 30k to 1k
English
no
Guo Juan 5p
2014-08-26
Joseki > Tricky moves in josekis
Lesson 20This move is tricky but sometimes it is possible!
12
from 3d to 8d
English
no
MingJiu Jiang 7p
2014-08-28
Life & Death > Corner shapes
8 spacesThe 8 space corner - How many ways are there to kill it? There are many stories in this shape.
22
from 10k to 5d
English
no
Guo Juan 5p
2014-09-05
Basic course > Basics: Step-by-step
Lesson 01 ‐ B

- One basic shape. - Two josekis.

14
from 30k to 1k
English
no
Guo Juan 5p
2014-09-12
Basic course > Basics: Step-by-step
Lesson 01 ‐ C

- About eyes 1: eyes at the edge. - Counting.

17
from 30k to 1k
English
no
Guo Juan 5p
2014-09-13
Life & Death > Corner shapes
Small pig snout ‐ Lesson 1
12
from 10k to 3d
English
no
Guo Juan 5p
2014-09-14
Life & Death > Corner shapes
Small pig snout ‐ Lesson 2
20
from 10k to 5d
English
no
Guo Juan 5p
2014-09-18
Joseki > Josekis: Step-by-step
Lesson 31 A
15
from 30k to 3d
English
no
Guo Juan 5p
2014-09-23
Joseki > Josekis: Step-by-step
Lesson 31 B
13
from 30k to 3d
English
no
Guo Juan 5p
2014-09-26
Life & Death > Corner shapes
L shapeThe L shape: You probably know the White corner is dead, but there is much more we need to know about this shape.
17
from 10k to 3d
English
no
Guo Juan 5p
2014-10-01
Basic course > Basics: Step-by-step
New Step by step course 2_A

New Step by step course

There was an error in this lecture so I re-did it. Find it HERE

0
from 30k to 1k
English
no
Guo Juan 5p
2014-10-04
Basic course > Basics: Step-by-step
Lesson 02 ‐ A

Making territory efficiently.

10
from 30k to 1k
English
no
Guo Juan 5p
2014-10-05
Basic course > Basics: Step-by-step
Lesson 02 ‐ B

- One basic shape. - Two josekis.

12
from 30k to 1k
English
no
Guo Juan 5p
2014-10-07
Basic course > Basics: Step-by-step
Lesson 02 ‐ C

- About eyes 2: eyes in the corner. - Counting. Note: There is a 10 seconds gap in the sound in this lecture (from 6:29 to 6:39).

11
from 30k to 1k
English
no
Guo Juan 5p
2014-10-12
Joseki > Tricky moves in josekis
Lesson 21
9
from 1d to 5d
English
no
MingJiu Jiang 7p
2014-10-12
Joseki > Tricky moves in josekis
Tricky moves lecture 21

Tricky moves in Joseki

Lecture 21

By Mingjiu 7p

Durations: 17 minutes

0
from 1d to 8d
English
no
MingJiu Jiang 7p
2014-10-15
Life & Death > Corner shapes
L+1 shape ‐ Lesson 1
21
from 10k to 8d
English
no
Guo Juan 5p
2014-10-18
Life & Death > Corner shapes
L+1 shape ‐ Lesson 2
20
from 10k to 5d
English
no
Guo Juan 5p
2014-10-23
Life & Death > Corner shapes
L+2 shapeShould Black play A or B?
17
from 10k to 5d
English
no
Guo Juan 5p
2014-10-28
Joseki > Josekis: Step-by-step
Lesson 32 A
16
from 30k to 1k
English
no
Guo Juan 5p
2014-10-31
Joseki > Josekis: Step-by-step
Lesson 32 B
8
from 30k to 1k
English
no
Guo Juan 5p
2014-11-07
Other > Guo Juan's Group Class topics
Group B ‐ Lesson 01Interesting game from Group B class (1k to 10k students).
9
from 10k to 3d
English
no
Guo Juan 5p
2014-11-11
Other > Guo Juan's Group Class topics
Group B ‐ Lesson 02 There is a confusion in these two shapes.
11
from 10k to 3d
English
no
Guo Juan 5p
2014-11-12
Other > Guo Juan's Group Class topics
Group B ‐ Lesson 03 A nice tesuji.
9
from 10k to 3d
English
no
Guo Juan 5p
2014-11-18
Basic course > Basics: Step-by-step
Lesson 03 ‐ A

Keeping distance.

8
from 30k to 15k
English
no
Guo Juan 5p
2014-11-20
Basic course > Basics: Step-by-step
Lesson 03 ‐ B

- Recognizing a bad shape. - Two josekis.

11
from 30k to 1k
English
no
Guo Juan 5p
2014-11-24
Joseki > Korean style
Lesson 04A
24
from 1d to 8d
English
no
YoungSun Yoon 8p
2014-11-25
Basic course > Basics: Step-by-step
Lesson 03 ‐ C

- About eyes 3: making eyes in the middle. - Counting.

11
from 30k to 5k
English
no
Guo Juan 5p
2014-11-27
Other > Guo Juan's Group Class topics
Group A ‐ Lesson 1Group A (1d to 5d) review: We will study the follow-up after this middle game Joseki.
11
from 5k to 3d
English
no
Guo Juan 5p
2014-11-28
Other > Guo Juan's Group Class topics
GJ Group Class Group A lecture 2

GJ Group Class Group A

Lecture 2

By Guo Juan 5p

Time: 15 minutes

White 2 is wrong, why? We will study a common shape in this lecture.

0
from 5k to 5d
English
no
Guo Juan 5p
2014-11-28
Other > Guo Juan's Group Class topics
GJ Group Class Group A lecture 2

GJ Group Class Group A

Lecture 2

By Guo Juan 5p

Duration: 15 minutes

White 2 is a mistake, why? We will study this common shape.

0
from 5k to 3d
English
no
Guo Juan 5p
2014-12-02
Joseki > Josekis: Step-by-step
Lesson 33How should Black play against White 2? Guo Juan will share an idea she learned from Go Seigen sensei.
14
from 30k to 1k
English
no
Guo Juan 5p
2014-12-08
Joseki > Korean style
Lesson 04B
23
from 1d to 8d
English
no
YoungSun Yoon 8p
2014-12-09
Other > Guo Juan's Group Class topics
Group A ‐ Lesson 2Group A (1d to 5d) review: White 2 is wrong, do you know why and how to handle it?
14
from 1k to 5d
English
no
Guo Juan 5p
2014-12-11
Joseki > Josekis: Step-by-step
Lesson 34Black move 1 looks funny but it is the best move here!
16
from 30k to 1k
English
no
Guo Juan 5p
2014-12-18
Basic course > Basics: Step-by-step
Lesson 04 ‐ AAbout keeping balance.
14
from 30k to 1k
English
no
Guo Juan 5p
2014-12-22
Basic course > Basics: Step-by-step
Lesson 04 ‐ B

- One shape. - Two josekis.

13
from 30k to 1k
English
no
Guo Juan 5p
2014-12-29
Basic course > Basics: Step-by-step
Lesson 04 ‐ C

- About eyes 4: Half eyes. - Counting.

18
from 30k to 1k
English
no
Guo Juan 5p
2015-01-05
Joseki > Korean style
Lesson 04C
28
from 1d to 8d
English
no
YoungSun Yoon 8p
2015-01-10
Other > Guo Juan's Group Class topics
Group B ‐ Lesson 04 This shape is not really efficient.
15
from 10k to 1k
English
no
Guo Juan 5p
2015-01-14
Joseki > Josekis: Step-by-step
Lesson 35
16
from 30k to 1k
English
no
Guo Juan 5p
2015-01-17
Joseki > Josekis: Step-by-step
Lesson 36Black 2 is kind of low, but in some situations, this would be a good choice for Black.
8
from 30k to 1k
English
no
Guo Juan 5p
2015-01-20
Joseki > Josekis: Step-by-step
Lesson 23 follow-ups ‐ Lesson AAfter the joseki in the upper right corner, there are many choices for White.
20
from 5k to 5d
English
no
YoungSun Yoon 8p
2015-01-24
Other > Guo Juan's Group Class topics
Group C ‐ Lesson 1A game review from Group Class C group (30k to 10k): Between A and B, which stone is more important? Guo Juan talks about three common things in this lecture.
16
from 30k to 10k
English
no
Guo Juan 5p
2015-01-28
Basic course > Basics: Step-by-step
Lesson 05 ‐ AAbout keeping balance 2: invade in time.
19
from 30k to 1k
English
no
Guo Juan 5p
2015-01-29
Basic course > Basics: Step-by-step
Lesson 05 ‐ B- The knight's shape. - One joseki.
10
from 30k to 1k
English
no
Guo Juan 5p
2015-02-03
Other > Guo Juan's Group Class topics
Group A ‐ Lesson 3Group A (1d to 5d) review: - We will study the opening on the right side - And study White move A
14
from 1d to 5d
English
no
Guo Juan 5p
2015-02-03
Other > Guo Juan's Group Class topics
Group A ‐ Lesson 4Group A (1d to 5d) review: - What should Black play after White 2? - We will also study the opening on the right side
16
from 1d to 5d
English
no
Guo Juan 5p
2015-02-07
Joseki > Korean style
Lesson 05A
19
from 5k to 8d
English
no
YoungSun Yoon 8p
2015-02-10
Basic course > Basics: Step-by-step
Lesson 05 ‐ CThere are many large eye shapes in this lecture. Are they alive? Are they dead? What should I do?
34
from 30k to 1k
English
no
Guo Juan 5p
2015-02-20
Joseki > Korean style
Lesson 05BWe will study White move 7.
13
from 5k to 8d
English
no
YoungSun Yoon 8p
2015-02-20
Joseki > Josekis: Step-by-step
Lesson 37What is the difference between these two shapes? There is much to talk about.
21
from 30k to 1d
English
no
Guo Juan 5p
2015-02-20
Joseki > Josekis: Step-by-step
Lesson 38This is a good move against the two space low pincer.
18
from 30k to 1k
English
no
Guo Juan 5p
2015-02-24
Professional games > 2014
China Lan Ke Cup ‐ FinalBlack: Shi Yue 9p White: Fan TingYu 9p Many interesting things in this game!
11
from 30k to 8d
English
no
Guo Juan 5p
2015-02-25
Basic course > Basics: Step-by-step
Lesson 06 ‐ A

Taking initiative: Do not follow our opponent all the time.

11
from 30k to 1k
English
no
Guo Juan 5p
2015-03-01
Joseki > Josekis: Step-by-step
Lesson 39Handling the three space pincer.
20
from 30k to 1k
English
no
Guo Juan 5p
2015-03-01
Joseki > Josekis: Step-by-step
Lesson 40Are Black moves A and B good or bad?
9
from 30k to 1k
English
no
Guo Juan 5p
2015-03-02
Joseki > Josekis: Step-by-step
Joseki for beginners lecture 41

Joseki for beginners lecture 41

3.3 Joseki 1

By Guo Juan 5p

Time: 16 minutes

0
from 30k to 1k
English
no
Guo Juan 5p
2015-03-02
Joseki > Josekis: Step-by-step
Lesson 41Why is the White move in the upper corner happier than the one in the lower left?
17
from 30k to 1k
English
no
Guo Juan 5p
2015-03-03
Joseki > Korean style
Lesson 06ABlack move 3 is a new move. YoungSun 8p will tell you the stories about this new try.
28
from 10k to 8d
English
no
YoungSun Yoon 8p
2015-03-07
Other > Guo Juan's Group Class topics
Group A ‐ Lesson 5Group A (1d to 5d) review: In this lecture we will study the details about the two josekis played on the left side.
19
from 1d to 3d
English
no
Guo Juan 5p
2015-03-07
Other > Guo Juan's Group Class topics
Group B ‐ Lesson 05 How to attack White A?
14
from 10k to 1k
English
no
Guo Juan 5p
2015-03-09
Joseki > Josekis: Step-by-step
Lesson 42Black to play. Should you push from A or from B?
11
from 30k to 1d
English
no
Guo Juan 5p
2015-03-26
Joseki > Korean style
Lesson 06BThis time YoungSun is going to tell you about White moves A and B.
20
from 10k to 8d
English
no
YoungSun Yoon 8p
2015-04-08
Important shapes > Basic shapes
Lesson 8
16
from 30k to 5d
English
no
Jennie ShenJing 2p
2015-04-11
Basic course > Basics: Step-by-step
Lesson 06 ‐ B- One strong shape. - Two josekis.
20
from 30k to 1k
English
no
Guo Juan 5p
2015-04-15
Basic course > Basics: Step-by-step
Lesson 06 ‐ C- About eyes 6: "eye kills no eye." - Openings 1.
12
from 30k to 1k
English
no
Guo Juan 5p
2015-04-20
Professional games > 2015
16th Nongshim Cup ‐ Game 13B: Kim Ji-Suk 9p (Korea) W: Lian Xiao 7p (China) Event: 16th NongShim Cup - 13th game Date: March 5, 2015 Place: China, Shanghai What a clever escape!
20
from 30k to 8d
English
no
Guo Juan 5p
2015-04-24
Joseki > Korean style
Lesson 07We will study White moves A, B and C.
17
from 10k to 9d
English
no
YoungSun Yoon 8p
2015-04-24
Life & Death > Easy life & death training
Lesson 1Life and death training for 30k to 10k players. Guo Juan has two tips for you.
25
from 30k to 20k
English
no
Guo Juan 5p
2015-04-25
Professional games > 2015
22nd China New King finals ‐ Game 3B: Huang JingYuan 2p W: Xie YuangHao 2p Event: 22nd China New King Finals game 3 The variations in the upper left corner is very interesting. And many more useful things we will learn from this game! There is a problem set with 17 problems to go with it.
17
from 30k to 8d
English
no
Guo Juan 5p
2015-04-26
Basic course > Basics: Step-by-step
Lesson 07 ‐ A

Making a base.

15
from 30k to 1k
English
no
Guo Juan 5p
2015-04-28
Other > Guo Juan's workshop lectures
9Guo Juan talks about an important shape and about efficiency.
13
from 10k to 5d
English
no
Guo Juan 5p
2015-04-30
Basic course > Basics: Step-by-step
Lesson 07 ‐ B

- An important shape: jumping. - Running with dead stones?

13
from 30k to 1k
English
no
Guo Juan 5p
2015-05-04
Basic course > Basics: Step-by-step
Lesson 07 ‐ C

- Good moves, but small at the moment. - Openings 2: avoiding slow defending moves.

15
from 30k to 1k
English
no
Guo Juan 5p
2015-05-13
Basic course > Basics: Step-by-step
Lesson 08 ‐ A

About cutting.

13
from 30k to 1k
English
no
Guo Juan 5p
2015-05-18
Other > Lunch Special
Lesson 30What is the meaning of White move 3? He has got a plan!
7
from 10k to 5d
English
no
Guo Juan 5p
2015-05-23
Joseki > Korean style
Lesson 08
23
from 10k to 9d
English
no
YoungSun Yoon 8p
2015-05-27
Basic course > Basics: Step-by-step
Lesson 08 ‐ B

- An important shape. - It's already dead.

17
from 30k to 1k
English
no
Guo Juan 5p
2015-05-29
Joseki > Korean style
Lesson 09Black play next. Which moves are good which are not good?
23
from 10k to 9d
English
no
YoungSun Yoon 8p
2015-05-31
Other > Typical mistakes by Guo Juan
5 kyu to 3 dan ‐ 01
18
from 5k to 3d
English
no
Guo Juan 5p
2015-06-02
Other > Typical mistakes by Guo Juan
5 kyu to 3 dan ‐ 02Both of them are wrong!
17
from 5k to 3d
English
no
Guo Juan 5p
2015-06-02
Other > Typical mistakes by Guo Juan
5 kyu to 3 dan ‐ 03Both shapes are not efficient. How to punish them?
12
from 5k to 3d
English
no
Guo Juan 5p
2015-06-04
Other > Typical mistakes by Guo Juan
5 kyu to 3 dan ‐ 04How to punish these two shapes?
13
from 5k to 3d
English
no
Guo Juan 5p
2015-06-05
Other > Typical mistakes by Guo Juan
5 kyu to 3 dan ‐ 05
16
from 5k to 3d
English
no
Guo Juan 5p
2015-06-08
Other > Typical mistakes by Guo Juan
5 kyu to 3 dan ‐ 06
15
from 5k to 3d
English
no
Guo Juan 5p
2015-06-08
Other > Typical mistakes by Guo Juan
5 kyu to 3 dan ‐ 07
15
from 5k to 3d
English
no
Guo Juan 5p
2015-06-10
Other > Lunch Special
Lesson 31How to handdle White move 1?
11
from 10k to 5d
English
no
Guo Juan 5p
2015-06-10
Other > Typical mistakes by Guo Juan
5 kyu to 3 dan ‐ 08
22
from 5k to 3d
English
no
Guo Juan 5p
2015-06-11
Other > Typical mistakes by Guo Juan
5 kyu to 3 dan ‐ 09
15
from 5k to 3d
English
no
Guo Juan 5p
2015-06-13
Other > Typical mistakes by Guo Juan
10 kyu to 1 dan ‐ 01
15
from 10k to 1d
English
no
Guo Juan 5p
2015-06-16
Other > Typical mistakes by Guo Juan
10 kyu to 1 dan ‐ 02 Against White 1, which moves are good and which are typical mistakes?
24
from 10k to 1d
English
no
Guo Juan 5p
2015-06-16
Other > Typical mistakes by Guo Juan
10 kyu to 1 dan ‐ 03
33
from 10k to 1d
English
no
Guo Juan 5p
2015-06-18
Basic course > Basics: Step-by-step
Lesson 08 ‐ C

Big moves 2 - Urgent moves are bigger than big moves Opening 3 - Invade in the middle

20
from 30k to 1k
English
no
Guo Juan 5p
2015-06-20
Joseki > Korean style
Lesson 10
11
from 10k to 9d
English
no
YoungSun Yoon 8p
2015-06-22
Basic course > Basics: Step-by-step
Lesson 09 ‐ A

- About connection

18
from 30k to 1k
English
no
Guo Juan 5p
2015-06-26
Other > Typical mistakes by Guo Juan
10 kyu to 1 dan ‐ 04
26
from 10k to 1d
English
no
Guo Juan 5p
2015-06-29
Other > Typical mistakes by Guo Juan
10 kyu to 1 dan ‐ 05
28
from 10k to 1d
English
no
Guo Juan 5p
2015-07-02
Joseki > Korean style
Lesson 11A
19
from 10k to 9d
English
no
YoungSun Yoon 8p
2015-07-08
Other > Typical mistakes by Guo Juan
10 kyu to 1 dan ‐ 06
23
from 10k to 1d
English
no
Guo Juan 5p
2015-07-10
Joseki > Josekis: Step-by-step
Lesson 43Upper right: We learn this nice move. Lower left: What is the order of the follow-up?
23
from 30k to 1d
English
no
Guo Juan 5p
2015-07-14
Basic course > Basics: Step-by-step
Lesson 09 ‐ B- Nobi up - Thickness 1 - Pushing his weak stone to our thickness
27
from 30k to 1k
English
no
Guo Juan 5p
2015-07-17
Basic course > Basics: Step-by-step
Lesson 09 ‐ CBig moves 3 - 3.3 point Opening 4 - About 'door'
17
from 30k to 1k
English
no
Guo Juan 5p
2015-07-18
Other > Typical mistakes by Guo Juan
10 kyu to 1 dan ‐ 07
36
from 10k to 1d
English
no
Guo Juan 5p
2015-07-21
Joseki > Korean style
Lesson 11B
37
from 10k to 9d
English
no
YoungSun Yoon 8p
2015-08-14
Basic course > Basics: Step-by-step
Lesson 10 ‐ A- Bend the 'head'!
17
from 30k to 1k
English
no
Guo Juan 5p
2015-08-14
Joseki > Korean style
Lesson 12A
41
from 10k to 9d
English
no
YoungSun Yoon 8p
2015-08-24
Life & Death > Corner shapes
Long L shapeCorner shapes 6 - Long L shape
22
from 10k to 5d
English
no
Guo Juan 5p
2015-08-26
Basic course > Basics: Step-by-step
Lesson 10 ‐ B

- An important shape - Thickness 2 - Stay away from his thickness

21
from 30k to 1k
English
no
Guo Juan 5p
2015-09-07
Joseki > Korean style
Broken
0
from 5k to 8d
English
no
YoungSun Yoon 8p
2015-09-07
Joseki > Korean style
Lesson 12C
32
from 10k to 9d
English
no
YoungSun Yoon 8p
2015-09-12
Joseki > Korean style
Lesson 12B
36
from 10k to 9d
English
no
YoungSun Yoon 8p
2015-09-23
Basic course > Basics: Step-by-step
Broken sgf file

Big moves 4 - Will he cooperate? Opening 5 - Linking stones

0
from 30k to 1k
English
no
Guo Juan 5p
2015-09-23
Basic course > Basics: Step-by-step
Lesson 10 ‐ C

Opening 5 - Linking stones Big moves 4 - Will he cooperate?

11
from 30k to 1k
English
no
Guo Juan 5p
2015-09-28
Joseki > Josekis: Step-by-step
Lesson 01 follow-ups ‐ Lesson A
25
from 30k to 1k
English
no
YoungSun Yoon 8p
2015-10-01
Other > Typical mistakes by Guo Juan
10 kyu to 1 dan ‐ 08
17
from 10k to 1d
English
no
Guo Juan 5p
2015-10-11
Basic course > Basics: Step-by-step
Broken sgf fileControling center: runing faster.
0
from 30k to 1k
English
no
Guo Juan 5p
2015-10-11
Basic course > Basics: Step-by-step
Lesson 11 ‐ AControl the center by running in front.
20
from 30k to 1k
English
no
Guo Juan 5p
2015-10-11
Joseki > Josekis: Step-by-step
Lesson 01 follow-ups ‐ Lesson B
35
from 30k to 1k
English
no
YoungSun Yoon 8p
2015-10-13
Joseki > After josekis
Broken - re-do
0
from 10k to 5d
English
no
YoungSun Yoon 8p
2015-10-13
Joseki > Josekis: Step-by-step
Lesson 01 follow-ups ‐ Lesson D
31
from 30k to 1k
English
no
YoungSun Yoon 8p
2015-10-14
Joseki > Josekis: Step-by-step
Lesson 01 follow-ups ‐ Lesson C
42
from 30k to 1k
English
no
YoungSun Yoon 8p
2015-10-26
Basic course > Basics: Step-by-step
Lesson 11 ‐ B- About shape - Thickness 2 - Build territory with thickness is not a good idea A or B?
18
from 30k to 1k
English
no
Guo Juan 5p
2015-11-07
Other > Typical mistakes by Guo Juan
10 kyu to 1 dan ‐ 09
19
from 10k to 1d
English
no
Guo Juan 5p
2015-11-08
Other > Guo Juan's Group Class topics
Group B ‐ Lesson 06 How to reduce Black's huge moyo?
8
from 10k to 1k
English
no
Guo Juan 5p
2015-11-08
Other > Guo Juan's Group Class topics
Group B ‐ Lesson 07
15
from 1k to 10k
English
no
Guo Juan 5p
2015-11-10
Other > Guo Juan's Group Class topics
Group B ‐ Lesson 08- Tesuji on the left site - In this situation, how to defend the Black upper right corner?
26
from 5k to 3d
English
no
Guo Juan 5p
2015-11-11
Other > Guo Juan's Group Class topics
Group B ‐ Lesson 09 How to punish this shape?
15
from 10k to 1k
English
no
Guo Juan 5p
2015-11-12
Other > Guo Juan's Group Class topics
Group B ‐ Lesson 10 Ko!
8
from 10k to 1k
English
no
Guo Juan 5p
2015-11-12
Other > Typical mistakes by Guo Juan
brokenwas 10k to 1 dan lesson 10. somehow the audio file in the lesson is the wrong file.
0
from 10k to 1d
English
no
Guo Juan 5p
2015-11-14
Other > Guo Juan's Group Class topics
Group B ‐ Lesson 11 A or B?
9
from 1k to 10k
English
no
Guo Juan 5p
2015-11-14
Other > Guo Juan's Group Class topics
Group B ‐ Lesson 12 White can invade the Black moyo easily.
19
from 1k to 10k
English
no
Guo Juan 5p
2015-11-14
Other > Guo Juan's Group Class topics
do not publish

Ko!

0
from 10k to 1k
English
no
Guo Juan 5p
2015-11-15
Other > Guo Juan's Group Class topics
Group B ‐ Lesson 13 White upper side looks big, how to invade?
20
from 1k to 10k
English
no
Guo Juan 5p
2015-11-18
Joseki > Josekis: Step-by-step
Lesson 02 follow-ups ‐ Lesson A
32
from 10k to 5d
English
no
YoungSun Yoon 8p
2015-11-21
Joseki > Josekis: Step-by-step
Lesson 02 follow-ups ‐ Lesson BWe will learn how to handle White's move A, B and C.
31
from 10k to 5d
English
no
YoungSun Yoon 8p
2015-11-23
Important shapes > Basic shapes
Lesson 9 Large knights shape - High for attacking, low for territory.
32
from 10k to 3d
English
no
Guo Juan 5p
2015-12-08
Basic course > Basics: Step-by-step
Do not publish - bad sound

- Spending too many moves to make little territory is inefficient. - To attack or to kill - Attack

0
from 30k to 1k
English
no
Guo Juan 5p
2015-12-09
Joseki > Josekis: Step-by-step
Lesson 02 follow-ups ‐ Lesson CUpper side: A or B? Lower side: Two ways to protect the corner.
49
from 10k to 5d
English
no
YoungSun Yoon 8p
2015-12-10
Basic course > Basics: Step-by-step
Lesson 11 ‐ C Is this good for White or good for Black? Topics in this lecture: - Making little territory with too many stones is not a good idea - To kill or to attack 1
17
from 30k to 1k
English
no
Guo Juan 5p
2015-12-16
Other > Typical mistakes by Guo Juan
30 kyu to 20 kyu ‐ 01 Oh! He wants to capture my stone, panic!
29
from 30k to 20k
English
no
Guo Juan 5p
2015-12-17
Other > Typical mistakes by Guo Juan
30 kyu to 20 kyu ‐ 02 Have you ever played or your opponent played this move?
27
from 30k to 20k
English
no
Guo Juan 5p
2015-12-25
Other > Typical mistakes by Guo Juan
20 kyu to 10 kyu ‐ 01Thank you move 1
22
from 20k to 10k
English
no
Guo Juan 5p
2015-12-27
Middle game > All about invasion
Lesson 21Three corners with small knights shape. What is the best way to invade? Global thinking is important.
18
from 10k to 5d
English
no
Guo Juan 5p
2015-12-28
Other > Typical mistakes by Guo Juan
20 kyu to 10 kyu ‐ 02Thank you move 2
13
from 20k to 10k
English
no
Guo Juan 5p
2016-01-02
Life & Death > Corner shapes
L+1 shape ‐ Practical 1 Is Black move A sente against the White corner?
32
from 5k to 5d
English
no
Guo Juan 5p
2016-01-05
Joseki > Josekis: Step-by-step
No publishing - bad sound ‐ Lesson AAfter the Joseki in the upper right corner, when should we play move 1 and 3?
0
from 10k to 3d
English
no
YoungSun Yoon 8p
2016-01-08
Important shapes > Ponnuki
Lesson 1 - Ponnuki shape - Couple of typical mistakes
23
from 15k to 1k
English
no
Guo Juan 5p
2016-01-12
Joseki > Josekis: Step-by-step
Lesson 03 follow-ups ‐ Lesson A After the Joseki in the upper right corner, when should we play move 1 and 3?
20
from 10k to 5d
English
no
YoungSun Yoon 8p
2016-01-14
Important shapes > Ponnuki
Lesson 2This Black's ponnuki is less powerful, why?
19
from 15k to 1k
English
no
Guo Juan 5p
2016-01-14
Middle game > All about invasion
Lesson 05B
22
from 10k to 3d
English
no
Guo Juan 5p
2016-01-27
Joseki > Josekis: Step-by-step
Lesson 03 follow-ups ‐ Lesson B White to play next, A, B or C?
29
from 10k to 5d
English
no
YoungSun Yoon 8p
2016-02-03
Other > Typical mistakes by Guo Juan
20 kyu to 10 kyu ‐ 03
17
from 20k to 10k
English
no
Guo Juan 5p
2016-02-03
Other > Typical mistakes by Guo Juan
30 kyu to 20 kyu ‐ 03
11
from 30k to 20k
English
no
Guo Juan 5p
2016-02-09
Life & Death > Corner shapes
Corner 4-5-6 shape White to play next.
15
from 10k to 5d
English
no
Guo Juan 5p
2016-02-10
Joseki > Josekis: Step-by-step
Lesson 01 follow-ups ‐ Lesson A addition A surprising move that reverses a ladder!
4
from 10k to 5d
English
yes
Guo Juan 5p
2016-02-10
Other > 36 Stradgies
36 Stradgies_01
0
from 10k to 5d
English
no
Dai JunFu 8d
2016-02-23
Opening > Kobayashi Koichi style
Lesson 01 addition Black move 1 is very tricky, and is a good move!
11
from 10k to 5d
English
yes
Guo Juan 5p
2016-02-23
Opening > Chinese opening
Broken
0
from 30k to 8d
English
no
Guo Juan 5p
2016-02-23
Opening > Kobayashi Koichi style
Lesson 01 addition - no publishing
0
from 10k to 5d
English
no
Guo Juan 5p
2016-02-24
Other > 36 Stradgies
Lecture 02 - no publishing
0
from 30k to 8d
English
no
Guo Juan 5p
2016-02-24
Other > 36 Stradgies
no publishingSurround Wei to rescue Zhao This is a story of three kingdoms in the "Warring States" period of Chinese history (approx. 450 BC). The troops of kingdom WEI attacked Handan, the capital of kingdom ZHAO. ZHAO asked kingdom QI for rescue. Sun Bing, the advisor of the QI army, advised the king to attack Daliang, the capital city of WEI instead of going directly to the front line near Handan. Daliang's defense was weakened, so the WEI king called back his army. Then army of Qi ambushed and defeated the WEI army mid-way in their return. The attack on ZHAO's capital, Handan, was resolved automatically.
0
from 30k to 8d
English
no
Guo Juan 5p
2016-02-26
Other > Typical mistakes by Guo Juan
20 kyu to 10 kyu ‐ 04 A strategy typical mistake.
17
from 20k to 10k
English
no
Guo Juan 5p
2016-02-28
Joseki > Josekis: Step-by-step
Lesson 02 follow-ups ‐ Lesson D Tesuji!
27
from 10k to 5d
English
no
YoungSun Yoon 8p
2016-03-04
Joseki > Josekis: Step-by-step
Broken ‐ Lesson C
0
from 10k to 5d
English
no
YoungSun Yoon 8p
2016-03-05
Joseki > Josekis: Step-by-step
Lesson 03 follow-ups ‐ Lesson CHow to play against Black move 1? Which moves are good and which are not?
31
from 10k to 5d
English
no
YoungSun Yoon 8p
2016-03-12
Professional games > 2016
Guo Juan on AlghaGo vs Lee Sedol game 1 AlghaGo move 2, I am impressed!
0
from 30k to 8d
English
no
Guo Juan 5p
2016-03-16
Other > Typical mistakes by Guo Juan
20 kyu to 10 kyu ‐ 05
24
from 20k to 10k
English
no
Guo Juan 5p
2016-03-17
Basic course > Basics: Step-by-step
Lesson 12 ‐ A - Get out from local fighting at the right moment A or B?
9
from 30k to 1k
English
no
Guo Juan 5p
2016-03-22
Joseki > Josekis: Step-by-step
Lesson 03 follow-ups ‐ Lesson D We will study these two move in this lecture.
22
from 10k to 5d
English
no
YoungSun Yoon 8p
2016-03-23
Basic course > Basics: Step-by-step
Lesson 12 ‐ B - Good pushing from behind
15
from 30k to 1k
English
no
Guo Juan 5p
2016-04-06
Other > Typical mistakes by Guo Juan
Broken
0
from 30k to 20k
English
no
Guo Juan 5p
2016-04-06
Other > Typical mistakes by Guo Juan
30 kyu to 20 kyu ‐ 04 White plays move 1. Should Black respond with A or B?
19
from 30k to 20k
English
no
Guo Juan 5p
2016-04-08
Professional games > 2016
Guo Juan's game - Dutch Club Competition My game! I played a club competition game this week against Gerard Greene, who recently earned second place in the Dutch Championship. I thought you might like to see it. Should Black live in the corner with B or C, or should Black play A on the left side?
19
from 30k to 5d
English
no
Guo Juan 5p
2016-04-09
Joseki > Josekis: Step-by-step
Broken ‐ Lesson A
0
from 10k to 5d
English
no
YoungSun Yoon 8p
2016-04-09
Joseki > Josekis: Step-by-step
Lesson 05 follow-ups ‐ Lesson A A or B?
27
from 10k to 5d
English
no
YoungSun Yoon 8p
2016-04-15
Opening > Chinese opening
BrokenAgainst White invasion, which move is the best? The history of Chinese Opening https://en.wikipedia.org/wiki/Chinese_opening
0
from 15k to 1d
English
no
Guo Juan 5p
2016-04-16
Opening > Chinese opening
Part 1: Typical mistakes ‐ Lesson 1Against the invasion, which move is the best?
16
from 15k to 1d
English
no
Guo Juan 5p
2016-04-16
Opening > Chinese opening
Part 1: Typical mistakes ‐ Lesson 2Which move is the best to deal with White's invasion?
18
from 15k to 1d
English
no
Guo Juan 5p
2016-04-21
Other > Typical mistakes by Guo Juan
10 kyu to 1 dan ‐ 10
12
from 10k to 1d
English
no
Guo Juan 5p
2016-04-30
Opening > Chinese opening
Part 1: Typical mistakes ‐ Lesson 3
8
from 15k to 1d
English
no
Guo Juan 5p
2016-05-01
Basic course > Basics: Step-by-step
Lesson 13 ‐ A- To attack or to defend A or B?
7
from 30k to 1k
English
no
Guo Juan 5p
2016-05-04
Joseki > Josekis: Step-by-step
Lesson 03 follow-ups ‐ Lesson E White shape looks strong but Black still can do something. Which moves are good and which are not?
19
from 10k to 5d
English
no
YoungSun Yoon 8p
2016-05-12
Basic course > Basics: Step-by-step
Lesson 13 ‐ B - Good shape - Recognizing weakness 1
12
from 30k to 1k
English
no
Guo Juan 5p
2016-05-16
Basic course > Basics: Step-by-step
Lesson 14 ‐ A- Sacrificing Black to play next. A or B?
10
from 30k to 1k
English
no
Guo Juan 5p
2016-05-19
Life & Death > Tesuji
Tesuji lesson 1 How to handle White move 1? There is a beautiful common tesuji!
15
from 30k to 8d
English
no
Catalin Taranu 5p
2016-05-27
Joseki > Josekis: Step-by-step
Broken
0
from 10k to 5d
English
no
YoungSun Yoon 8p
2016-05-27
Joseki > Josekis: Step-by-step
Lesson 03 follow-ups ‐ Lesson F What now?
31
from 10k to 5d
English
no
YoungSun Yoon 8p
2016-06-02
End game > End game step by step
The value of end game moves 1 What are the value of the marked moves?
5
from 20k to 5k
English
no
Catalin Taranu 5p
2016-06-02
End game > End game step by step
The value of end game moves 2 What are the value of the marked moves?
7
from 20k to 3d
English
no
Catalin Taranu 5p
2016-06-03
End game > End game step by step
The value of end game moves 3 What are the value of move A and C? What is the best move to answer move B as White?
7
from 15k to 1k
English
no
Catalin Taranu 5p
2016-06-19
Basic course > Basics: Step-by-step
Lesson 14 ‐ B - Good shape - Recognizing weakness 2
12
from 30k to 1k
English
no
Guo Juan 5p
2016-06-20
Opening > Chinese opening
Part 1: Typical mistakes ‐ Lesson 4 Black to play next Which moves are good and which are not?
9
from 10k to 3d
English
no
Guo Juan 5p
2016-06-20
Opening > Chinese opening
Part 1: Typical mistakes ‐ Lesson 5
12
from 10k to 3d
English
no
Guo Juan 5p
2016-06-21
Opening > Chinese opening
Part 2: Useful variations ‐ Lesson 1
28
from 1k to 5d
English
no
Guo Juan 5p
2016-06-22
Opening > Chinese opening
Broken
0
from 1k to 5d
English
no
Guo Juan 5p
2016-06-24
Opening > Chinese opening
Part 2: Useful variations ‐ Lesson 2 A or B?
11
from 1k to 5d
English
no
Guo Juan 5p
2016-06-25
Opening > Chinese opening
Part 2: Useful variations ‐ Lesson 3 White hane is a mistake, but what is the best way to handle it as Black?
18
from 1k to 5d
English
no
Guo Juan 5p
2016-06-25
Opening > Chinese opening
Part 2: Useful variations ‐ Lesson 4
20
from 1k to 5d
English
no
Guo Juan 5p
2016-07-09
Joseki > Josekis: Step-by-step
Lesson 07 follow-ups ‐ Lesson A Is Black move 1 sente?
19
from 10k to 3d
English
no
YoungSun Yoon 8p
2016-07-14
Important shapes > Basic shapes
Lesson 10 What to do next?
11
from 10k to 3d
English
no
Guo Juan 5p
2016-07-16
Life & Death > Side shapes
Side L shape ‐ Plus 3 stones
18
from 10k to 3d
English
no
Guo Juan 5p
2016-07-16
Life & Death > Side shapes
Side L shape ‐ Plus 2 stones
0
from 10k to 3d
English
no
Guo Juan 5p
2016-07-19
Life & Death > Side shapes
Side L shape ‐ 3 stones plus shoulder
0
from 30k to 8d
English
no
Guo Juan 5p
2016-07-19
Life & Death > Side shapes
Side L shape ‐ 2 stones plus shoulder
0
from 10k to 3d
English
no
Guo Juan 5p
2016-07-20
Joseki > Josekis: Step-by-step
Lesson 08 follow-ups ‐ Lesson A What is the condition for White to play move A?
15
from 10k to 3d
English
no
YoungSun Yoon 8p
2016-07-26
Basic course > Basics: Step-by-step
Lesson 12 ‐ C Territory 2 - About door(s) White to play next, A or B?
21
from 30k to 1k
English
no
Guo Juan 5p
2016-07-26
Basic course > Basics: Step-by-step
Lesson 13 ‐ C - Recognizing and avoiding bad sente Black to play next, which move is the best?
14
from 30k to 1k
English
no
Guo Juan 5p
2016-08-27
Life & Death > Corner shapes
Carpenter's square - no liberty ‐ Lesson 1
0
from 1k to 5d
English
no
Guo Juan 5p
2016-08-27
Life & Death > Corner shapes
Carpenter's square - no liberty ‐ Lesson 2
0
from 1k to 5d
English
no
Guo Juan 5p
2016-08-27
Life & Death > Corner shapes
Carpenter's square - no liberty ‐ Lesson 3
0
from 1k to 5d
English
no
Guo Juan 5p
2016-08-27
Life & Death > Corner shapes
Carpenter's square - no liberty ‐ Lesson 4
0
from 1k to 5d
English
no
Guo Juan 5p
Aug 31, 2016 - NEW FEATURE: Pattern Search!
Great News!!
We have a pattern search function online now!
To get to it, click "Find Lectures" on the Catalog page: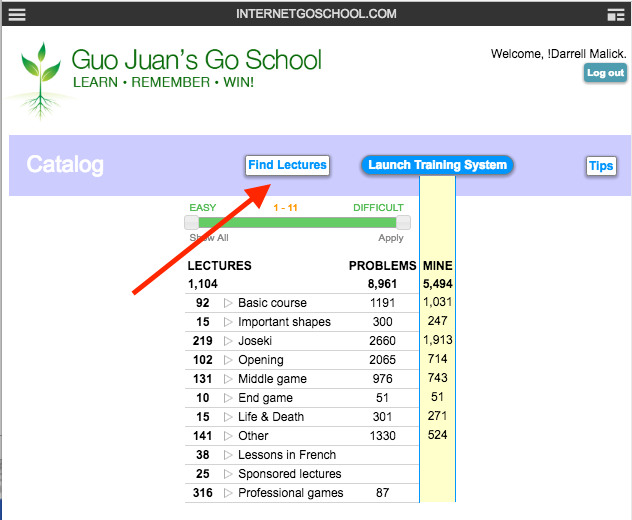 Wait a moment for the page to load and you will see this. The Pattern Search section is highlighted here: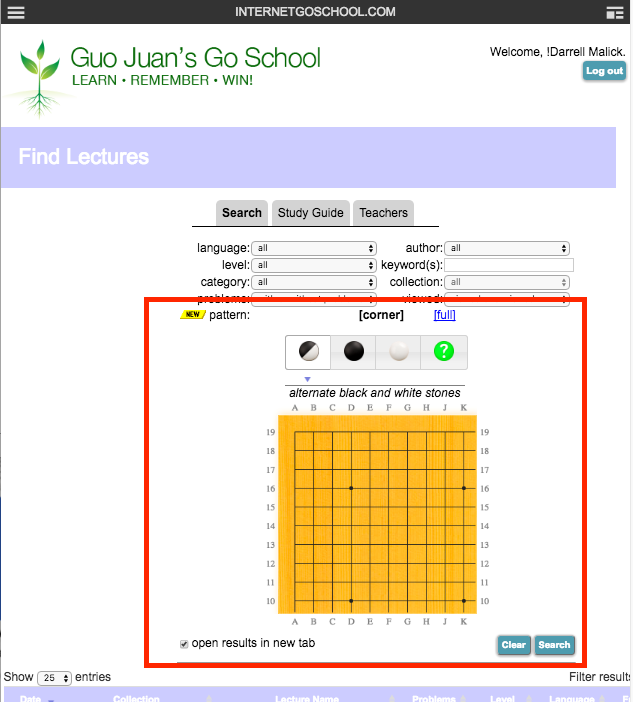 To use it, first select either "Corner" or "Whole Board" (more options coming later)

And next use these tools to enter a position on the board:
Click the "Search" button and the pattern search will give you a list of all lectures that contain the exact position you entered in your search.
Enjoy!